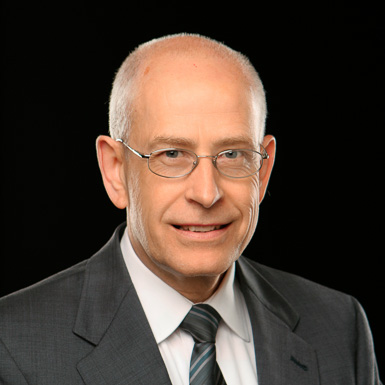 Royce B. Short, PhD
Dean, School of Religion
Email
This year Bob Jones University held its graduation ceremony on Friday afternoon (May 4). The Lord blessed us with good weather and the presence of many family members and friends. As always, it was an emotional time as hundreds of graduates crossed the stage to receive their diplomas. The testimonies of God's grace, faithfulness and provision were incredible. Please pray for the graduates as they take the next step—whether it is furthering their education, hitting the job market, or getting married. Wherever that step takes them, our burden is to see them involved in a good local assembly.
The School of Religion faculty members thank God for the senior class we have had the privilege to work with for the past four years. We look forward to their continual growth in knowledge, character and service. Perhaps your church or school is looking for someone to fill a position. Please contact us, and we will do our best to help you find the right person.
Inside this Issue
Summer Prayer Requests
School of Religion students serve summer internships in churches, camps, or missions as part of their degree completion. This year, our missions interns are serving in Brazil, Canada, Honduras, Mexico, Vanuatu and inner-city U.S. University summer mission teams are traveling to Australia, Japan, Europe, Mexico and the western U.S. Faculty members will be ministering in such diverse places as Africa, Cambodia, Haiti, Lebanon, Mexico and Myanmar.
Online Classes Continue to Grow

We continue to offer Bible Doctrines online. We have also added the class Apologetics and Worldview. Both classes are core Bible classes taken by every BJU student. By taking one of these classes in the summer, students can work ahead or lighten their class load during the school year.
Dr. Rupp With the Lord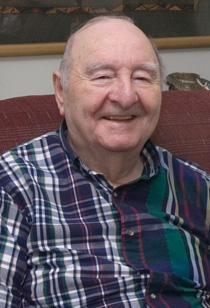 Dr. Richard Rupp, former director of ministerial training at Bob Jones University, went to be with the Lord on Monday evening, June 18, 2012, from Barge Hospital on the BJU campus. He was 86 years old. He is survived by his wife of 61 years, Betty Anne, his two daughters Sandy Rupp and Victoria Delello, her husband Todd, and two grandsons Luke and Jake Delello. Dr. David Yearick, Dr. Edward Panosian, Miss Sandy Rupp, Mrs. Dwight Gustafson, and Dr. Bruce McAllister participated in the service. A brief portion of a recorded message by Dr. Rupp was played as well as a recording of the ministerial students singing "Souls for Jesus."
Dr. Bruce McAllister paid the following opening tribute at the very well-attended funeral held in War Memorial Chapel on the afternoon of June 21:
"Dr. Rupps life speaks well for itself as he exemplified the verse 'not slothful in business, fervent in spirit, serving the Lord.' He was a loving husband, father, and grandfather. As part of the greatest generation, He served his country, rising quickly to become a master sergeant. He was a powerful preacher, a caring pastor, a passionate teacher of preaching, a wise counselor to pastors, a committed separatist, an accomplished actor in films and on stage, a man with business acumen, a loyal lifetime BJU employee, a respected college administrator serving as the director of ministerial training and extension, and my highly esteemed mentor. He was a man of God, a humble servant of the Lord. We are all thankful to God for the life of Dr. Richard Rupp—grateful to God, the singular Source of all of grace and gifts."
Dr. Rupp specialized in teaching preaching, the pulpit speech class for undergraduate students, and eventually in the seminary. For many years he taught these classes alone, teaching as many as 175 men a year how to preach. He taught several thousand men how to preach. This is amazing, not only to teach that many young men, but to have the patience to listen to them preach to him! On Tuesdays and Thursdays he was in the pulpit speech class seven hours a day teaching or listening to young preachers try to climb their way out of passages in the Bible. (Taken from a VOICE article (Vol. 80, Issue 3, Fall 2006) by Dr. Bruce McAllister.)
Equipping Men for the Ministry
BJU's School of Religion strives to equip young men for the ministry of the Gospel. Do you know any young men you could be encouraging to come this direction? How can you help them understand the Lord's working in their lives? How can you help them sort through all their doubts and challenges and questions? Encourage them to come visit us—and if possible, bring them yourself!
Book Offer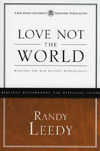 Good books are essential in any pastor's library, so here is one you might want to add. Dr. Randy Leedy, professor of New Testament at the BJU Seminary, has just written Love Not The World: Winning The War Against Worldliness (Greenville: BJUP, 2012; 144 pp. paperback). This book retails for $11, but you can purchase it through August 31, 2012, for $8.25 (in store or on the Web). Use the code SORWORLD12 or ask for the SOR special. Tax and shipping will be added to the purchase. Order online from the Campus Store or call 800-252-1927.
In Closing
May the Lord of glory bless your summer labors to the praise of His name as you have the incredible privilege of representing Him in the midst of a world seeking answers.