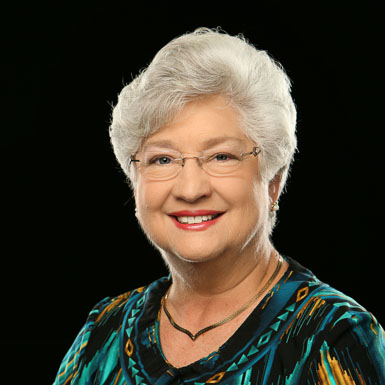 Education
MA, Interpretative Speech, Bob Jones University
BA, Interpretative Speech, Bob Jones University
Courses
About Corretta
Corretta Grass received her BA and MA degrees in Interpretative Speech from Bob Jones University--five of those graduate hours at the Shakespeare Institute, University of Bridgeport. She is an Associate Professor in the Theatre Arts Department in the School of Fine Arts & Communication. For 47 years Mrs. Grass has taught a variety of courses: ESL speech classes as well as private ESL coaching in industry training (she wrote the book of General American Speech Sounds and recorded a CD for ESL students, which is being used in Korea and Mexico at present by her former students); Voice and Articulation in the classroom and in private coaching for executives in industry training; Performance classes to teach students how to perform poetry, dramatic works and storytelling. She was recognized by the Department of Communication for Excellence in Teaching, 2003-2004. She is a member of the National Storytelling Network.
She has coached many young people for competition, performances and recitals on the undergraduate and graduate level. Mrs. Grass loves young people and encourages them to come for private help in their presentations as well as to share problems/prayer requests, or just to visit. She trains students to be excellent in communication skills and encourages them to get involved with the plays/programs on campus to gain valuable experience.
She has been involved in acting since 1964 with many Shakespearean roles--recently the Duchess of York in Richard III, 2012. Other acting experiences include the Broadway Musical Little Women, 2013; filming for a BJU promotional DVD, 2011; filming for the opera Il Trovatore, 2012; a role in Sheffey, a BJU feature film, 1972. She is involved in commercial advertising. She has directed BJU Vespers programs since 1967, most recently 2010, 2011, 2013. She enjoys acting/narrating/directing cantatas and programs at her church, most recently 2011, 2012 and is a speaker at ladies' meetings, banquets, Sunday school classes, most recently 2011-2013.