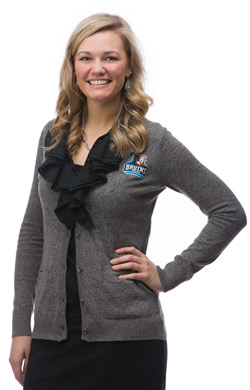 Contact me
Hometown: Orland Park, Illinois
Undergrad Degree: Family and Consumer Sciences
States: IN, KY, MI, MN, WI
What type of high school did you graduate from?
Christian school
Why did you choose BJU?
I chose BJU because I knew it is an excellent university and it had the exact major that I wanted to study. Also, as I was growing up, my family always helped house the students that traveled for the university, and I consistently saw good examples of godliness and maturity. I knew that Bob Jones would not only give me a good education but would also help me grow to be a better Christian and example to others.
How have you grown over your years at BJU?
Being surrounded by so many good examples of Christian character helped me to grow in my own spiritual life. They didn't just talk about serving and loving God. They lived it out, and seeing that helped me live it out too.
What was a misconception you had about BJU that was proven wrong when you became a student here?
I had visited Bob Jones many times before coming here for school, so I didn't really have any misconceptions about the university. One thing I didn't realize was how involved I could be in music even though I wasn't a music major. I was in choir as well as in band and handbells, and I got to travel for the university because of those groups.
What is your favorite meal out of all the food establishments on campus?
The smoothies at The Growl are delicious! Also, I got the hazelnut steamer from Cuppa Jones a lot in the winter when it was really cold out. And yeah, the waffles in the dining common were definitely my "go to" dinner all the time. Not super healthy, I know. But just grab an apple to balance it out and you will be good to go!
What are your hobbies?
I love seeing new places, so anything like bike rides, hiking, traveling, etc. is a lot of fun. I also like to quilt occasionally, and I love baking!
What's your favorite verse or Scripture passage?
Isaiah 40:31 has been my favorite verse for a few years. It promises that God will lift us up and give us strength when we commit to following Him. It's amazing that God makes those promises to us and He wants us to claim them!
Any advice for incoming students?
Get to know as many people as you can. You will quickly be able to get really close to a few of them and it always helps to know people. Friends can make or break a college experience. Plus, networking will be really helpful in the future!