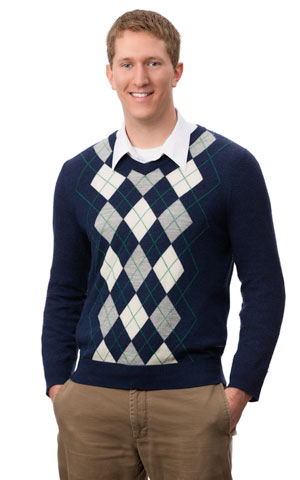 Contact me
Hometown: Saxonburg, Pa.
Undergrad Degree: Premed
States: OH, PA
What type of high school did you graduate from?
Christian school
What was your favorite class in college? Why?
Human Physiology and Anatomy. The premed program involves many sciences, and the physiology class couples those sciences with the study of the human body. The laboratory experience involved our program's human cadaver. This made the material challenging yet immensely practical and enjoyable.
What was a misconception you had about BJU that was proven wrong when you became a student here?
I was convinced that, yes, Bob Jones University would be extremely academic as a university. However, with this academic excellence, I thought that I would not relate with my teachers or the staff. I was pleasantly surprised to realize that, although present, the academics are not the only emphasis. My professors were personal and even humorous! Over these four years, I have received a great education from the faculty and staff. But more than this, these great leaders in my life have become my friends and counselors. To me, this is priceless.
What sort of campus organizations were you involved in?
Trombone choir, several student plays, Living Gallery acting and modeling, Student Leadership Council senior class representative, bus captain of my church ministry, and playing on my society basketball team.
How have you grown over your years at BJU?
It sounds basic, but I have grown immensely in learning how to read. Every class has significant reading assignments. Every professor focuses on teaching us to read analytically. This skill is invaluable no matter what vocation I would choose. It allows me to break down complex materials and strive toward understanding a passage instead of just memorizing. The growth has strengthened my ability to study any subject and has even enhanced my devotions as I strive to understand the Bible and learn more and more about my God.
Any advice for incoming students?
Choose an area of interest and pursue it! If you take the classes and then decide to change your major, that is ok! Most people, including myself, change their major. Get involved with the many opportunities that Bob Jones University has to offer, and bring your personality to your field of interest. First and foremost however, you must pray. The best advice I can give you for college is to stay close to your Savior. Pursue Him with your whole heart and He will guide with what you should do. He has got an incredible plan for you!
What are your hobbies or interests?
Acting, sports, reading, juggling, trombone, piano, coffee, going to the gym, and coffee
If you could visit 1 place, where would it be?
Antarctica. It may sound weird, but my dream is to set foot on every single continent. Antarctica is the hardest to get to and the most adventurous destination, so it is pretty high on my "visit" list.
What's your favorite verse or Scripture passage?
Jeremiah 29:11—"For I know the thoughts that I think toward you, saith the Lord, thoughts of peace, and not of evil, to give you an expected end." This verse has always encouraged me to realize that my God is intimately involved with my life. Yes, He alone deserves the glory with my life, but in that process He will be with me, comfort me, and guide me throughout all of the "unknowns" of life.