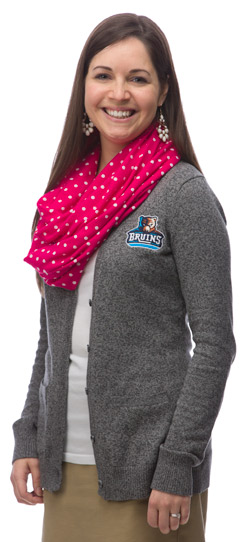 Contact me
Hometown: South Bend, Indiana
Undergrad Degree: Music Education
States: DE, MD, VA, WV; District of Columbia
What type of high school did you graduate from?
Christian
Why did you choose BJU?
When I visited BJU, I was overwhelmed at the teachers' knowledge of the material and their care for the students. I knew these were people that I wanted to learn and grow from. I also knew that I wanted a place to learn with a Christian worldview. In all classes, no matter the subject, the teachers brought us back to what the Bible says.
How have you grown over your years at BJU?
I had some learning curves through college—in areas of thinking, discipline and perseverance. I learned that I couldn't coast through the academics but needed to fully apply myself. Having a kind personality wasn't enough—I needed to grow and change through the Word of God. I'm truly thankful for the teachers and residence hall staff that pushed me toward Christlikeness. I also grew through the cultural opportunities. I learned to enjoy Shakespeare, opera and many other events.
What was a misconception you had about BJU that was proven wrong when you became a student here?
I thought that I'd just be an ID number in the system, but I was quickly able to get to know many of my teachers and residence hall staff. The residence hall staff in particular went out of their way to have meetings with the freshmen. I felt cared for by my room leader who helped me to adjust quickly to campus life.
What are your hobbies?
I love reading mysteries and biographies. I enjoy cooking and have an extensive library of cookbooks/food magazines. My husband and I enjoy watching and playing golf together.
What's your favorite verse or Scripture passage?
Psalm 9:10 was a verse I came to when I felt overwhelmed in high school and college. It says, "And they that know thy name will put their trust in thee: for thou, Lord, hast not forsaken them that seek thee."
What sort of campus ministries were you involved in?
I was able to go to a nursing home on Sundays for 2 years. The people there became dear to me and helped to keep eternity in my mind even with the busyness of college life. I also had the privilege of being in leadership positions in the residence hall. I truly counted that as the largest training ground for the future
Any advice for incoming students?
Truly throw yourself into gaining as much as you can from your classes. You will not regret spending the time and energy. Look to be friendly in your classes, society and residence hall life—these will be the places that you may find friends for life. Don't expect chapel and Bible classes to take the place of having a personal time in the Bible. While those may help to aid you in Christlikeness, daily Bible reading and meditation are both key. Never be afraid to ask questions—we all have faced being a freshman in college and are very willing to help you.