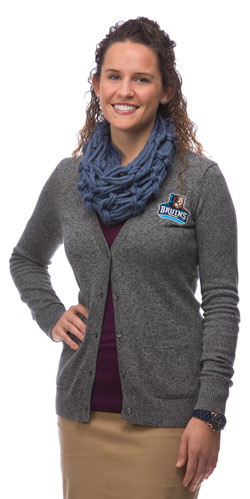 Contact me
Hometown: Elk Grove, Calif.
Undergrad Degree: Biblical Counseling
States: AK, AZ, CA, CO, HI, IA, ID, MT, ND, NE, NM, NV, OK, OR, SD, UT, WA, WY
What type of high school did you graduate from?
Christian school
Why did you choose BJU?
Primarily because it is a Christian university and it has maintained that reputation through the years. Bob Jones University has not faltered from being Bible based, and I wanted an education that was going to be rooted in the Scripture. I also knew that going to BJU would promote growth in Christlikeness and that there would be countless opportunities for me to get involved and practice being a disciple of Christ.
How have you grown over your years at BJU?
I came in really looking forward to seeing how the Lord was going to change me, and He sure did! One of the first things the Lord taught me was His love for me through the different ways in which He proved Himself faithful. I had so much going on, and through answers to specific prayer, I personally saw how the Lord cares for His own, and I saw His love and faithfulness through that.
What was your favorite class in college? Why?
My favorite required class was called Fundamentals of Counseling with Dr. Mazak. What I learned in class opened up my eyes to many areas I would have to change before I can help other people change. My favorite elective class was Sign Language. I knew nothing in ASL, but I left the class knowing so much! It was especially fun because I took it with some friends and we laughed way too often in class.
What was a misconception you had about BJU that was proved wrong when you became a student here?
Not all the girls wear plaid skirts.
What sort of campus organizations were you involved in?
I was heavily involved in society and enjoyed the privilege of having different leadership roles. I also made my closest friends through society. I was an RA in the dorms and loved all the experiences I had through working closely with so many people. I was on the Student Leadership Council, which was one of the most fun things I got to be involved in on campus.
What are your hobbies or interests?
I love to be active. I enjoying running and exercising, especially in the form of sports. I love to play volleyball and basketball. I also love watching football and college basketball. And when I am not doing something sports related, I am hanging out with friends and laughing all the time.
Any advice for incoming students?
Get ready to have fun! You will get out of the college experience what you put in. I got involved in many activities and never regretted any of them. Take time to talk to people and invest in them; the Lord will teach you so much through others.
If you could visit 1 place, where would it be?
The next place on my list is Ireland.
What's your favorite verse or Scripture passage?
Romans 8:1—"There is therefore now no condemnation to those who are in Christ Jesus, who walk not after the flesh, but after the Spirit." The Lord has used this verse as a comfort in my life by helping me see there is true freedom and hope found in Christ no matter what has happened in the past as a believer.