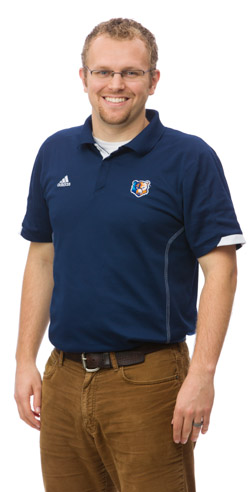 Contact me
Hometown: Porto Alegre, Brazil
Undergrad Degree: Bible, counseling minor
Graduate Degree: Cross Cultural Studies
States: AL, AR, FL, GA, LA, MS, TN, TX
What type of high school did you graduate from?
Homeschool
What was a misconception you had about BJU that was proven wrong when you became a student here?
I thought that I might get lost in the sea of people in a big Christian school. I realized after I got here that I could be good friends with the many people I interacted with. I made friends with roommates, people I worked with, classmates and fellow society members.
What is your favorite college memory?
When my society, the Chi Alpha Cavaliers, beat our rival society in the playoffs. It was pouring rain and the game went all the way to double overtime, and we finally overcame in the last kick in the shoot-out.
What is your favorite meal out of all the food establishments on campus?
I really enjoy the corn dogs and chili served in the Dining Common!
Any advice for incoming students?
Determine to grow in your personal walk with God and not to let a busy schedule crowd out your time alone with your Savior.
What are your hobbies?
I love to play soccer, volleyball and pretty much all sports. I like to read Christian biographies and books on World War II.
If you could visit 1 place, where would it be?
Portugal because I grew up there and think it has the most beautiful country side in the world. The people there are also in desperate need of the Gospel.
What's your favorite verse or Scripture passage?
II Corinthians 5:14-15 is my favorite passage because it gives the main motive for our faithfulness to Christ. The love of Christ controls us because Christ died for all and rose again the third day. The life of Christ demonstrated the most profound example of selfless love and devotion to God the Father, and on that basis I can more easily serve God with my life.
—"For the love of Christ constraineth us; because we thus judge, that if one died for all, then were all dead: And that he died for all, that they which live should not henceforth live unto themselves, but unto him which died for them, and rose again."
Name 1 person you'd like to meet and why?
A.W. Tozer who is the author of my favorite book, "Knowledge of the Holy." I would like to meet him because he seemed to know God better than anyone else I have encountered and I want to know my God too!