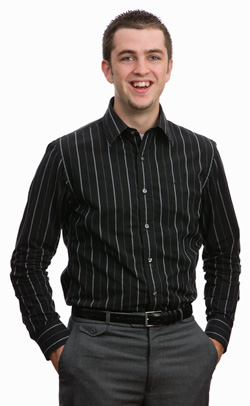 Contact me
Hometown: Sargent, Nebraska
Undergrad Degree: Bible Evangelism
States: OH, PA
What type of high school did you graduate from?
Homeschool
How have you grown over your years at BJU?
I have grown in my love for God's Word through my time in chapel, the teacher's consistent use of Scripture in class, and our times of prayer and study in the residence halls. I have grown in my love for the liberal arts because I have come to understand that broader understanding opens the way for greater understanding.
What was your favorite class in college? Why?
Christian Masterworks. I love the literature that we studied in the course and the way that Dr. Ted Miller taught it. We studied a lot of C.S. Lewis who is my favorite author.
What was a misconception you had about BJU that was proved wrong when you became a student here?
That it was a very large college. Though there are more than 3,000 people at the University during the school year, I feel like I'm at home. The reason for this is because the leadership is so interested in the students and the students are all connected in so many ways.
What sort of campus ministries were you involved in?
I participated in several outreach ministries such as neighborhood evangelism, Bible club, and Farm Fest. I traveled to Georgia every Sunday for about a year with four other students to help a church. That was probably my favorite outreach opportunity.
Any advice for incoming students?
Try to visit the campus before you come in the fall. It will help you to get familiar with the campus and the way things happen here. Also, seek God, read His Word and keep up with your family. College life is busy, and if you set up good habits before you come, it will be easier to keep those habits once you're here.
If you could visit 1 place, where would it be?
China. I have been there once with my brother, and I would go again in a heartbeat!
What are your hobbies or interests?
I love to play soccer, piano and anything that involves a lot of activity. I love most to hang out with my wife, Nancy.
What's your favorite verse or Scripture passage?
Isaiah 61:1-3. Jesus quoted this verse later in Scripture as He described to His disciples what He was going to do on earth as the fulfillment of Scripture. I find the person and work of Jesus Christ beautifully described in this passage. Jesus fulfilled this passage while on earth, and He has fulfilled it in my life. This passage also sums up my life goal and calling. I want to follow in Jesus' footsteps as I seek to serve and love others.