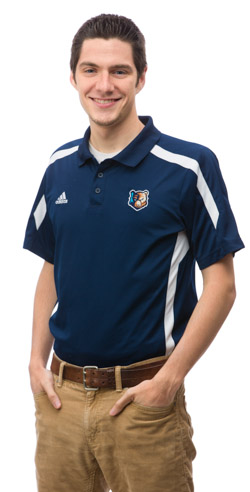 Hometown: Troy, Mich.
Undergrad Degree: Bible
Graduate Degree: Cross-Cultural Studies
States: IL, NC
What type of high school did you graduate from?
Christian school
What was your favorite class in college? Why?
Biblical Themes. I had never taken a class before that gave so much emphasis to scriptural doctrines. Even though the class was highly academic, my teacher made daily applications to the Christian life that impact the most important thing about me: how I think about and act toward God.
What sort of campus organizations were you involved in?
Choir. One of the biggest benefits of a liberal arts university is that it enables Bible students like me to participate in activities that are not directly related to their major. During my undergraduate degree, I was involved with several choirs. I had the opportunity go on choir tours and serve as the Concert Choir president for two years. The choirs also regularly sing for campus worship service and also participate in various productions such as opera.
What sort of campus ministries were you involved in?
Of the many different venues that BJU offers for the students to serve in, my personal favorites are the summer mission trips. I took two trips: one to Southeast Asia and another to Europe. They allowed me to teach and preach in Bible colleges and credit-generating seminaries. I also participated in global evangelism and served alongside cross-cultural workers and nationals, learning an indigenous philosophy of church planting among diverse cultures.
How have you grown over your years at BJU?
When I came to BJU, I determined like many students do, that I was going to be the ideal 4.0 student. That expectation was short-lived when I realized how academically challenging the coursework was. But through the help of many friends and teachers, I was slowly able to learn effective study habits and turn C's into A's. Beyond academics, I assumed several leadership roles and participated in many extracurricular activities. The greatest thing I have learned through my college experience is how to manage these many responsibilities and still give God priority in personal daily devotions.
Any advice for incoming students?
Get involved. Don't be so rushed to finish a degree that you miss the opportunities to build lasting relations, participate in extracurriculars, and serve in various campus ministries.
What are your hobbies or interests?
I love to golf. There are a number of excellent golf courses around campus that even give discounts to BJU students.
If you could visit 1 place, where would it be?
Israel. I took one summer class abroad that followed in the footsteps of the Apostle Paul. We went to Turkey, Greece and Rome and saw some amazing biblical sites. The University also offers a trip to Israel, but I have not had the chance to take it yet.
What's your favorite verse or Scripture passage?
Psalm 37:4—"Delight thyself also in the LORD: and he shall give thee the desires of thine heart."