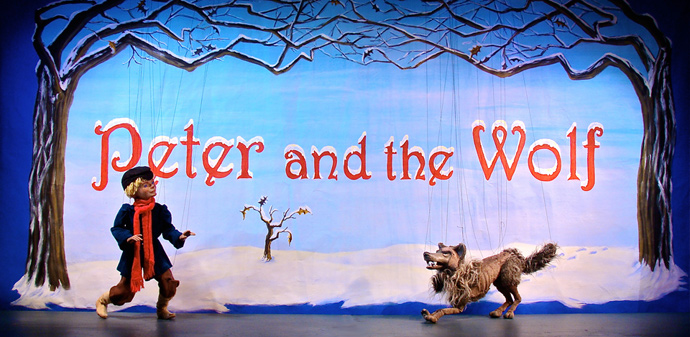 Sept. 20 — 4 & 7 p.m.
Sept. 21 — 4 & 7 p.m.
Sept. 22 — 2, 4, 7 p.m.
Performed in Stratton Hall
The Show
Prokofiev's Peter and the Wolf has enchanted audiences since its premiere in 1936. Based on the original Russian folktale about Peter and his animal friends capturing the wolf, National Marionette Theatre's version of the story features the beautiful music from Prokofiev's orchestral score combined with stunning scenery and handcrafted marionettes.
This presentation is recommended for family audiences (including children 6 and up).
The Company
National Marionette Theatre is one of the oldest continually running touring marionette theaters in the United States. Founded in 1967, this award-winning company has been entertaining and amazing audiences around the world for over forty years.
The company specializes in adaptations of popular stories using marionettes as the performance medium. They travel with a fully self-contained theater complete with its own lighting and sound systems.
The Puppeteers
David and Peter Syrotiak have been building and performing with the company since their teenage years. Sons of artistic director David Syrotiak, the two brothers have been around puppetry their entire lives.
Professionally they have over fifty years of combined performance experience. The two are dedicated to keeping the tradition of professional puppetry alive in the United States.