November 3-6, 2014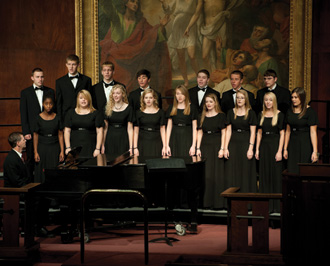 The High School Festival provides a challenge to Christian teenagers by recognizing their achievements and developing their talents through activities directed by university faculty.
Guidelines | Copyrights | TV Guidelines
Highlights
BJU's music and communication faculty will present special clinics or workshops in some performance fields.
Several university instrumental ensembles and vocal choirs will have open rehearsals.
Visit university classes in area of interest.
Special Events
Exhibition of winning artwork and photography
Presentation of Festival awards
Three recitals/concerts featuring performances by all solo and ensemble winners in addition to the Festival Concert Chorus, World/Folk Music Chorus, Wind Band and String Orchestra.
Showing of winning video
Stipulations
Please note school contest limitations.
Participants may enter a maximum of 3 individual/solo contests. Contestants may not compete against themselves in any group competition; therefore, they may not be a member of more than 1 group within any particular contest area (e.g., competing in 2 different small vocal ensembles).
Entry in up to 3 art categories will count as only 1 Festival contest.
A contestant may win 1st place in any individual/solo contest only once, although he may enter that same contest another year in order to receive the judges' critiques. Groups may win 1st place more than once.
Any student who does not fulfill all of the contest requirements will forfeit his right to win but will receive judges' written critiques.
Large-Group Experience
Contestants will want to rehearse and perform in large groups hosted by members and directors of BJU performing organizations.
Band
At least 3 years' experience required.
String Orchestra
Enrollment is limited and early registration is encouraged.
Violin I must be able to play with confidence and ease in fifth position, Violin II & Viola in third position, Cello & Bass in fourth position
Festival Concert Chorus & World/Folk Music Chorus
Festival Concert Chorus—Open to SATB singers recommended by their director. Each school or homeschool group may select up to 3 balanced quartets of SATB for a total of 12 singers maximum. These singers will rehearse and perform concert choral literature with the Chorale, BJU's premiere choir, under the direction of Dr. Warren Cook. Enrollment is limited and participation is available only by your director's recommendation and receipt of your Festival reservation before the deadline.
World/Folk Music Chorus—Open to SATB singers participating in any area of the Festival. This chorus will rehearse and perform world/folk music with BJU's all-freshmen choir, University Singers, under the direction of Dr. Eli Yanson. Enrollment is limited and early registration is encouraged.
Each director must submit with his school's reservations a list of the balanced SATB quartets under his direction that he desires to be included in the Festival Concert Chorus. Participation in the World/Folk Music Chorus does not need to be as part of a "balanced quartet"; individual entries are welcome.
Awards
Music, Communication, Media Art
1st Place individual/solo winners
Trophy
Paid program fee for the 1st semester of their freshman year should they enroll at BJU
Scholarship to attend a BJU summer camp
2nd Place individual/solo winners
Plaque
Scholarship to attend a BJU summer camp
3rd Place individual/solo winners
Plaque
One-half scholarship to attend a BJU summer camp
1st, 2nd, and 3rd Place group winners
Art & Design
Art: Best of Show (2-D and 3-D)
Trophy
Program fee for the 1st semester of their freshman year should they enroll at BJU
Scholarship to attend a BJU summer camp
1st Place
Trophy
Scholarship to attend a BJU summer camp
2nd Place
Plaque
Scholarship to attend a BJU summer camp
3rd Place
Plaque
One-half scholarship to attend a BJU summer camp