November 3-6, 2014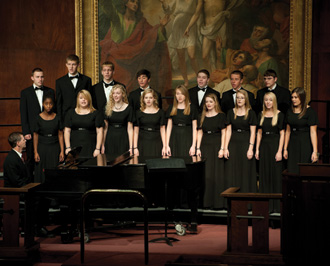 The High School Festival provides challenge to Christian teenagers by recognizing their achievements and developing their talents through activities directed by university faculty.
Guidelines | Copyrights | TV Guidelines
For 2014, the BJU High School Fine Arts Festival will feature a new format in communication and drama events.
Participants will enjoy the following brand new events:
Masterclasses and workshops presented by BJU faculty in communication and dramatic arts
Performances, demonstrations and film screenings by BJU students, faculty and staff
A 24-hour playwriting event featuring high school festival participants
Special sessions for sponsors in speech and drama pedagogy
Tours of BJU theatre, film and mass communication facilities
Competitions in the areas of duo-acting and solo performance will continue to be a part of the festival.
Our schedule for the festival has been completely revised this year to make these new events possible. It all begins on Monday, November 3.
Since the event has been completely redesigned, we would encourage you to read our FAQ section and revised rules for the events. We are excited about the new festival format: we believe students and sponsors will have a wonderful time of competition and enrichment!
FAQ on New Format
Why have you changed the format of the festival?
The High School Festival has been conducted for more than 30 years without any substantial changes. We felt that it was time to freshen up the format to reflect more accurately what we teach in the Division of Communication and to transition from a simple competition to more of a true festival atmosphere. We want to focus more on enrichment and learning and to give our guests more opportunities to interact with our faculty and students in a non-competitive environment.
Does that mean that there will be no more competitive events?
Not at all! We will continue to have events for individuals and groups in speech, drama and video. Some categories and formats have changed, but we will continue to feature competitions.
Why have you eliminated the competition in Oral Reading of Scripture?
There were several factors that were considered in the decision to eliminate this category. While we are enthusiastic about reading the Scriptures aloud, the objectives of this event were unclear. We want to make sure that the Scriptures aren't viewed (intentionally or unintentionally) as just another genre of literature. Interpretation of the Word of God requires careful study and respectful handling. At times we felt that the pressure of competition forced an over-dramatization or particularization of biblical characters that blurred the lines between truth and fiction. Those who read Scripture aloud can benefit from the study of communication and drama. We would encourage students to hone those skills by performing literature of all kinds and then applying those general principles to the oral reading of Scripture in church or ministry settings.
What about the Poetry category?
We have combined poetry and dramatic reading into one category called Solo Performance. This is a reflection of how we currently teach the genre of drama called "One-Person Show" or "Solo Performance." A student is free to choose poems or excerpts from novels, short stories or plays to perform in this category. They can even combine several different genres in the same performance. Reducing the number of separate events gives us the freedom to add valuable classes, workshops and events to the schedule for the festival.
What kinds of classes and workshops will be part of the festival?
For high school students, there will be classes in acting, technical theatre, solo performance, voice and movement, and worldview. We will also offer classes for sponsors/teachers on the topics of "Teaching Speech and Drama," "Coaching the Solo Performer," "Choosing Literature for Performance," and "Directing a Play on a Shoestring Budget." There will also be a fully staged production for festival participants in our laboratory theatre.
What is the 24-Hour Playwriting Competition and how can my students participate?
Our 24-Hour Playwriting Competition is a brand-new event for 2014. Here's how it works:
Students who wish to write a short play will need to arrive on campus by Monday, November 3, at 1:00 p.m. to attend the organizational meeting for writers. At the meeting they will receive instructions and prompts (details that every contestant must include in their ten-minute play).
The writers will have until noon on Tuesday to complete their plays and submit them to the judges. Four plays will be selected on Tuesday evening that will be directed and staged for an audience later in the week.
Students who wish to participate as actors in this event will audition at 7:30 p.m. on Monday, November 3. There are a limited number of slots available for actors, and they must be available to rehearse on Tuesday evening and most of the day on Wednesday. Actors who are selected will meet on Tuesday, November 4, at 4:30 p.m. for an organizational meeting. Rehearsals will begin after the meeting with directors from the BJU Department of Theatre Arts.
The four winning plays are rehearsed on Tuesday night and Wednesday and are presented for the festival audience on Wednesday night, November 5, at 7:30 p.m. in Performance Hall. Awards will be given for best play, best performance of a new play, and best actors.
Won't it be difficult for participants to be fully involved in the Communication/Drama Festival as well as in music, art and preaching competitions?
Yes. We realize that these changes will create more conflicts with other events than in years past. One of the strengths of the old format was that multi-talented students could run from one side of campus to the other and take part in several different competitions. We are encouraging this year's participants to think carefully about which events they are most interested in. Perhaps a student could focus on music one year and drama the next. Of course, it is still possible for a number of students to participate in multiple competitions, but sponsors may wish to help these students plan their events to avoid too many conflicts.
Note: Student actors in the 24-hour playwriting event will not be excused from rehearsals except on a very limited basis. They should not plan to be involved in large group musical events or multiple solo events.
Stipulations
Please note school contest limitations.
Participants may enter a maximum of 3 individual/solo contests. Contestants may not compete against themselves in any group competition; therefore, they may not be a member of more than 1 group within any particular contest area (e.g., competing in 2 different small vocal ensembles).
Entry in up to 3 art categories will count as only 1 Festival contest.
A contestant may win 1st place in any individual/solo contest only once, although he may enter that same contest another year in order to receive the judges' critiques. Groups may win 1st place more than once.
Any student who does not fulfill all of the contest requirements will forfeit his right to win but will receive judges' written critiques.
Large-Group Experience
Contestants will want to rehearse and perform in large groups hosted by members and directors of BJU performing organizations.
Bands
Festival Wind Ensemble—Students in 9th–12th grades will be chosen for this ensemble based on a live audition—no walk-ons will be allowed. Players will sign up for a Monday audition time at check-in for the Festival on Monday, November 3. Judges will hear short sight-reading excerpts and scales in the following keys: G, C, F, B-flat, E-flat, A-flat and D-flat. A list of those selected for this ensemble will be posted by Tuesday, 8 a.m.
Festival Concert Band—Open to brass/woodwind/percussion players (with at least 3 years' playing experience) participating in any area of the Festival who do not wish to audition or who are not selected for the Wind Ensemble.
String Orchestra
Enrollment is limited and early registration is encouraged.
Violin I must be able to play with confidence and ease in fifth position, Violin II & Viola in third position, Cello & Bass in fourth position
Festival Concert Chorus & World/Folk Music Chorus
Festival Concert Chorus—Open to SATB singers recommended by their director. Each school or homeschool group may select up to 3 balanced quartets of SATB for a total of 12 singers maximum. These singers will rehearse and perform concert choral literature with the Chorale, BJU's premiere choir, under the direction of Dr. Warren Cook. Enrollment is limited and participation is available only by your director's recommendation and receipt of your Festival reservation before the deadline.
World/Folk Music Chorus—Open to SATB singers participating in any area of the Festival. This chorus will rehearse and perform world/folk music with BJU's all-freshmen choir, University Singers, under the direction of Dr. Eli Yanson. Enrollment is limited and early registration is encouraged.
Each director must submit with his school's reservations a list of the balanced SATB quartets under his direction that he desires to be included in the Festival Concert Chorus. Participation in the World/Folk Music Chorus does not need to be as part of a "balanced quartet"; individual entries are welcome.
Awards
Music, Communication, Media Art
1st Place individual/solo winners
Trophy
Paid program fee for the 1st semester of their freshman year should they enroll at BJU
Scholarship to attend a BJU summer camp
2nd Place individual/solo winners
Plaque
Scholarship to attend a BJU summer camp
3rd Place individual/solo winners
Plaque
One-half scholarship to attend a BJU summer camp
1st, 2nd, and 3rd Place group winners
Art & Design
Art: Best of Show (2-D and 3-D)
Trophy
Program fee for the 1st semester of their freshman year should they enroll at BJU
Scholarship to attend a BJU summer camp
1st Place
Trophy
Scholarship to attend a BJU summer camp
2nd Place
Plaque
Scholarship to attend a BJU summer camp
3rd Place
Plaque
One-half scholarship to attend a BJU summer camp