Oct. 30–Nov. 2, 2016
The Preaching Conference is offered to help high school young men develop their ability to communicate God's Word clearly and effectively. Each participant will (1) prepare one sermon to preach two times, (2) attend workshops designed to help with sermon construction and delivery, and (3) receive one-on-one feedback and coaching.
In addition to the Preaching Conference, participants may enter up to two Festival individual/solo contests and may compete in the group contests.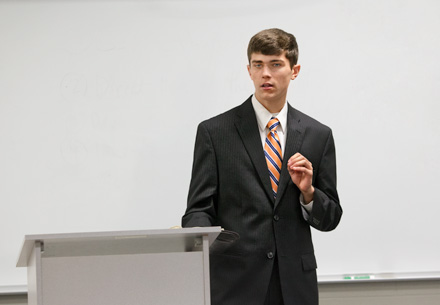 Highlights
Each participant will benefit from the following:
The opportunity to preach God's Word
Helpful written feedback from members of the School of Religion and Seminary faculty
First-round message recorded on DVD
One-on-one coaching from an experienced preacher
Workshop sessions designed to aid in sermon construction and delivery
A free book for those who attend the workshop sessions
Picnic and informal interaction with School of Religion and Seminary faculty
Sermon Presentation
Each participant should prepare a 10- to 12-minute sermon. The sermon will be evaluated on the basis of content and delivery and may be designed to edify believers or evangelize the lost. Participants may refer to an outline when they preach. The sermon should be well prepared but not memorized word for word. Participants may use an outline when they preach.
It is highly recommended that each participant preach his sermon at a youth meeting, church service and/or school chapel program.
A participant may win first place only once, although he may enter the Preaching Conference another year in order to receive the judges' critiques.
Sermon Construction and Delivery Workshops
While the preaching opportunities allow the contestants to hone the skills they already possess, the workshops will offer useful information to help the young men communicate the Word of God even more effectively.
Awards
1st Place winner
Bible
Trophy
Program fee for the two semesters of his freshman year should he enroll at BJU
Full scholarship to attend a BJU summer camp
2nd & 3rd Place winners
Bible
Full scholarship to attend a BJU summer camp