Build Faith. Challenge Potential. Follow Christ.
At Bob Jones University we inspire you as a disciple of Jesus Christ to push the limits of your own creativity, skill and faith—all for the glory of God. We infuse every course with a biblical worldview and strive to offer the best academic experience of any Christian university. Our vibrant Christian community will support you as you build your faith, challenge your potential and prepare to follow Jesus Christ.
What do you want to study?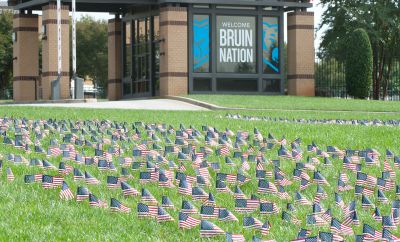 On the 13th anniversary of the 9/11 terrorist attacks, BJU commemorated the 2,977 lives lost with a display of American flags, the presentation of a 9/11 artifact and a special chapel to honor our first responders.
Our fall visit events begin this month! Come visit us for College Up Close on Sept. 24-27. If you live near South Windsor, Conn. or Hagerstown, Md., you can catch a ride on our motor coach!
This semester we're webcasting chapel messages by President Steve Pettit related to our theme, Walking in the Spirit, as well as a series with Bible faculty on Christ's Body: The Church. If you aren't able to watch live at 11 a.m. ET, you can watch webcasts on demand.
BJU's review of its policies and responses regarding abuse