Illustrator Ben Schipper (studio art, 2013) has always felt

the urge—the need, really—to create things

. He knew that he belonged in the world of art.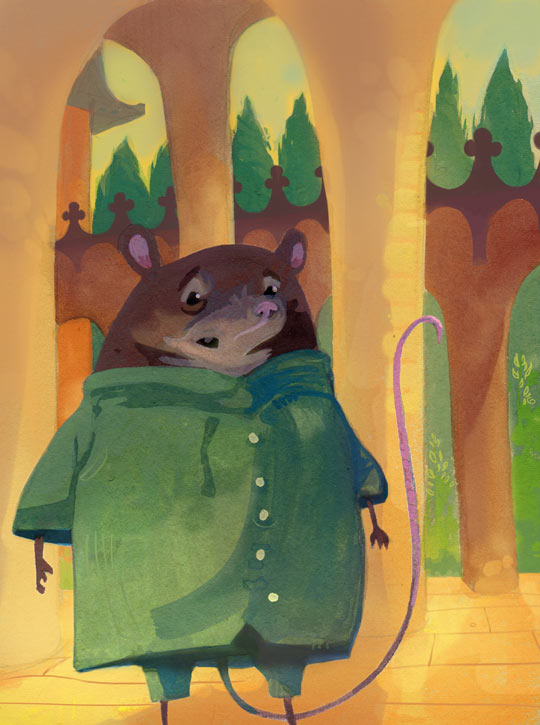 Matthias of Redwall
Budding Imagination
"It's demonstrating God's creativity in that act," Ben says. "By one definition, to create something that's pleasant for us and someone else to look at is art."
Even as a child, he created: sandbox canals and Styrofoam egg-carton ships, puppets made from the cardboard backs of toy boxes, paper pilgrim hats.
And he watched: the work of Bob Ross, the eccentric, afroed television painter; set, costume and prop design of The Lord of the Rings trilogy; concept art for a galaxy far, far away. "That's imagination—all of it," Ben says. "Seeing people create and how they do it: it's really inspiring. Fascinating."
"I probably first seriously considered being a professional artist when I watched the behind-the-scenes stuff on the The Lord of the Rings DVDs," he says. "I thought, 'Hey, those are real people obviously doing what they love and making money at the same time. Why can't I do something like that?'"
Ben was further influenced toward illustration in the fifth grade, when Ben's father introduced a library book to him: the first of Brian Jacques' Redwall series. "Some of the best times of my life were when I would read on my couch in my living room," he says. With his grape juice and waffles for a snack and a warm blanket, Ben would get lost in the world Jacques created. "Those are very inspiring books and times."
The first book opened his mind to a completely new world—one consisting of mice, badgers, stoats and other woodland creatures. Even after finishing the book and returning it to the library, he couldn't keep from thinking about it. "I went back, took the book, and didn't return it," he says with a sheepish chuckle. (He eventually did pay for the book.) "But I definitely have that book sitting on my shelf right now," he says.