Executive Vice President for Enrollment and Ministerial Advancement, Dean of the School of Religion and the Seminary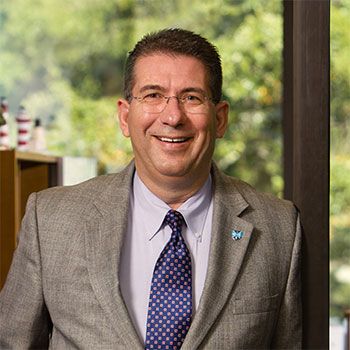 Sam Horn joined the executive team at Bob Jones University in January of 2015. While Sam clearly has the gift of administration, his heartbeat is to glorify God through fulfilling the great commission, faithfully studying and teaching the Word, giving Christ supremacy in every area of life, and making disciples around the world. Sam is passionate about reenergizing and advancing ministerial training at the University.
Sam desires to use his experience in pastoral ministry, teaching, and academic administration to recruit and train students for all disciplines and to embrace the mission of advancing the Gospel and serving the Church effectively.
Dr. Horn earned a BA in Bible (1986), an MA in Bible (1988) and a PhD in New Testament interpretation (1995) from Bob Jones University. In 2007, he completed his DMin in expository preaching from The Master's Seminary in California.
Sam has served in both academic and pastoral roles throughout his ministry. While a professor in the Bible departments at BJU, then Northland International University in Wisconsin, and most recently at Central Baptist Theological Seminary in Minnesota, Sam gained extensive experience in local church ministry, serving as youth pastor, associate pastor and senior pastor.
From 1986 through 1996, Sam served as a graduate assistant in homiletics, was a faculty member in the School of Religion, and was the director of the Office of Extended Education at BJU. He served in various academic and administrative positions at Northland International University from 1996 to 2002. In 2004 he became the senior pastor of Brookside Baptist Church in Brookfield, Wisconsin, where he served until accepting the presidency of Central Baptist Theological Seminary in Plymouth, Minnesota, in 2011. At the invitation of BJU president Steve Pettit, he joined the BJU administrative team as vice president for ministerial advancement in January 2015.
Sam has a deep burden for missions and has been privileged to participate on the founding teams for both Universidad Cristiana de Las Americas in Monterrey, Mexico, and Central Africa Baptist College in Zambia, Africa. He has been an academic advisor for Harvest Baptist Bible College in Guam. And he is a member of the boards of CABC in Zambia, and Gospel Fellowship Association, as well as the advisory board for Worldwide Tentmakers International.
Sam and his wife, Beth, have a married son, Robert, and a daughter in high school, Ashton.
Itinerary
Sunday, June 2 (a.m.)
Landmark Baptist Church
Louisville, Ky.
June 10–14
Grand View Camp
Eagar, Ariz.
June 17–28
The Wild's Christian Camp
Brevard, N.C.
Sunday, June 23 (a.m.)
Iglesia Bautista Nuevo Amanecer
Greenville, S.C.
Sunday, June 30 (a.m.)
Truth Baptist Church
South Windsor, Conn.
Sunday, June 30 (p.m.)
The Church of the Open Bible
Burlington, Mass.
July 1–12
The Wilds of New England
Deering, N.H.
Sunday, July 7 (a.m.)
Heritage Free Will Baptist Church
Laconia, N.H.
Sunday, July 14 (a.m.)
Iglesia Tabernaculo
Greenville, S.C.
July 15–26
The Wilds Christian Camp
Brevard, N.C.
Sunday, July 21 (a.m.)
Bethany Baptist Church
Brevard, N.C.
Sunday, July 28 (a.m.)
Kingsway Baptist Church
Lake Wylie, S.C.