About the School of Religion
For Ezra had prepared his heart to seek the law of the LORD, and to do it, and to teach in Israel statutes and judgment. (Ezra 7:10)
Prepare for ministry at BJU
Prepare for a lifetime of ministry! Whether you're preparing to be a pastor, missionary, evangelist, counselor or layperson, BJU's School of Religion provides a well-rounded education through a comprehensive Bible and liberal arts core.
Our ultimate desire is to see every student develop exemplary character, sufficient knowledge for a life of ministry and a desire to be true to the Scripture.
Comprehensive Bible Core
In the classroom, you receive comprehensive Bible education that emphasizes 4 key areas of study:
Familiarity with where things are in the Bible
Understanding of what the Bible says
Knowing how to preach and teach what the Bible says
Recognition of "problem passages" and skill to discern how to handle them
You will also read through the Bible once a year outside the classroom.
BJU Core
Providing classes in history, speech, English and science, BJU's liberal arts core complements the Bible education by teaching you powerful skills for living and communicating God's truth.
Ministry Classes
Ministry classes expose you to ministry opportunities and provide perspective into pastoral ministry.
Each Friday, all ministry students gather for a time of encouragement and challenge from a special speaker.
Learn more about BJU's ministry class
Caring and Knowledgeable Faculty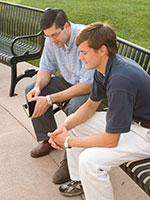 Many faculty members bring years of ministry experience to the classroom, providing critical perspective and insight into contemporary church issues.
BJU's faculty also strive to effectively communicate God's truth to this generation and build personal relationships with you individually.
Learn more about BJU's faculty:
Division of Bible | Division of Ministries
Many Diverse Ministry Opportunities
A major advantage of getting a Bible education from BJU is the diversity of ministry opportunities available outside the classroom. Greenville is home to hundreds of vibrant Bible-believing, Bible-proclaiming churches with opportunities for students to minister and grow.
Take part in student-led ministries, including preaching, evangelism, music ministry, Bible club and Sunday school.
Internships and Ministry Practicums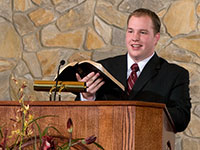 The School of Religion also offers a summer internship program outside the Greenville area that gives you hands-on experience at a church, evangelism ministry, mission endeavor or camp, depending on your major.
Put what you're learning into practice with summer ministry practicums, which provide accountability for participation in Christian service and personal evangelism activities, reading and listening to sermons, weekly Bible reading accountability and developing and preaching sermon outlines each week.
Our Beliefs
BJU offers a conservative Bible education that emphasizes a literal interpretation of the Bible. A major emphasis of BJU's classes is a biblical theology approach, rather than a systematic approach. BJU is a nondenominational school approaching theology from a Dispensational perspective.