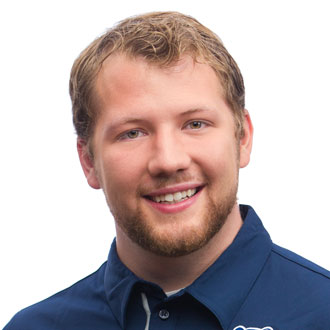 Hometown: Lapeer, Michigan
Undergrad Degree: Bible
States: IN, KY, MI, MN, WI
What type of high school did you graduate from?
Christian school
Why did you choose BJU?
Choosing a college has been one of the hardest decisions I have ever made. It seemed like there were so many things to consider: offered majors, cost, accreditation, campus atmosphere, and many others.
One of the best pieces of advice I got about choosing a college came from one of my high school teachers. I was very conflicted about college choices, and he encouraged me to look at the graduates of the colleges that I knew personally and determine which ones I would rather be like. College is about far more than learning a trade or getting a degree; regardless of where you go, you will graduate a different person than when you began.
The school you choose will largely determine who you will be when you're finished. As I examined the people I knew, I found that almost all of the BJU graduates were godly, professional, meek people whose attitudes were those of service to Christ. That is what I wanted.
How have you grown over your years at BJU?
Honestly, I am a totally different person than I was when I came to BJU. Primarily, I think that I have grown in my relationship with Christ. The time that I spent with God or learning about Him was revolutionary for me. I thought I had this whole Christianity thing figured out before I came to BJU, but I have found that I still have a long way to go.
The other big area that I have grown in at BJU is in the ability to lead. There are so many opportunities to learn leadership skills at BJU, and I had the opportunity to take advantage of a few of them. My experiences in leadership have changed the way that I interact with people on a daily basis.
What was your favorite class in college?
My senior year, I took what is called the Ministry Block. It's a ten-credit course that covers five major subject areas: youth ministry, evangelism, missions, church administration and counseling. Nearly the entire course is taught by guest speakers who would come into town for a week or two just to teach us. Needless to say, this course was pretty grueling, but it's right at the heart of what I want to do. It's sort of like what a lab hour must feel like to a physics major, seeing the hands and feet of our areas of study.
What sort of campus ministries were you involved in?
I got very involved with an extension to Anderson, South Carolina, where we led a weekly program for inner-city kids. We got to reach out every week to kids who come from homes where the Gospel has never been heard. After a few years, I became the extension leader and had both responsibility and opportunity that I never expected from a college outreach.
What's your favorite verse or Scripture passage?
Philippians 1:20-21 — "According to my earnest expectation and my hope, that in nothing I shall be ashamed, but that with all boldness, as always, so now also Christ shall be magnified in my body, whether it be by life, or by death. For to me to live is Christ, and to die is gain."
Any advice for incoming students?
Don't stress about the big decisions. I know that this is an important part of your life and there are a lot of big things to decide, but the key is to do the next right thing and do it all the way. Just take it step by step and you'll be fine. Figure out your next big decision and bathe it in prayer before you decide. Then do that for the next one. Lots of students have made it through; you can do it!