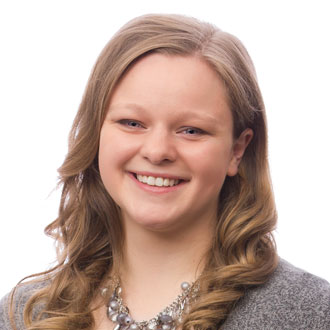 Hometown: Grand Junction, Colorado
Undergrad Degree: Theatre Arts
States: AK, AZ, CA, CO, HI, IA, ID, KS, MD, MO, MT, ND, NE, NM, NV, OK, OR, SD, TX UT, WA, WY
What type of high school did you graduate from?
Christian school
Why did you choose BJU?
I chose Bob Jones University because I knew that I would receive strong biblical training coupled with a professional educational atmosphere as I learned about my field of study through classes and personal experience. After visiting the campus and meeting the faculty, I knew BJU was the perfect fit for my needs, both as a student and as a Christian.
How have you grown over your years at BJU?
One of the biggest lessons I learned in my time as a student at BJU was the importance of seeing people instead of obstacles. College is a very busy time. It is so easy to get swept up in your classes, homework and extracurriculars that you can lose sight of the souls around you. Every single person you see, meet and talk to during your day is going through something. And every conversation presents you with an opportunity to show them the compassion of our God. I learned how to open my eyes and look beyond myself: to see people and to love them as Jesus does.
What was a misconception you had about BJU that was proven wrong when you became a student here?
When I came as a freshman, I was afraid that I wouldn't have many opportunities to develop close friendships outside of my major. Instead, I found that I met many of my closest friends at my job, choir, society, church, dorm, classes and outreaches. I found that although college is fast-paced and crazy at times, BJU emphasizes relationships in the midst of that craziness and provides countless opportunities to foster those lifelong friendships.
What was your favorite class in college? Why?
My absolute favorite class was a cocurricular class I took my senior year called Incarnation and the Humanities. The class was co-taught by faculty from the Bible and Theatre Arts departments and explored the interaction of the Christian and the arts, especially as it related to Jesus' coming to earth in the flesh. We talked about everything from painting to cooking to the Church councils. It was life-changing to see how God coming in flesh changed everything about the way that I live.
What sort of campus ministries were you involved in?
I attended a church in Tennessee and helped in their Sunday school and choir ministries. I taught at a Friday night Bible club. I also helped organize weekly Bible studies with my choir and my fellow Theatre majors. My favorite ministry was being a discipleship group leader in my dorm. I had the privilege of investing in the lives of 13 other girls, and it was an unforgettable, wonderful experience.
What are your hobbies?
My heart is in the theatre. I love the whole process, from the writing of the script, through all of the tiny details of rehearsals, to the final performance. I love music, both singing and playing. Being from Colorado, I absolutely love my mountains!
What is your favorite spot to hang out on campus?
Without a doubt, Performance Hall. I would go to rehearsal early and eat dinner on stage with the rest of the cast and crew of whatever play I was working on at the time, and then do homework afterward. It was a place filled with laughter, music, friendship and fun, and we occasionally got some work done too!
What's your favorite verse or Scripture passage?
Every year I choose a new theme verse to meditate on throughout the year. This year I chose Proverbs 16:9—"A man's heart deviseth his way: but the LORD directeth his steps." This verse is a constant reminder that my God is active in my life. My steps are directed and protected by Him. What a comfort!
Any advice for incoming students?
College is an exciting time full of many changes and new experiences, so embrace them! Get out of your comfort zone. Meet new people and try new things. Join a choir and try out for a play. Your college experience will be what you make of it, so make it count.