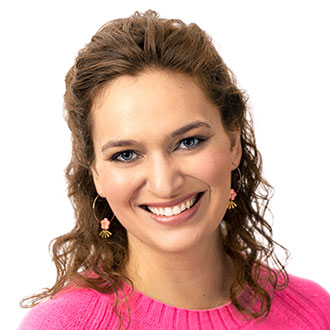 Hometown: Kingsport, Tennessee
Undergrad Degree: Journalism & Mass Communication
Grad Degree: Biblical Counseling
States: AL, AR, FL, GA, LA, MS
What type of high school did you graduate from?
Homeschool
Why did you choose BJU?
I fell in love with the atmosphere BJU fosters and thought this was a great fit for my personality and interests. I was right.
What was your favorite class in college?
Hands down, Counseling Women! I credit that class with helping me realize how exciting a relationship with God can be.
What sort of campus organizations were you involved in?
Society officer roles, summer mission team, discipleship group leadership
How have you grown over your years at BJU?
My time at BJU was so good for me because it helped me build quality relationships with people whose backgrounds were different from mine. Some of my very closest friendships to this day were formed here at BJU, and I am so thankful for the Christlike atmosphere where they were formed! I also participated in a BJU summer mission team to the American West, which was an amazingly fun and stretching experience! That trip opened my eyes up to ministry/evangelization needs in our own country and was inspiring as I met BJU grads who were serving the Kingdom. I highly recommend participating in a summer mission team if you get the chance.
What are your hobbies or interests?
Traveling and learning about other cultures, spending time outdoors, hanging out with friends, church, and family, working on my biblical counseling certification and looking for ice cream in the freezer.
Any advice for incoming students?
Commit to a solid local church in the area as soon as possible and get involved! Don't give into the temptation to church surf with your friends through your 4 years. Your involvement in your local church provides an opportunity for you to grow spiritually, build relationships off ampus and have a home away from home.