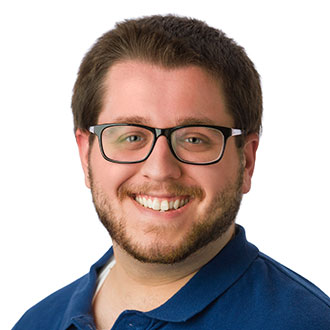 Hometown: Bolingbrook, Illinois
Undergraduate Degree: History
Graduate Degree: Communication Studies
States: CT, DE, MA, MD, ME, NH, NJ, RI, VA, VT
What type of high school did you graduate from?
Christian school
Why did you choose BJU?
I came and visited BJU several times throughout high school (four AACS trips, a College Up Close trip, and a High School Festival, to be exact). Each time I came here, I was amazed at the strong academics, the fellowship among the students, and the opportunities to grow as a person and as a Christian. I knew I had to come here from the moment I visited.
How have you grown over your years at BJU?
My relationship with Christ, first and foremost, has become so much deeper and stronger as a result of living in an environment that is constantly exposed to the things of God. Being surrounded by fellow believers who care about my growth in the Word has helped me see who God is and has encouraged me to continue to get to know Him even more every day. Second, I'd say that I've learned so much about theatre that, as a freshman, I did not care about. Some of my closest friends were theatre majors, and getting to know them and see the work that they put into their shows is not only inspiring but has also ignited a love for the theatre arts that I did not know I had.
What was your favorite class in college?
I'd probably say Public Speaking. I don't think I was ever challenged more during my undergrad years, but this challenge completely changed me as a person. Having to constantly work on projects and speech outlines forced me to manage my time more effectively, and practicing those speeches forced me to concentrate on each area of effectiveness as a speaker. I firmly believe that this class contributed more than any other to educating my whole person.
What was one misconception you had about BJU that was proven wrong when you became a student here?
I figured that because the student body was so large, the faculty would not really be as involved in personal lives. I was so wrong. Some of my closest friendships are with the faculty who have taught me over the years, even faculty who have retired or have moved on to what the Lord has called them to do.
What sort of campus organizations were you involved in?
I played trombone growing up, so I joined the Trombone Choir when I arrived as a freshman. I played with them for all four years. I also did Concert Band for one semester. I was also involved in my society (go Cobras!) quite a bit; I was spirit leader for two semesters and chaplain for one semester. It was neat to be so involved with a group of guys who were striving to accomplish the same thing: glorify God.
Any advice for incoming students?
Don't forsake your relationship with Christ. It's truly the best relationship that you have, and He is all you need in times good or in times bad. You will have hard times; I can't sugarcoat that or deny that. However, you are in an environment where people care about you and will encourage you to seek after God and the things of His kingdom. You will never regret getting closer to God. I'd also say one word: breathe. There's a lot happening all the time. Don't overthink things. Trust God. If He has brought you here, then He will give you the grace and strength you need to get through it.
What's your favorite verse or Scripture passage?
Isaiah 26:3–4. It's incredibly encouraging to know that God will keep us in perfect peace when we trust in Him alone, as hard as that may be at times.