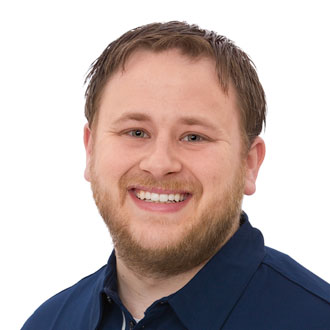 Hometown: Greenville, S.C.
Undergrad Degree: Bible
Graduate Degree: Ministry, Pastoral Studies
States: NY, OH, PA, WV
What type of high school did you graduate from?
Christian school
How have you grown over your years at BJU?
When I was in high school and began thinking about college, I had no idea exactly which major to pursue. I knew I wanted to serve God, but didn't know exactly what that would look like. I knew that a liberal arts education at BJU would prepare me, no matter what field I eventually decided to study. I also knew that both of my parents were thankful for the education they received at BJU (my mom in elementary education and my dad in mathematics/computer science), and that played a big role in my decision to follow in their footsteps.
What was your favorite class in college? Why?
Christian Masterworks was a very encouraging class. I got to read works by C.S. Lewis, John Bunyan (yes, he wrote more than one), A.W. Tozer, Luther and several smaller works. The best part of the class was seeing my teacher's passion as he read portions of each work. I'll never forget the time I saw tears in his eyes as he read to us from Pilgrim's Progress. Those types of moments made the class stand out from the rest and gave me a passion for strong Christian literature.
What are your hobbies or interests?
I absolutely love playing with my two boys! On the weekends I enjoy watching college football, working in the yard or fixing up our house. I grew up playing soccer (mostly defense and keeper), snowboarding in the Rockies, backpacking in the Appalachians, and participating in speech and debate.
What sort of campus ministries were you involved in?
Since I grew up in Greenville, I was already pretty active in my local church. I continued serving in the children's ministry all throughout college and loved teaching and mentoring kids through our Kids4Truth program. On campus I had the opportunity to serve as my society's chaplain, leading our society Sunday school and prayer meeting. I also had the amazing opportunity to travel on the BJU Australia Mission Team.
If you could visit one place, where would it be?
Worcester, England. It's where the Wooster name began, and they also have a great steak sauce.
Any advice for incoming students?
Ask. Your teachers. Questions. One of my biggest regrets is not asking enough questions as a student, or dropping by my teacher's offices to talk with them. They won't look down on you for trying to learn your subject well. Also, our teachers are awesome.