High School Festival: Culinary Arts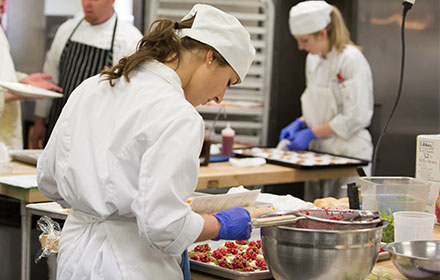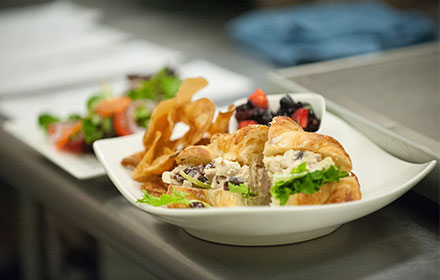 Our newest contest, the culinary arts competition challenges you to plan ahead, think creatively and work as a team. Show our culinary faculty your team's precision and technical skill and create a detailed menu, entree and dessert.
Competitors
Students in grades 10–12
Teams can have up to 3 members
Maximum of 6 teams
Because of the timing of the competitions, it is not likely that a student can participate in multiple competitions if they compete in Culinary.
What to Wear
Each team will be responsible for their own uniform, but the following should be considered.
Each member should wear closed-toed, non-slip shoes.
Pants that fully cover the legs are required (no capris).
The team should be consistent in appearance; this can be a team polo shirt or chefs jacket.
Special Events
All team participants and their sponsors are invited to a BBQ lunch in the Culinary Arts building along with the BJU Culinary faculty and current students. After the lunch, the competition winners will be announced. The lunch will be at noon on Wednesday.
A sign-up list will be available during the supply check-in. The menu will be created by Culinary Arts students and will tentatively include house smoked pulled pork BBQ, coleslaw, potato salad, sweet potato casserole and a variety of desserts.
Competition
Teams will demonstrate proficiencies in 3 areas:
Menu Creation—specifically of menu to be prepared


The team will write a menu that will be prepared in the competition. The menu will include an entrée and a dessert.
The menu and recipes should be printed and provided for the judges to consult.

Knife Skills—the team will demonstrate 4 precision cuts

These cuts will be done 30 minutes prior to competition.
2 cuts will be the team's choice and 2 will be randomly assigned by the judges.
The cuts will be completed on potatoes.

Meal Preparation—entrée and dessert

Entrée will include (3 identical portions)

Protein—team provided (no shellfish)
Vegetable
Starch
Sauce

Dessert will include (3 identical portions)
You should submit your menu for approval by Oct. 13. Email the menu to Rob Hansen.
Schedule
Monday, Oct. 28
Check in supplies — 12 noon–5 p.m.

Culinary Arts Kitchen
Temperatures will be checked to ensure food safety.
Label with item identification, team name/school

Kitchen Orientation meeting at 6 p.m. (Required of all participants)
Tuesday, Oct. 29
45-minute prep (MEP) session—based on competition order (8, 9 or 10 a.m.)
Competitions—4 teams competing concurrently

12:30–3:00 p.m.
3:00–5:30 p.m.
5:30–8:00 p.m.

Competition time: 2 hours

30-minute setup
90-minute food preparations/cooking
30-minute judging/cleanup
Wednesday, Oct. 30
12 noon BBQ lunch for teams and sponsors with Culinary Arts students and faculty
Announcement of competition winners
Limitations
Students may win first place more than once in successive years with different pieces.
Any student who does not fulfill all of the contest requirements will forfeit his right to win but will receive judges' written critiques.
Awards
The 1st and 2nd place teams will receive full scholarships to a BJU EDUcamp.
Side-by-Side Music Experience
Students are strongly encouraged to rehearse and perform in one of the following side-by-side experiences hosted by members and directors of BJU performing groups.
Wind Band
Open to 9–12th grade students in brass, woodwind, and percussion. Students will rehearse and perform side-by-side with members of the BJU Symphonic Wind Band under the direction of Bruce Cox.
Orchestra
Open to 9–12th grade students who play violin, viola, cello or bass. Students will rehearse and perform side-by-side with members of the BJU Symphony Orchestra under the direction of Michael Moore.
Violin I must be able to play with confidence and ease in fifth position, Violin II and Viola in third position, Cello and Bass in fourth position.
Concert Chorus
Open to SATB singers recommended by their director.
Each school or homeschool group may select up to 3 balanced quartets of SATB for a total of 12 singers maximum. These singers will rehearse and perform concert choral literature side-by-side with the Chorale under the direction of Warren Cook.
Festival Singers
Open to SATB singers participating in any area of the Festival. This chorus will rehearse and perform side-by-side with the University Singers, under the direction of Pattye Casarow.