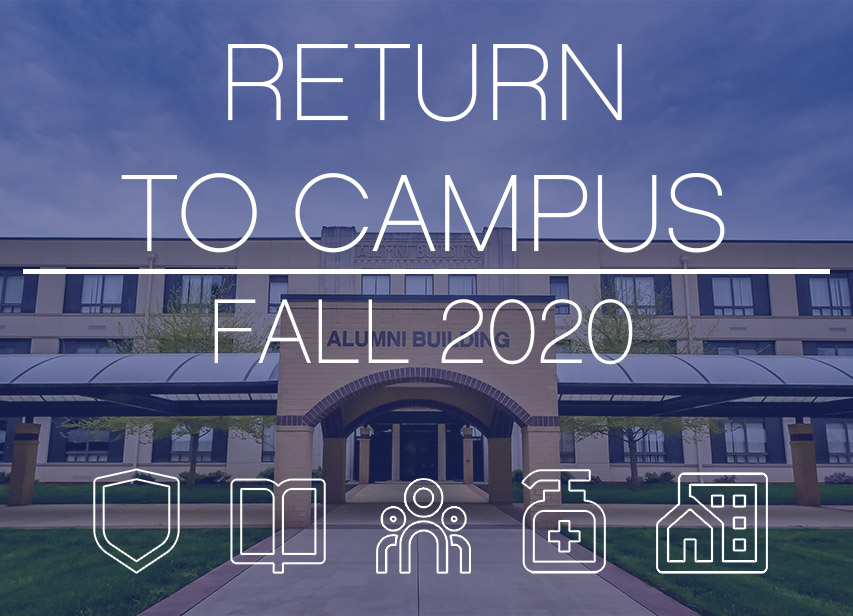 We look forward to welcoming the BJU community back to campus as we return to on-campus, in-person classes for fall 2020. As we begin the semester, the health and safety of our students, faculty, staff and community continues to be our highest priority.
We're making plans based upon the best and most recent guidance from the Centers for Disease Control and Prevention, the South Carolina Department of Health and Environmental Control and local health officials—which includes physical distancing and other protective measures.
Plans will be adjusted as the situation requires.
Semester at a Glance
| Date | Event |
| --- | --- |
| Aug 14 | New Student Check-in |
| Aug 15 | Returning Student Check-in |
| Aug 16–18 | Opening Exercises and Services |
| Aug 18 | Classes Begin |
| Nov. 20 | Classes End |
| Nov. 21, 23, 24 | Exams |
| Nov. 25 | Thanksgiving Break (Students do not return until second semester) |
| Dec. 17 | Semester Ends |
4 Ws to Remember
Wear a mask
Watch distance
Wash hands
Wipe surfaces
Campus Safety

BJU will use physical distancing and other techniques to minimize the spread of illness across campus, including classrooms and dining facilities. Everyone should follow any physical distancing signage on campus.

Services in the dining common, The Den, libraries, recreation facilities, Student Center and other public areas will be adjusted for physical distancing and preventive measures, such as reducing capacity and implementing enhanced cleaning.

We are asking students to wear masks that completely cover the nose and mouth. This requirement will primarily be in buildings and locations where we will deem it necessary. BJU will provide a reusable cloth mask to students, faculty and staff.
Student Life activities will consider appropriate physical distancing and group-size guidelines from state and local officials.
Symptom Checking
BJU will perform a symptom check (checking temperatures and asking questions about symptoms and potential exposure) for each student when they first arrive. We will ask students, faculty and staff to check their temperature and symptoms daily. Symptom checks will be monitored by our health care provider.
Academics
Starting the fall semester earlier and removing the fall break will allow in-person instruction to end before our Thanksgiving break. Exams will be held prior to the break, and students will not return following the break. The semester will officially end in December.
Instruction
Every classroom is being evaluated and adjusted for maximum effectiveness and safety. Many classes are being moved to larger rooms, and seating is being spread apart for physical distancing.
We are committed to continuing to provide high-quality academic instruction regardless of the method of delivery. We are also committed to helping students succeed both inside and outside of the classroom.
Housing and Dining
The number of students per residence hall room will be limited to three per room. No overnight guests will be allowed in the residence halls. Special accommodations will be made for students that are at risk due to underlying health concerns. Guidelines will be in place for shared spaces and facilities.
Provision will be made in another housing facility for students who have become symptomatic and require testing as well as those who have tested positive for COVID-19. This facility will provide for virtual physician visits, health screenings, mail delivery, virtual learning, and student care and dining services.
BJU Dining Services is committed to providing a safe environment for students and employees. Enhanced training for employees, dining space adjustments, increased cleaning and flexible meal options will all help ensure the safety of our students and campus community.
Cleaning
Common spaces and commonly touched surfaces in university buildings will receive enhanced cleaning. Hand sanitizer and cleaning materials will be readily available near classrooms and in residence halls.
Custodial staff will be trained on increased cleaning measures and updated practices for cleaning tools and high-touch surfaces.
Community
We expect each member of the university community to take steps to be safe, including mask-wearing when necessary, proper physical distancing and handwashing. Our ability to be together on campus depends on the individual actions of each person. We must accept personal responsibility and be accountable to each other.
Masks are important to our fall semester. You can be sick without having symptoms.
Help others by wearing a mask in public.
---
Health Services
BJU is partnering with Prisma Health, the region's largest provider for quality health care, to introduce BJU Health Services which will provide students with added on-campus resources and expertise while maintaining a personal touch.
Prisma Health provides enhanced services such as virtual consultation applications for health care and a 24/7 Nurse Call Line. The Prisma Health partnership will also give students same-day access by appointment to Prisma Health Pediatrics & Internal Medicine-Wade Hampton, which is located within easy walking distance of campus.
As part of its partnership with Prisma Health, BJU will be using an electronic health assessment tool for students, faculty and staff to perform a daily health screening. Those who complete the screening and indicate they are not feeling well will be able to have contact with a doctor or nurse practitioner to provide medical advice.
BJU will also provide a place on campus to give health guidance to students by a BJU Health Services employee who will coordinate with Prisma Health on medical advice and care navigation.
More Information
Additional and more detailed information will be provided as it becomes available. Details could change at any time. Information will also be delivered to the campus community through email and BJUtoday.