Heart of a Coach: Andrew Wingreen
As the summer sun beat down on Andrew's arms, he steadied the bat and squinted at the pitcher. The pitcher let the ball fly, and Andrew swung—and that's when his heart began beating wildly.

When he reached first base, he hung his head and rested his hands on his knees, hoping that his heart would calm down. Should he tell his coach or not? He hated to admit he was having trouble again.

Earlier in the summer, lying upside down with his head below his heart would have helped. But now, nothing seemed to work except a trip to the ER, where they would inject him with something to slow his heart rate—which often reached 200 to 300 beats per minute.

He decided to tough it out. He would tell his mom when the game was over.
Don't measure yourself by what you've accomplished, but rather by what you should have accomplished with your abilities. ~John Wooden
Sure enough, that evening when his heart still would not slow down, his mom rushed him to the ER for another injection. It was his third night in a row at the ER.
At Andrew's next cardiologist visit, his cardiologist looked at him and said: "We just need to get this valve fixed. No more sports until we get this fixed."
So as a high school freshman, he traveled to the Mayo Clinic in Minnesota for open heart surgery. "They were just going to do a routine procedure to fix the leakage," he says, "and also fix a hole I had in my heart. Going into the surgery, I was thinking, this will fix it and I'll be able to go back to normal."
However, when he got out of surgery, his heart wasn't responding as well as his surgeons hoped. A few days later, they decided to operate again and replace Andrew's faulty valve with an artificial valve made from a pig heart valve.
"When they were doing that, they nicked my AV node, which is basically the nerve in your heart that keeps all the electrical signals in sync," Andrew says. "So my heart went into a lot of crazy rhythms, and they came close to losing me on the operating table."
"They were able to replace the valve, and put a pacemaker in, but I was in the ICU for a couple weeks after that, trying to recover."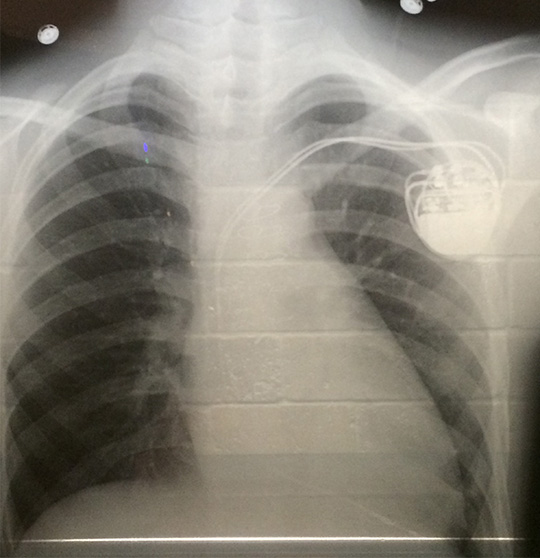 Goals achieved with little effort are seldom worthwhile or lasting. ~John Wooden
When Andrew was well enough to start physical therapy, progress was slow. "The doctor would have me walking for 2 or 3 minutes at a time," he says. "I would be out of breath, but I'd be like, 'Okay, I'll get there eventually.'"
"Going up stairs was really hard. Finally, I was able to start jogging, and then running eventually. But I never got back to my old self. My doctors would not clear me for high school basketball, which is what I had always wanted to do."
"I was one of those kids that was always in the driveway working on my game," he says. "It didn't matter whether it was 20 degrees and snowing, or if it was midnight and the neighbors (or my parents) were sleeping. If the basketball got icy and flat, I would have two more in the rotation—waiting in the warm water of the bathtub."
Andrew became angry at his parents and his doctor for not letting him do things he enjoyed. He became bitter against God too, and didn't want to go to church anymore.
Despite Andrew's attitude, God was still working. Sometime around his junior year of high school, Andrew read a book that transformed his life: Wooden: A Lifetime of Observations and Reflections On and Off the Court, by legendary college basketball coach John Wooden.
"That ignited a passion to coach when I saw the impact I could have," he says. "That really started my journey as a coach."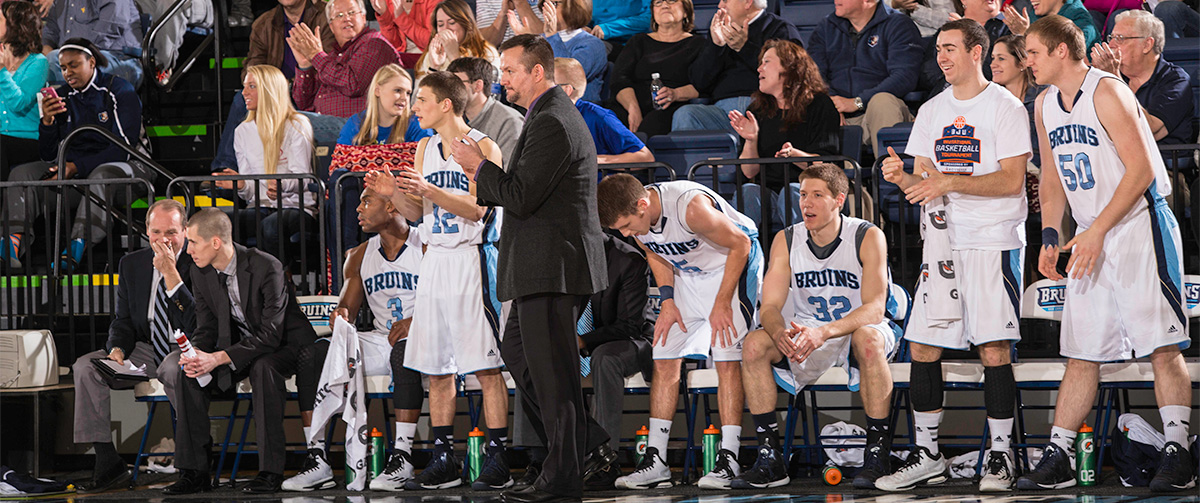 The time to prepare isn't after you have been given the opportunity. It's long before that opportunity arises. Once the opportunity arrives, it's too late to prepare. ~John Wooden
As a freshman at Northland International University, although Andrew wasn't able to play basketball, he could play golf. And it was on a golf trip that he first connected with Coach Pete Wehry, who was the dean of students at the time.
"I was lucky enough to draw the short straw and share a hotel room with him," Andrew says. "When all the other guys were out playing video games or swimming, I was sitting in my hotel room reading books about coaching."
"Coach Wehry remembered that. When he got the job as basketball coach, he needed an assistant, so he asked me if I wanted to be an assistant coach for him. So that gave me my start in coaching."
Both Coach Wehry and Paul Whitt, who succeeded Coach Wehry as dean of students and was also a basketball coach, took Andrew under their wing.
"The way that they worked with me—it wasn't always stuff with my heart condition, but you know, obeying authority, following the rules, things that college kids struggle with. They never condemned me for it," Andrew says. "They still worked with me and just pointed me toward the direction of, 'Hey, this is how you should do it. No, it's not okay that you did this but I still love you, I still forgive you, let's move on.'"
"That mentorship, that discipleship that they gave me—they showed me how the Gospel is alive and powerful. Because of their mindset and the way they talked to me, I was able to really grow and see that coaching is more than the x's and o's, it's more than what you see on TV. It's what goes on behind closed doors, the deeper issues of someone's life. They showed me how to work with people, talk with people, love people."
Due to his health and other issues, Andrew had to sit out of college during the spring of his sophomore year. "That's when I feel like God really changed me," he says.
"I had been saved before, but I wasn't walking, wasn't really following what God wanted me to do. … He really broke me that semester. I was just like, 'I can see You working, I can see how You're going to use me.' That's when I really surrendered to the call of being a coach, just letting go of my physical incapabilities."
And when Andrew returned for his last couple years of college, God worked another heart change—thankfulness.
"I realized I needed to be thankful for this situation," Andrew says. "Before that, it was more like, 'Oh poor me, I can't do this—you can do that, so you'd better be happy.'"
"But then I started seeing it more as, 'Man, God, you really gave me something tough. It's not necessarily something I enjoy, but it's something that You have a bigger purpose for.'"
"The more I started seeing real-life situations where I could talk to somebody and see how my past could influence them and help them through a tough situation, the more I realized how my heart condition could be used for the greater good, for the Gospel, to encourage people."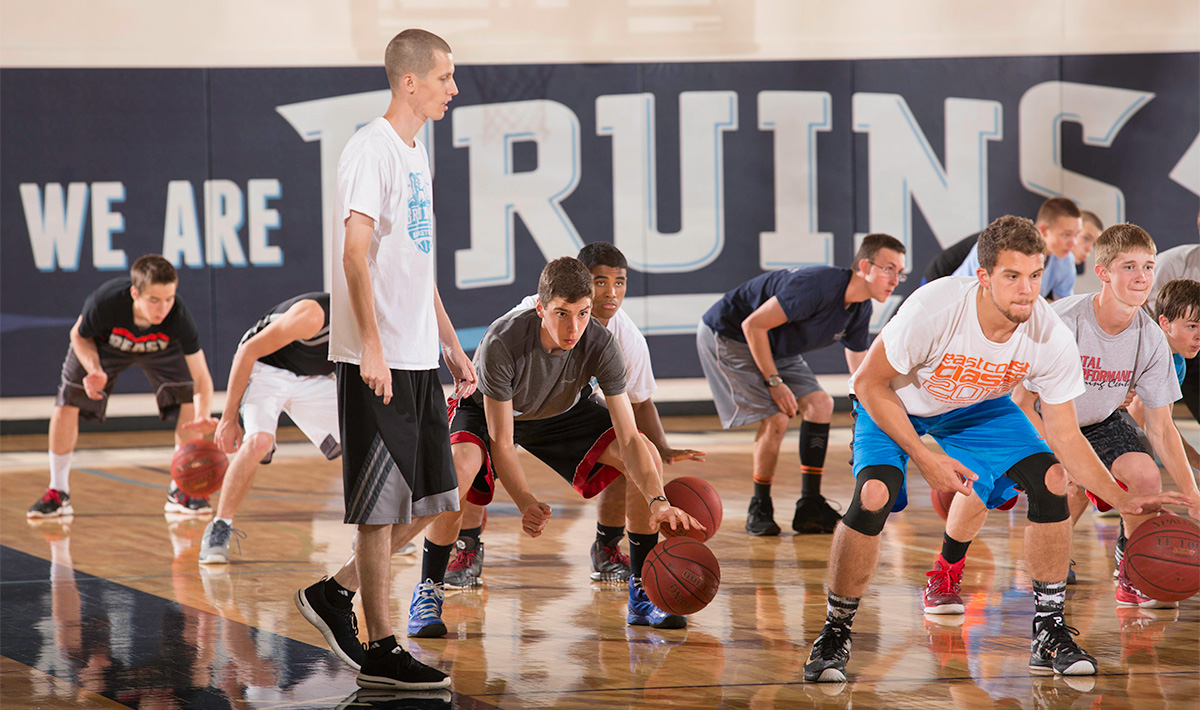 Be more concerned with your character than with your reputation. ~John Wooden
Andrew graduated in 2011, and over the next year, he and his wife moved from Wisconsin to Florida to Illinois in search of the right-fit coaching position. Meanwhile, Bob Jones University was preparing for its inaugural year of intercollegiate sports.
Coach Neal Ring—whom Andrew had crossed paths with during his undergraduate coaching days—was named the Bruins athletics director and the head coach of men's basketball.
"When Coach Ring got the job at BJU, he offered me a full-time position here," Andrew says. "I was considering some other options, but those didn't work out, and I decided that this would be a great place for me."
Now going into his fourth year as an assistant coach for the Bruins men's basketball team, Andrew is as passionate as ever about the game of basketball—and about discipling his players to glorify God on and off the court.
"In the coaching profession, especially college coaching, you run into so many coaches who are in it to move up to the highest level they can," Andrew says. "They're in it for the money, the fame, the notoriety. They do it for the wrong reasons."
"Every coach has a dream. I do dream about stuff. But when it comes down to it, the reason I coach is the opportunity to build relationships, to talk to guys about their life. Because I know when I was that age, I could have gone either way. I could have gone the right way or I could have gone off the deep end. Thankfully I had the right people in my life to steer me the right way."

And now, as a Bruins basketball coach, Andrew has the chance to do the same for others—touch their hearts for eternity.
Learn more about our programs.