Loving In Deed: Anna Dahlhausen, ER nurse
Anna Dahlhausen had always told people she wanted to be a nurse when she grew up. And with her dad being a doctor, she had plenty of opportunities to observe medical work. One of her earliest memories involves watching her dad perform a procedure.
"We had a friend who needed his toenail removed after hours," Anna says. "I was out with my dad at the time, so I went with him to his office. I sat there eating a lollipop while I watched him remove this guy's toenail—which is really gross. And Dad says, 'I've known ever since then you were going to be a nurse!'"
But Anna wanted to be sure that nursing was God's plan—not just her own—for her future. Should she pursue a career that used her German skills somehow? Should she look into teaching English as a second language overseas?
More than anything, she prayed that whatever career she ended up in would allow her to build relationships and minister to people.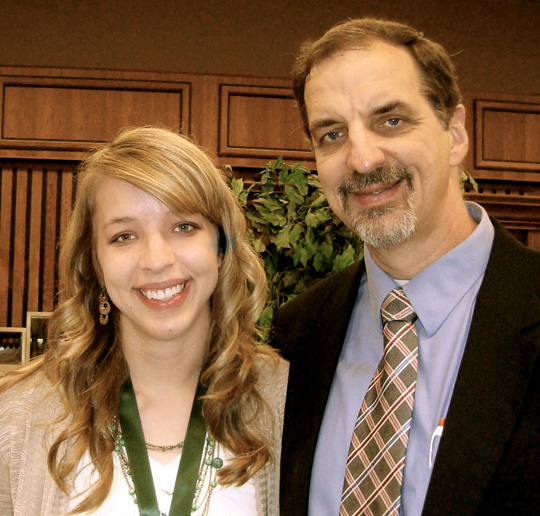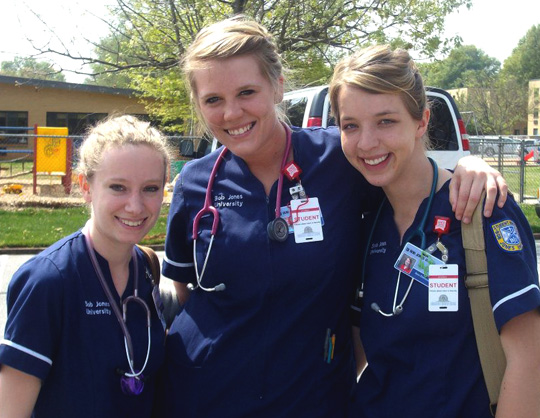 Nursing as a Ministry
By the time she enrolled at BJU in 2009, "I decided to go with the nursing route, mainly because of my dad's influence," she explains.
When she looked at her dad's experience in the medical field, she saw the fulfillment of her ideals. "I loved all the opportunities he had with people. Not just helping them physically, but how many counseling opportunities he had," she says.
And BJU was the perfect place to prepare her for that. "I loved getting nursing training and going through those challenging times with people I knew loved the Lord and who were pushing me toward that as well," she says. "My time there was really influential in developing my view of nursing as not just a job, but a way of ministering and reaching out to people."
Papua New Guinea
One thing that BJU's nursing faculty encourage their students to do is to use their nursing skills on mission trips. And that's exactly what Anna did the summer after her junior year—she spent six weeks in Papua New Guinea with a missionary nurse.
Besides tending to illnesses and injuries at the clinic, she also helped the missionary nurse deliver nine babies—five in 48 hours around the first full moon, and four in 48 hours around the next full moon. It was the perfect follow-up to the obstetrics and pediatrics clinicals she'd had just the semester before.
"It was a really good experience," Anna says, "because it gave me nursing training in a completely different environment than anything I've ever done before."
It also deepened her understanding of ministry through medicine. Every patient who visited the clinic heard the Gospel—the missionaries made sure of that—and nearly every patient went away again, unbelieving. Even though they did not believe, they still saw the love of Christ displayed through the care they received.
"It's really important to show people that we don't just care about them accepting our religious views," she explains, "but we do care about them as people."
Was this the kind of nursing ministry God was leading her toward, she wondered? She prayed that God would give her direction. And He did—He used her time in Papua New Guinea to confirm that this was not the kind of work He was calling her to.
She never could have imagined that He was calling her to work in an emergency department.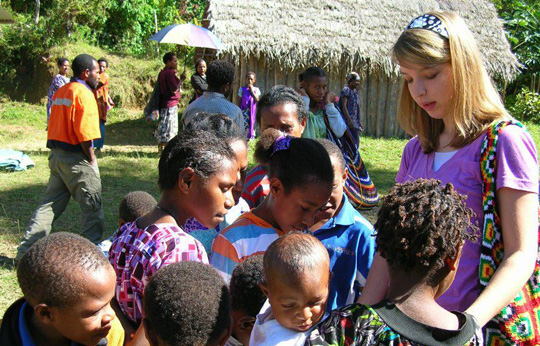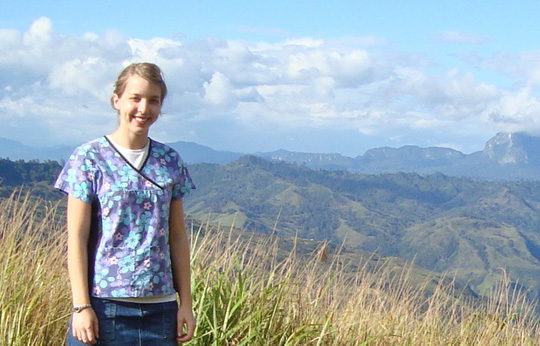 Emergency
"I didn't want to do the ER," she says. "I've never been to an emergency department as a patient, so I had a skewed vision of what an ER was like. I always thought, 'It's too stressful. I'm a laid back person, so that doesn't sound cool at all.'"
However, when she finally experienced the emergency department during her senior year's clinical rotations, she discovered that she loved it.
"Every single time, I loved all the people that we saw in one night. I loved all of the diversity, where it's not just the same thing you have in all four of your rooms, but every patient has a different presentation," she says.
"I loved all of the critical thinking behind it, where you're not a doctor but you have to think more like a doctor, because when they first come in, you don't know what's going on with them. You really have to use your assessment skills to figure out how sick are they, how can we get them feeling better, what's causing this, etc."
"I enjoy that you can often see the result of what you do. If a patient is bleeding everywhere, and you stop it, and get them pain meds, and the doctor stitches them up, and they go out feeling much better, then it's very rewarding."
To confirm that the emergency department was truly where she wanted to be, Anna requested an ER placement for her practicum at the end of her senior year, and ended up getting it. After six weeks of almost full-time work with a nurse in the emergency department—200 hours total—she still loved it.
A Job Provided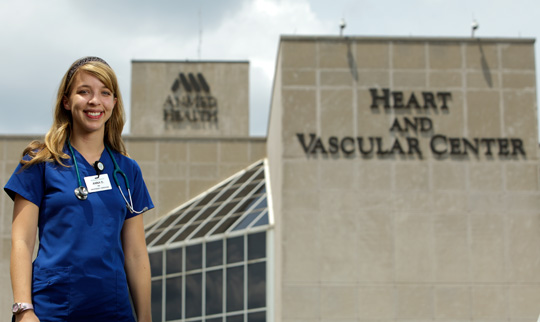 However, after she graduated with her BSN in May of 2013, she didn't know whether she'd be able get a job in an emergency department right away. "It's a critical care field," she explains, "so it's not necessarily going to be the first floor that's going to hire a new grad."
She applied to all different kinds of nursing jobs, but the first place to offer her a job was indeed an emergency department. "It's definitely of the Lord," she says.
As she started her new job, she realized again what a solid foundation she'd gained at BJU. "There were so many things I had already done several times and felt comfortable with, just from having extensive clinicals," she says. "That just made the transition really easy, and I felt like it made me a safer, more confident nurse at the beginning. And several people commented on it: 'Are you a recent grad?' They didn't think I was."
"It's the Holy Spirit"
Despite the fast-paced nature of working in the emergency department, Anna says that it's given her more opportunities for relationships and ministry than she could have imagined.
It's been easiest to build relationships with her colleagues, of course. "There's so much teamwork in the ER. You rely on the other nurses so much," she says. And going through difficult experiences, like watching a patient pass away, bonds Anna and her fellow nurses together in a special way.
Although she doesn't have extended periods of time with her patients, Anna has found that even the briefest contact can make an impact. When patients come to the ER, "They're in a needy time in their life; they're very vulnerable," she says.
Sometimes she is able to provide direct spiritual support. "I've been in the sick room when doctors have told patients that they're going into ICU and they don't know what the outcome will be and the doctors are asking, 'If something happens, what do you want us to do?' Being able to talk to them, saying, 'Well, let's pray' or asking 'How can I help you with this?' is just a really neat time to be with someone."
Other times, her most important task is just to show love. Whether it's a patient who's discovered she's critically ill, or a victim of a drunk driver, or a homeless man looking for a meal and a warm bed, or a heart attack patient, or a drug addict who's overdosed yet again, Anna knows that each patient is a soul who needs to see Jesus' love. Some of them are harder to love than others, she admits. She's been cursed out plenty of times.
But she's also amazed at how many people do notice what she does—commenting on her smile and her bedside manner, thanking her for explaining something to them and treating them like a human being. "They might not know it," she says, "but it's the Holy Spirit."
To Make Christ Big
"My goal is to provide them with the best care that I can," she says, "and to do that in a way that shows them that 'I'm really doing this out of love for you, because Christ loves you.' Even if they don't remember it or care."
When she first started working in the emergency department, she worried that she didn't have enough time to share the Gospel with the patients she saw. But she soon realized that whether or not she had a chance to share the Gospel, she could still glorify God.
"When you have a reason, when you have a purpose, for showing people love even when they're unlovely, I think that glorifies God," she says. "If God gives the opportunity to tell my patients why I do what I do, that's awesome. If I can't, it still honors the Lord."
"For right now, I love what I do and I want to keep doing it," Anna says. She is pursuing a graduate degree online in order to become a nurse practitioner someday, although it's hard for her to imagine leaving the emergency department job she enjoys so much.
She's also taking opportunities to do medical work overseas. Just recently, she spent two weeks in Benin, West Africa, with a team of doctors, dentists and other nurses.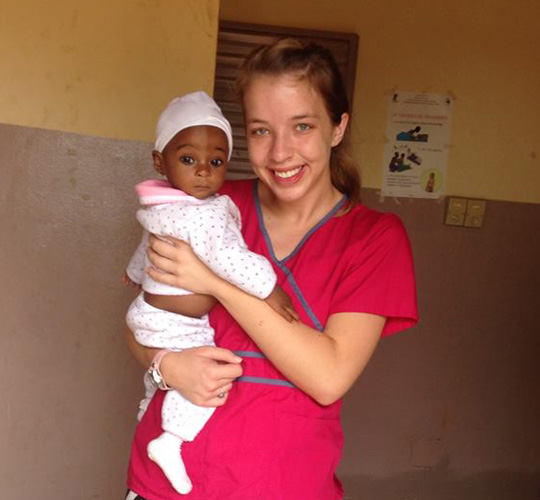 Anna's ultimate goal, she says—whether it's overseas or at home, in tasks mundane or life-saving—is that she would "make Christ big."
Learn more about our programs.