Created to Create: Ben Schipper, Illustrator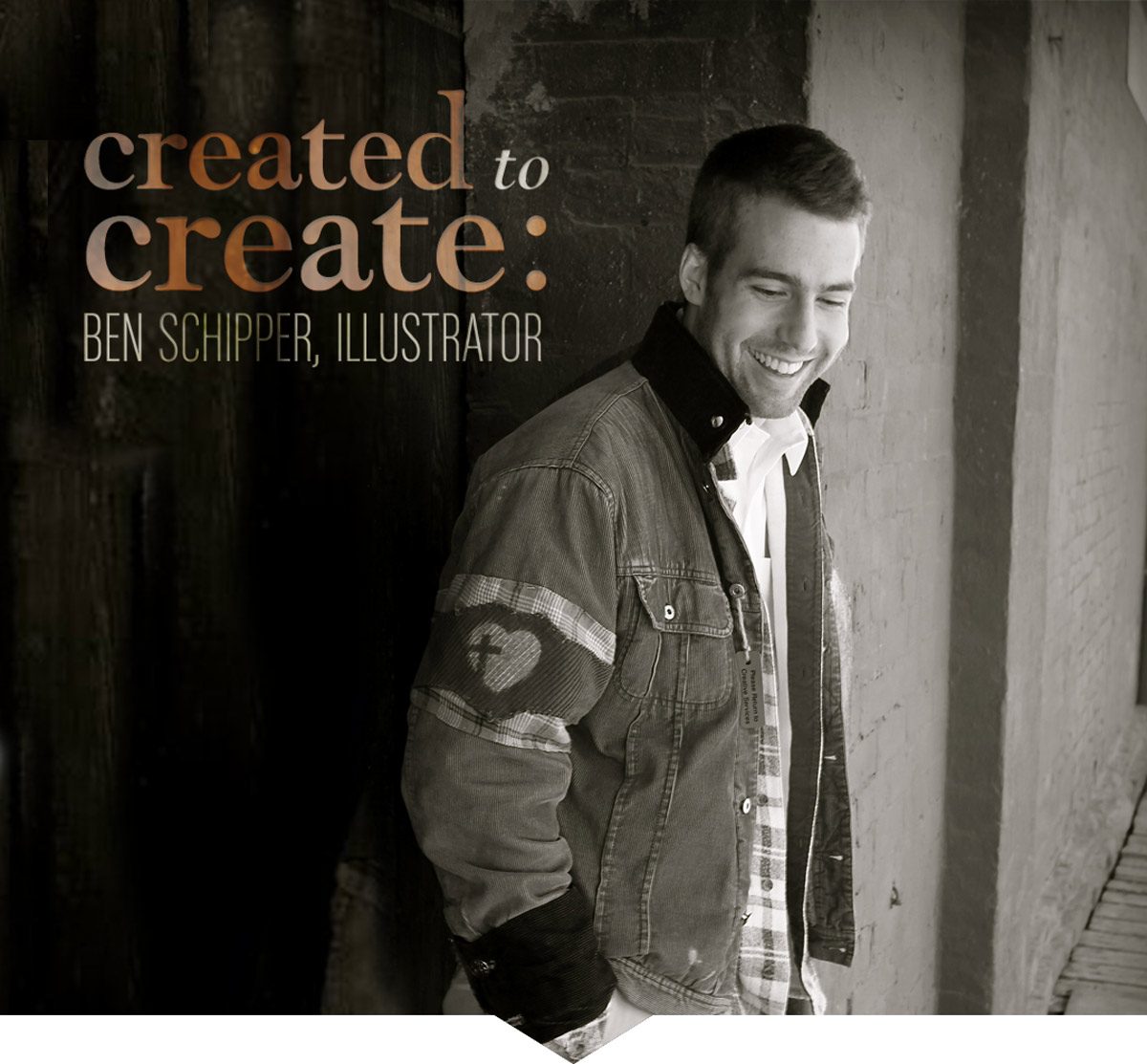 Illustrator Ben Schipper (studio art, 2013) has always felt

the urge—the need, really—to create things

. He knew that he belonged in the world of art.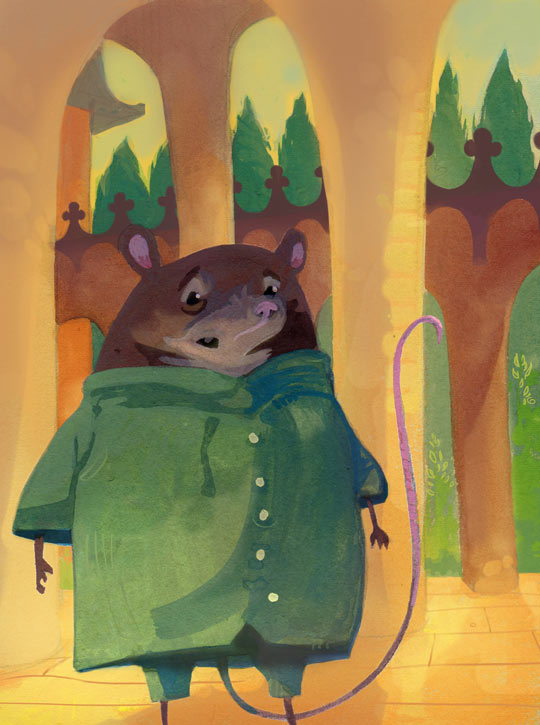 Matthias of Redwall
Budding Imagination
"It's demonstrating God's creativity in that act," Ben says. "By one definition, to create something that's pleasant for us and someone else to look at is art."
Even as a child, he created: sandbox canals and Styrofoam egg-carton ships, puppets made from the cardboard backs of toy boxes, paper pilgrim hats.
And he watched: the work of Bob Ross, the eccentric, afroed television painter; set, costume and prop design of The Lord of the Rings trilogy; concept art for a galaxy far, far away. "That's imagination—all of it," Ben says. "Seeing people create and how they do it: it's really inspiring. Fascinating."
"I probably first seriously considered being a professional artist when I watched the behind-the-scenes stuff on the The Lord of the Rings DVDs," he says. "I thought, 'Hey, those are real people obviously doing what they love and making money at the same time. Why can't I do something like that?'"
Ben was further influenced toward illustration in the fifth grade, when Ben's father introduced a library book to him: the first of Brian Jacques' Redwall series. "Some of the best times of my life were when I would read on my couch in my living room," he says. With his grape juice and waffles for a snack and a warm blanket, Ben would get lost in the world Jacques created. "Those are very inspiring books and times."
The first book opened his mind to a completely new world—one consisting of mice, badgers, stoats and other woodland creatures. Even after finishing the book and returning it to the library, he couldn't keep from thinking about it. "I went back, took the book, and didn't return it," he says with a sheepish chuckle. (He eventually did pay for the book.) "But I definitely have that book sitting on my shelf right now," he says.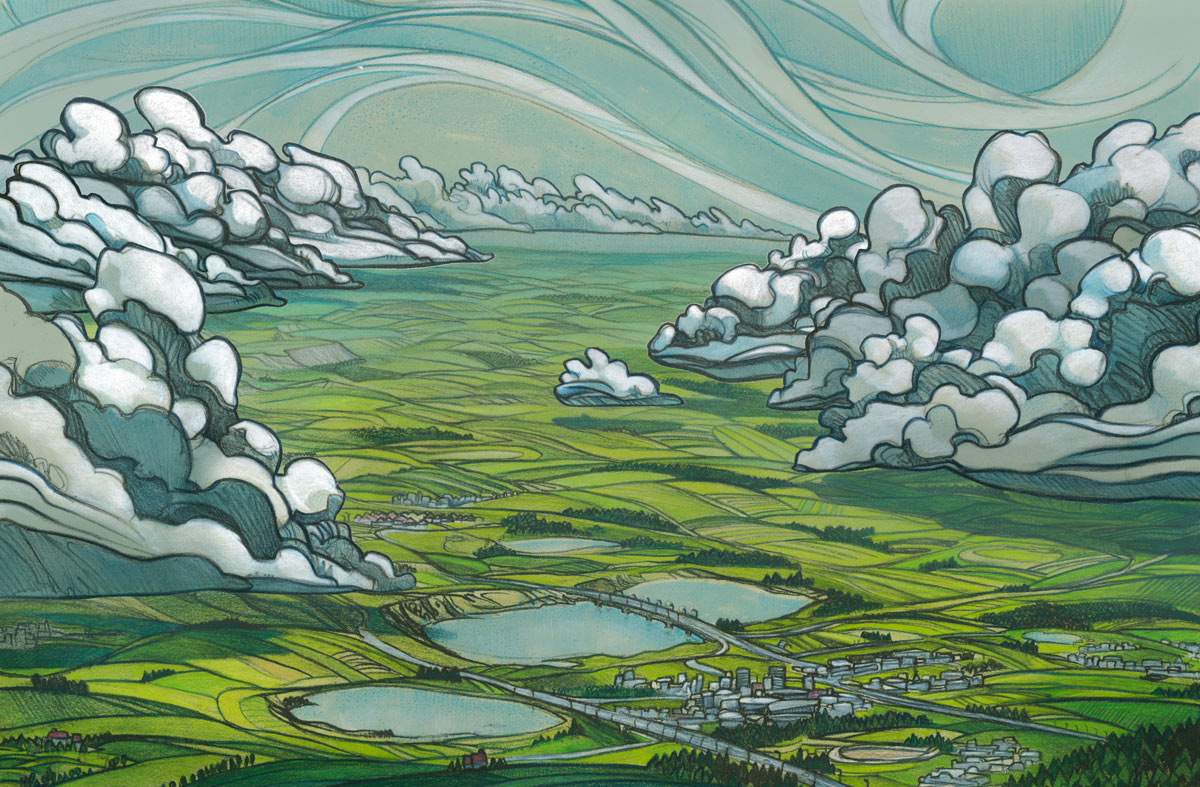 Coach View
Where to Study
During his time in high school, Ben began considering a career in art. "My family isn't too artistic, so I wasn't exposed to high art, as some would call it," Ben says. "I'd be exposed to comic books, movies, films—instead of Picasso."
He had his first formal art instruction in the 10th grade when his parents signed him up for a few art correspondence courses. "My parents have only always supported me one hundred percent in my career choice, which is a rare thing, I think. They evaluated the basic skills I had at the time and decided that further training would be beneficial in getting me to my career goal—great parenting."
Around the same time, he looked into possible art schools he could attend. He knew that the college he chose would greatly affect his future plans. Eventually he narrowed his choice to two possible schools: Savannah College of Art & Design and Bob Jones University.
The college in Savannah would be cool, but what caught Ben's eye was the profiles and artwork of four BJU graduates in particular: Justin Gerard, Cory Godbey, Chris Koelle, and Del Thompson. They specialized in illustration, the very same interest that Ben had—and their work was amazing. He needed to know more about the university they attended.
So Ben signed up for summer art camp at BJU two summers in a row. He was an older student in the classes, so his interaction with the faculty members was different than what he expected. "It was more like a friendship," he says.
Throughout each of the summer sessions, Ben learned a lot through the teachers' personal guidance and constructive criticism of his artwork. One of his most memorable lessons was about avoiding cutting corners and compromising his standards for a decent image. "I should research and know what I'm portraying intimately," Ben says.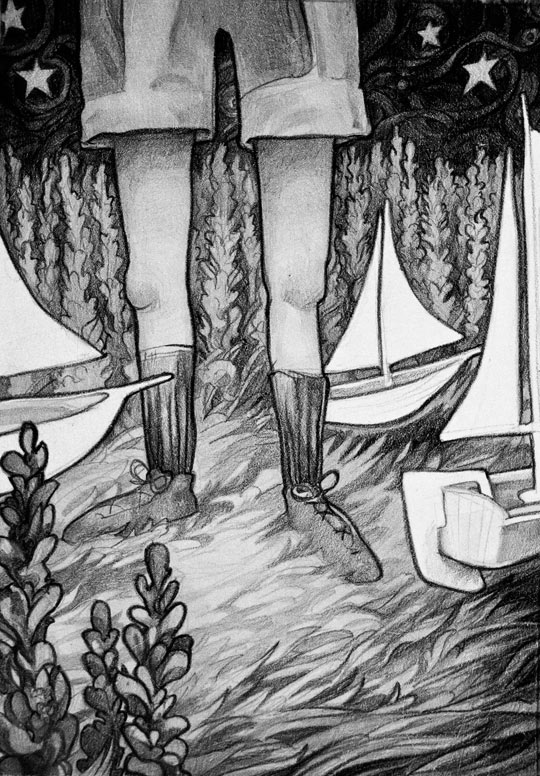 Boy Scout
Just as an author of a book has to know his subject matter to make it convincing, I have to know why I'm painting a certain picture…. It just has to affect me in a real way.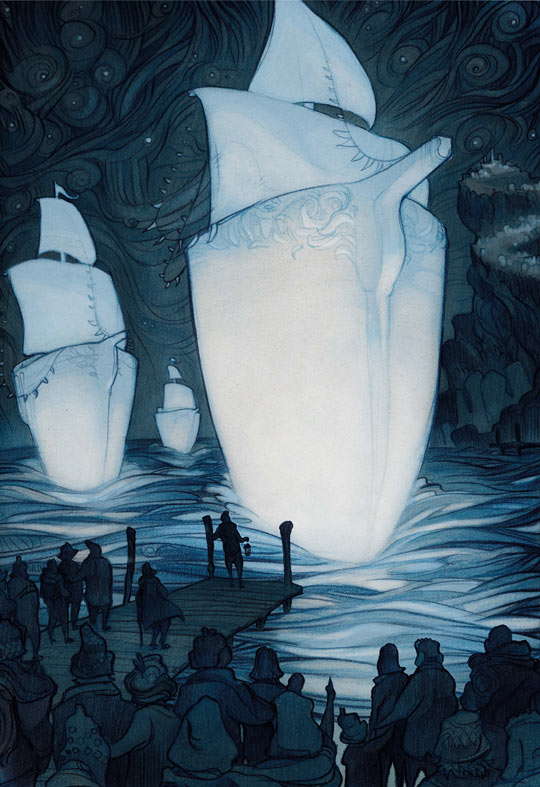 At Bay
Finding Inspiration
The summer camps were enough to persuade Ben where to enroll for college. He decided that the art program at BJU was the place for him.
It didn't take Ben long to know he made the right choice. "Bob Jones University is pretty great when it comes to art instruction," he says. "If you realize that there's a lot to learn here and that the faculty can teach you a lot of top art instruction, . . . you're going to do well."
Many of Ben's liberal arts classes gave him an edge that he wouldn't have at a specialized school. "Everything makes you a better-rounded person, and that's really helpful—essential, really—to be an artist," he says. He kept his mind always active in classes like History of Civilization and Creative Writing. "It's food for the imagination."
His Bible classes gave him another perspective on his art, giving him the ability to look at ordinary things—bushes, birds, rainbows—and catch a glimpse of God's imaginative genius. "To think about heaven and God's creative power, what heaven will be like—that's endless possibilities for the imagination," he says.
Creativity is an integral part of who Ben is.
"I think of sea creatures that may never be seen by us, or stars way beyond our reach. These things are the work of God's hand, made, I think, purely for the joy of creating and for bringing more glory to Him. Eric Liddell, the Olympic runner, once said that when he runs, he feels God's pleasure. God made Eric Liddell fast, and so he ran; God made me and many others creative, and so we create and feel His pleasure when we do."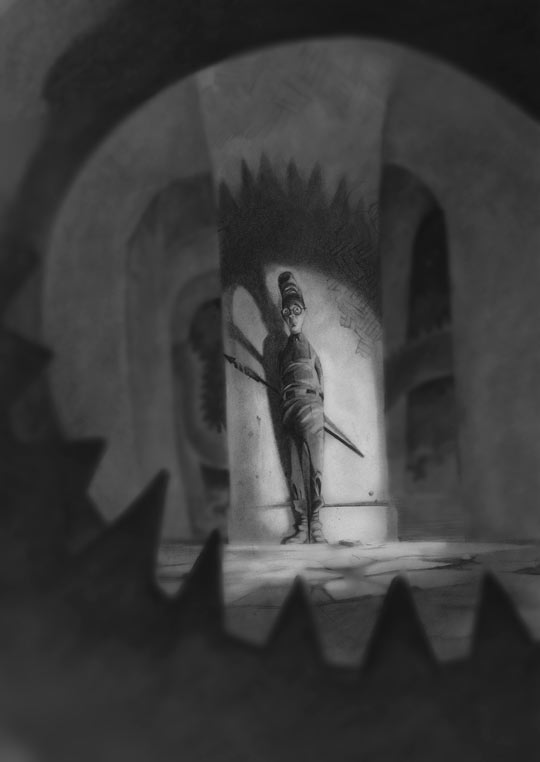 The Dare Sir Willum Henry Took, National ADDY Award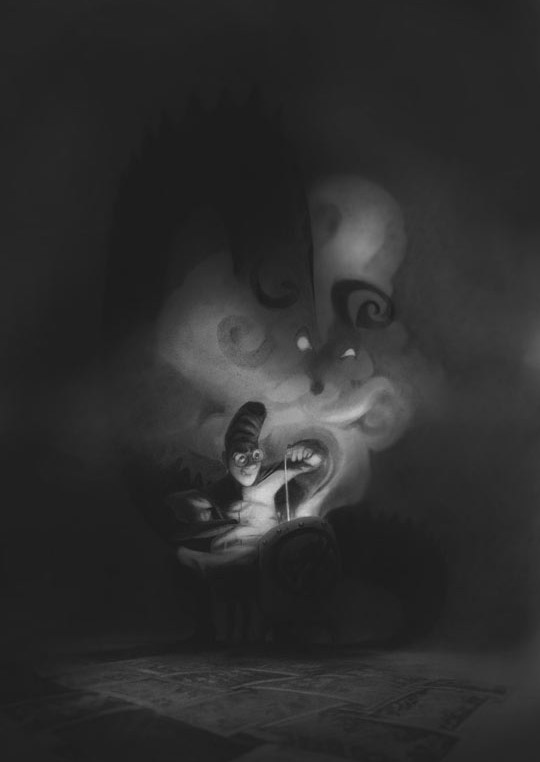 The Danger Sir Willum Henry Did Not See
One Day at a Time
After a while Ben's sophomore platform check results came back. He passed, but with a caution. His teachers advised him to humbly continue learning and developing his God-given talent. "In a sense, 'don't be so proud,'" he says. "They were so right; that's what I needed."
In his final two years of school, a flurry of opportunities came his way: various freelance jobs; illustration work at the BJU Press; a national award earned for his work in the American Advertising Federation's ADDY competition; an internship for a film company, Emblem Film. "God's really blessed me with those opportunities," Ben says. "I never thought that I would work in a film company that is starting out. . . . It's really what I thought I wanted to do as a kid."
Focusing on his current project—whatever that ends up being—keeps Ben moving forward toward his goals. "My favorite work has always been what I'm working on at that given time," he says. This mindset guards him from becoming complacent with what he's accomplished and allows him to look for the next opportunity.
For Ben, a career in art was intimidating, even though he was doing well in his classes and had little worry about passing the halfway checkpoint for his major. But he didn't let worry slow him down. "As Christians, we have every comfort that God will provide for us in whatever we need," he says.
The passage in Philippians came to his mind many times: "Be careful for nothing; but in every thing by prayer and supplication with thanksgiving let your requests be made known unto God. And the peace of God, which passeth all understanding, shall keep your hearts and minds through Christ Jesus." He found that he was thankful, rather than afraid of the future. "God does give you your desires for a reason," he says. "Those things work in consistency with His work for you. That cut down on a lot of worry."
Dwight's
Looking to the Future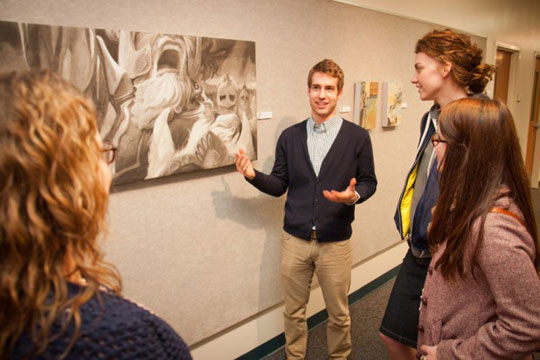 Near the end of his schooling he found himself drawn to lithography and charcoal for his artwork, as is evident in his piece titled "Dwight's." The most obvious inspiration for the lithograph was the trailer home of his good friend Dwight. However, that physical object was only the beginning. "I didn't start out by looking at reference photos," Ben says.
"A lot of the initial work is done in my head by simply dreaming about what I would like to see. What would make me feel at ease after a long journey home? Well, lights in the window for one, and stars to light my way. Illustration, as I see it, is less about what the given scene actually looks like, and more about what it needs to look like to get the point across."
Eventually Ben's dream job is working at New Zealand's famous WETA Workshop, where the artwork and production for The Lord of the Rings trilogy took place. Recently, he's noticed that all of his jobs are giving him the skill set he wants. "These types of skills are tailoring me to work for a company like WETA Workshop," he says.
Ben is hopeful about his future, though at times he still wrestles with his identity as an artist. For now, he's experimenting with different styles and approaches to his art. He's interested in taking one day at a time, endeavoring to complete the work God has for him now, and letting God take care of the future.
Learn more about our programs.