More Than A Fulbright: Daniel and Alayna Overly in Vienna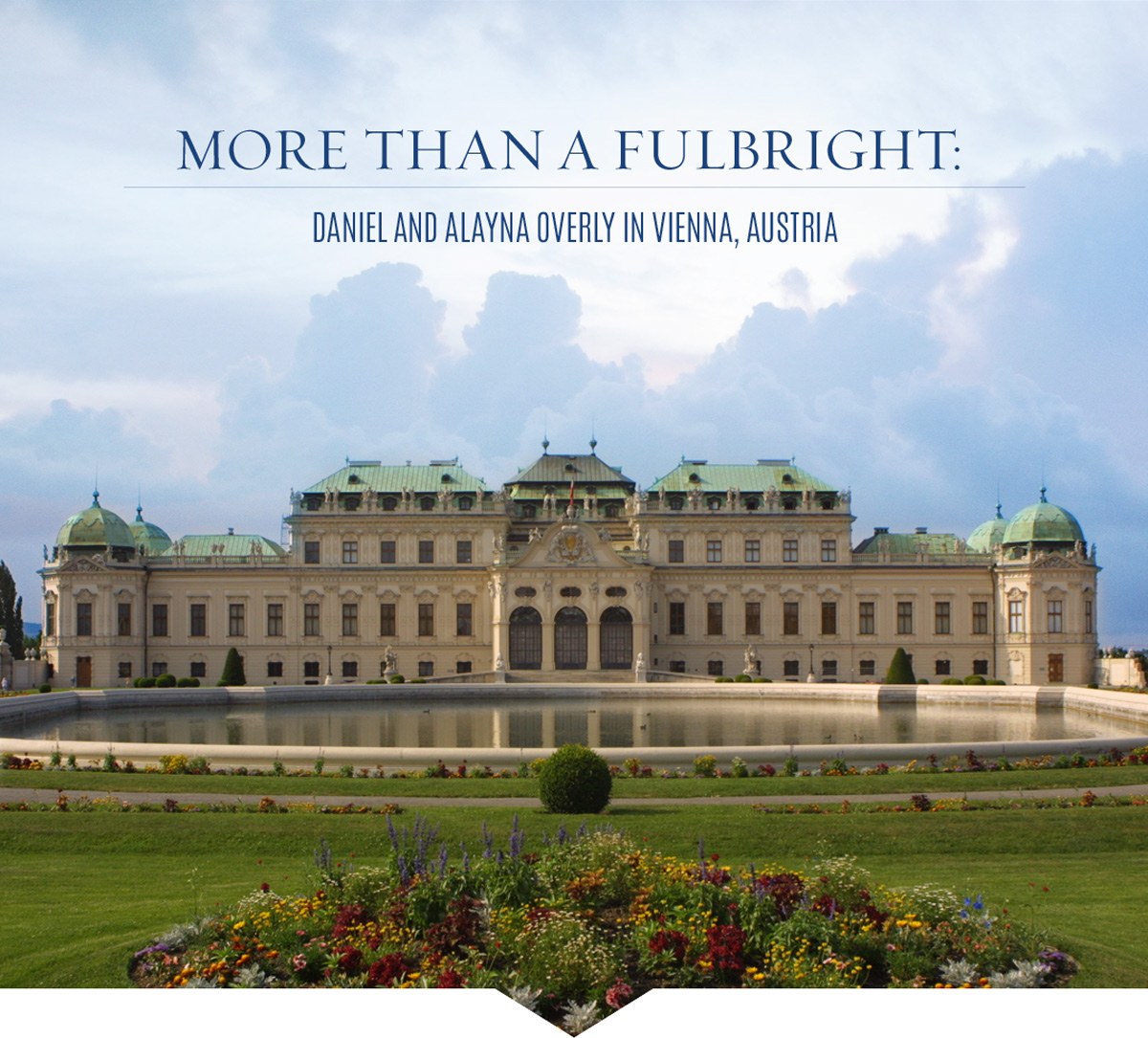 For Daniel Overly, a 2012 piano performance grad, being

awarded a Fulbright grant to study at the Konservatorium Wien

in Vienna, Austria, was his wildest dream come true.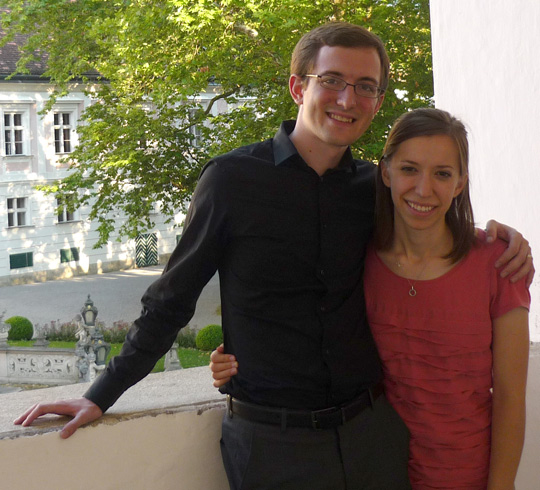 "It would have been really easy for this year to be pretty heady for me," Daniel says. "I got a prestigious scholarship, I'm studying in the capital of the classical music world, I'm studying with famous teachers. Professionally speaking, it's been great, and the future looks bright."
But as Daniel and his wife Alayna (Pennington, 2012 piano pedagogy) can both attest, their year in Vienna has been so much more than the Fulbright.
Daniel says, "The stanza from the hymn 'Channels Only'—
Emptied that Thou shouldest fill me,
A clean vessel in Thy hand;
With no pow'r but as Thou givest
Graciously with each command.
—that would probably sum up what the Lord has done for me."
As Daniel has interacted with classmates and colleagues and as he and Alayna have ministered as a couple in church, they have been humbled and reminded once again that it is the Lord who does the work.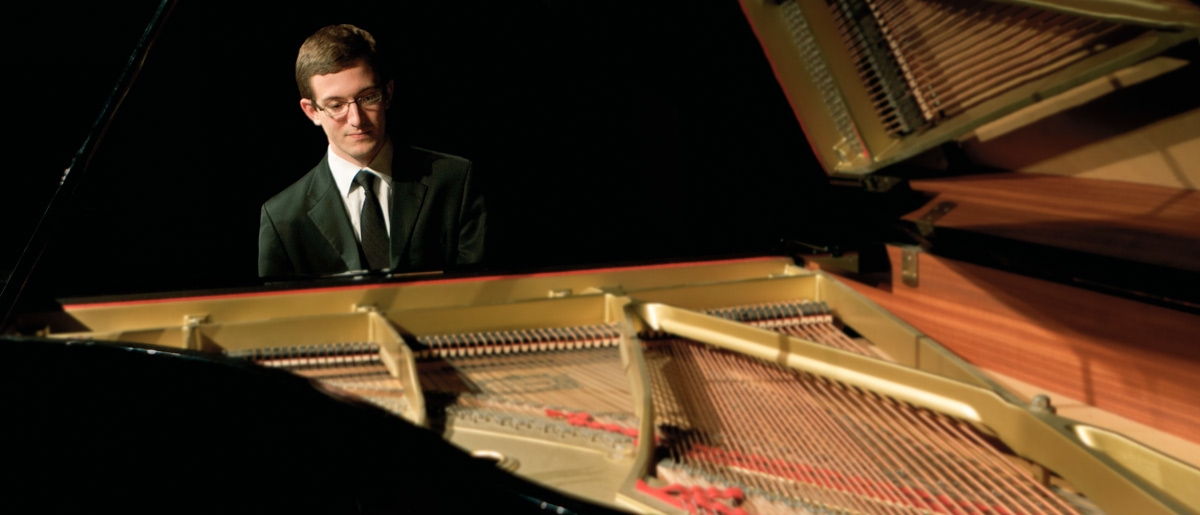 Daniel's Austrian story begins all the way back in high school, when Todd and Sarah Hudson visited his German class. They were missionaries in Vienna, Austria. As a lifelong musician, Daniel was intrigued with the possibility of combining musical studies at the Vienna conservatory with ministry at the Hudsons' church there. He asked the Hudsons if such a thing would be possible. They answered, "Yes, it's possible…but you have to be really, really good to get in!"
From High School German Class…
Fast-forward several years. In the summer of 2009, while Daniel was traveling with BJU's musical mission team, the team visited the Hudsons' church in Vienna. Daniel and the Hudsons struck up a friendship. Still in the back of Daniel's mind was the possibility of returning to Vienna to study music while ministering in the Hudsons' church. But even if he was accepted into the conservatory, where would he get the money to pay for it?
In 2011, after more than one recommendation to apply for a Fulbright grant, Daniel decided to give it a shot. The application was an extensive one—lots of writing, a 75-minute CD of his piano playing, three recommendation letters from professionals in the field, an invitation letter from his future teacher in Vienna, a German language evaluation, and more.
"When I submitted the application in October," Daniel remembers, "I was so completely overwhelmed, because for two and a half months I had thrown myself into this application. …[It was] one of the most demanding things I have done in my life."
In January 2012, right before his senior piano recital, Daniel found out that he was a finalist for the Fulbright grant. In February, still not knowing whether he had gotten the grant, he flew to Vienna to audition for the conservatory. A couple of weeks later, he learned that he had been accepted into the conservatory—but no news of the Fulbright.
The weeks crawled by as Daniel waited. Then came Bible Conference at the end of March. Through one of the sermons, Daniel was challenged to believe in God's promises by claiming them for himself. "I remember being by myself and praying," he says, "and I was claiming 'The Lord is my shepherd, I shall not want.'"
Still, Daniel was worried. By this time, he and Alayna were engaged and planning a wedding for that summer. Soon he would have a new wife to support. It seemed that the Lord had opened the door for Vienna—but where was His provision? Daniel sat through the final service of Bible Conference, worrying—until the Lord used something in the sermon to gently direct his thoughts back to that promise: "The Lord is my shepherd, I shall not want."
It was right after that final service that Daniel got the phone call: he had been awarded the Fulbright grant! "I think that was the first time that Alayna had seen me cry," Daniel says. "It was just an incredible provision of the Lord. …I did my best to prepare a good application and the University did a lot to help me, but the Lord was the One Who gave it."
…To a Master's Degree at Konservatorium Wien
In May 2012, Daniel and Alayna both graduated—Daniel with a degree in piano performance and Alayna with a degree in piano pedagogy. In August, they were married. Exactly a month after that, they left for Vienna.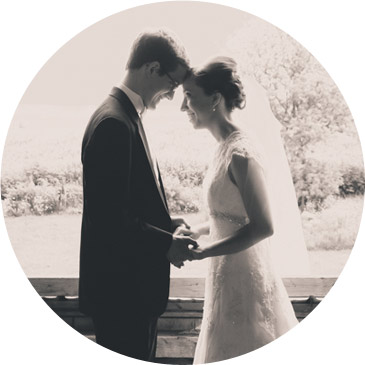 Along with his Fulbright grant, Daniel had been given a teaching assistantship. This meant that, in addition to his full-time graduate studies at the conservatory, he spent 13 hours a week helping in English classes at a local secondary school.
As a native-English speaker, his role was to give the students as much conversation practice as possible. Bringing up a hot-button topic, he discovered, was often the best way to get the students talking.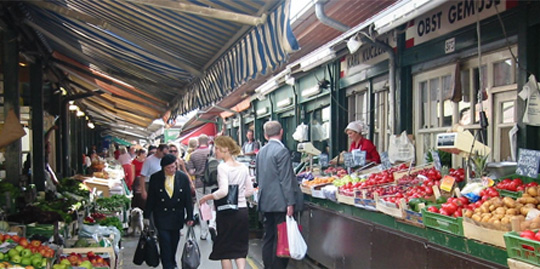 Meanwhile, Alayna taught piano to several of the Hudson children, navigated Vienna's public transportation system, learned to cook Viennese cuisine, and took German lessons.
For the first few months, grocery shopping was quite the adventure. She took along a German dictionary, a book about Vienna with common Austrian-German words and phrases, and Daniel's iPad with a German dictionary app. "I would spend an enormous amount of time in the store!" she laughs.
Immanuel Bibelgemeinde
Daniel and Alayna's most significant activity, however, was going to church. After a hectic week "in the world," Daniel found that he thirsted for refreshment through Christian fellowship more than ever before. "After a long week, I would wake up exhausted on Sunday morning and think, 'How am I going to get through the day?' But after church, I would be so energized, just because of fellowshipping with God's people."
Naturally, he and Alayna have both been involved in music at the church. At the request of the Hudsons, Daniel and Alayna, along with a young Austrian couple, have started a young adults fellowship.
However, the biggest impact has not been the Overlys on the church, but rather the church on the Overlys.
From the very beginning, the Hudson family and Immanuel Bibelgemeinde (Immanuel Bible Church) have been overwhelming in their generosity.
"The first Sunday we came," Alayna says, "they had piles of canned goods and cleaning supplies for us." And when she and Daniel look around their apartment now, they see more evidences of the church's giving spirit—one piece of furniture from a church member, another piece from the Hudsons' attic, yet another from a neighbor of the Hudsons.
The Overlys also appreciate the church members' approach to being involved. "It's less of a place where someone will sit you down and say, 'this is what we want your job to be'; it's more of everybody looking out and seeing what needs to be done," Daniel explains. "I think it was important for me to learn that type of membership in a church."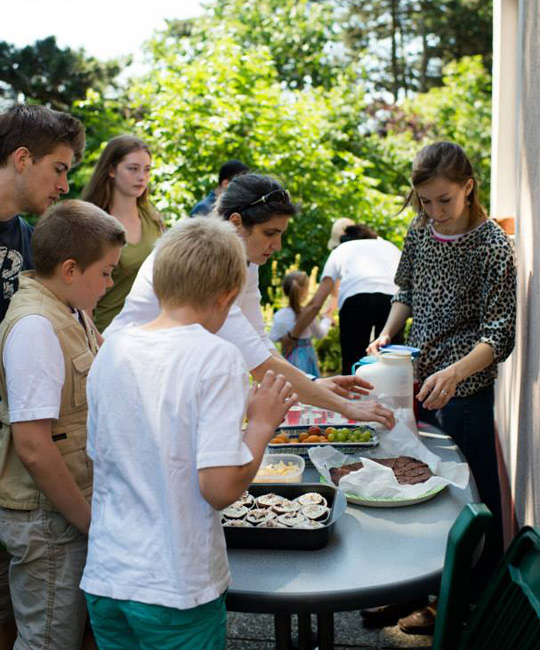 Photo by Hailey Huggins
"The church here has shown us such love; it's really humbling. We've received tons more than we can give back."
Redemptive Relationships
Another important lesson for Daniel and Alayna to learn has been how to build relationships with those outside the church.

As Daniel interacts with unbelievers every day at the conservatory, he has had to take a step back and rethink his previous conceptions of evangelism. Through much thought and prayer, he has concluded, "If you do have the prospect of a longer-term relationship with someone…they're much more ready to listen if they've seen you to be a competent colleague, a nice person, and that you care about them more than you care about them becoming a number for your religion."
"In a place like this, where any type of religion is viewed as fanaticism or cuckoo, I'm trying to provide a positive example of it not being that way—trying to share the Truth without being pushy, and let the Lord do the work."
Through the relationship opportunities she has had, Alayna is learning that patience and compassion are essential. "There's kind of a gentle pursuing that Alayna can be part of, which is really cool," says Daniel. "It's how the Lord works with us, to be honest."
The Future
At the end of September, Daniel will begin his second year at the Konservatorium Wien, finishing up his master's degree in art song and oratorio accompaniment and coaching. Also, he will begin working on another master's degree in opera coaching.
And after graduation? He and Alayna are still seeking God's will as to whether they should remain in Vienna or return to the United States.
Either way, Daniel says, "the Lord is going to have to provide for us to stay here, and the Lord is going to have to provide for us to go back."
But it's not hard to trust when they remember how God has led in the past.
"If we look back at the time from when we've been engaged, we've seen the Lord direct us and provide for us in a lot of really exciting ways," Daniel says. "It's really important as a young couple to see that God is working for you."
"There are times when you're seeking for God's will and can't seem to find it, and it's good to be able to look back on times where you can see, 'Yeah, this is how God provided that and this is how God directed us here.'"
---
Learn more about our programs.