Exploring the Middle Ages: Ethan Birney at St Andrews
Every university has a story. But not many universities have a story that begins 600 years ago. The University of St Andrews in Scotland is one of the few.
In 1410, Scottish students had a problem—they had nowhere to go for higher education. Two centuries earlier, they would have gone to the University of Oxford. But military clashes with the English during the late 1200s to the mid-1300s made Oxford a rather awkward choice. So Scottish students turned to the University of Paris instead. But when two rival popes split the Catholic Church in 1378, Scotland and France landed on opposing sides.
Thus in 1410, a group of Paris-educated Scottish scholars decided to form their own institution in St Andrews, a town already known as a center of religion and learning. In 1413—79 years before Columbus first sailed to the Americas and 363 years before the United States' Declaration of Independence was signed—the school at St Andrews gained university status.

The Way God Leads
Stories like St Andrews' are why Ethan Birney loves history. "People did cool things and went to new places," he says.
His love for history began in fourth grade. By high school he knew he wanted to be a history professor, and at Bob Jones University he discovered his particular love for medieval history. The next logical step, of course, was to pursue a master's degree.
However, God closed the doors to graduate school and opened another door instead. "A Christian school in south Texas on the border of Mexico needed someone who could teach both history and French," Ethan says. History, French (which had been his minor) and warm weather—the perfect combination. So off he went.
After four years of teaching high school, the desire to get further education hadn't left him. "The more I taught high school, the more I wanted to teach college," Ethan says. "I love my students, and I'm still in touch with many of them … but when you're teaching high school, it's just kind of basic and you can't really get in depth."
He applied for a graduate assistant position at Bob Jones University. When nothing opened up for him, he tried again the next year—his fifth year of teaching—and was accepted as a history tutorial teacher.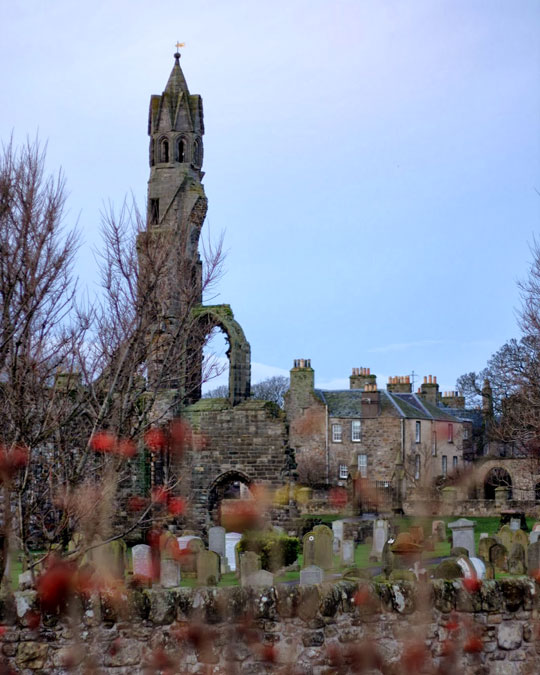 As he moved into his new office at BJU, he soon met his next-door neighbor. Hannah Mohr had just graduated—in five years—with an English education degree and was beginning her graduate assistantship as an English tutorial teacher. Changing her major from biology, she had been discouraged that she could not work out her class schedule to graduate on time.
But as Ethan and Hannah's friendship blossomed, both his five years in Texas and her extra year in college began to make sense to them. God's "delays" had proved to be, as always, His perfect timing. In July 2013, Ethan and Hannah were married.
Meanwhile, Ethan had been investigating PhD programs. "I just started googling 'PhD Anglo-Norman history,'" Ethan says, "and I tried to find schools that offered medieval history PhDs and have a specialist in Anglo-Norman." He ended up emailing eight professors who specialized in Anglo-Norman history, two of whom replied with helpful advice. And one of those professors was from St Andrews.
Because Ethan's previous studies had been a broader survey of history, the professor from St Andrews recommended that he apply for an MLitt in mediaeval history first. Then, with a more specialized master's degree under his belt, he could go on for the PhD in mediaeval history.
Ethan took the professor's advice and was soon accepted into St Andrews, but working out the other details was not so easy. Issues with finances, visas—Hannah's visa process was very nearly disrupted by the wrong birthdate on their marriage certificate!—and housing caused uncertainty for several more months. By the beginning of September of 2013, though, Ethan and Hannah were on their way to Scotland!
Photo by Kismet Photography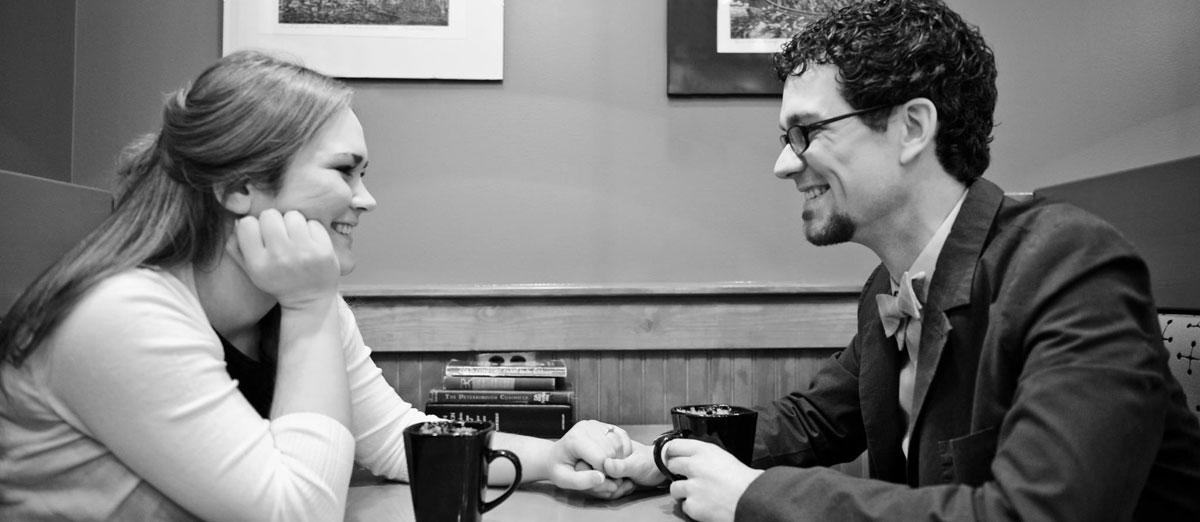 Studies at St Andrews...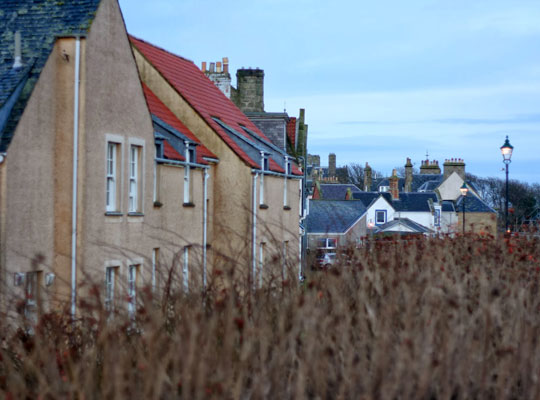 At St Andrews Ethan enjoys both the classes and the resources available to him. Since its inception, St Andrews has been collecting books, manuscripts and other artifacts. This sizeable collection allows students like Ethan to explore history through original sources. "You get to touch stuff that's a thousand years old," Ethan says.
Last fall Ethan's paleography (deciphering of old handwriting) class was given a newly discovered manuscript to analyze—before it was published for scholars to inspect! "It was from the 10th century, probably," Ethan says. "It had different Bible verses which are used in mass, and it was interspersed with a sermon by Pope Gregory the Great on the wise and foolish virgins. And no one had ever looked at it before."
...And Studies in Culture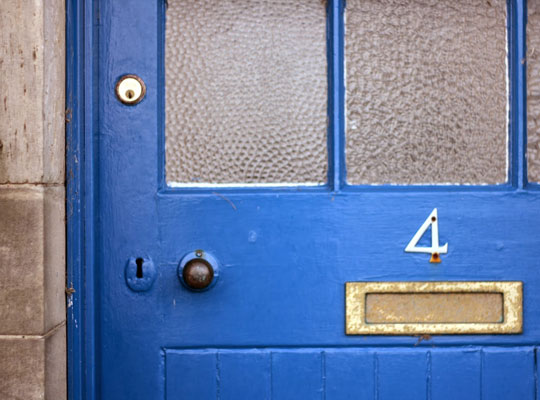 Outside the classroom, both Ethan and Hannah have been learning many cultural lessons as well. "It's not vastly different," Hannah says. "But it's just enough so that you feel off-kilter all the time."
"Like when you go to the grocery store, you bag your own groceries," Ethan says. And "people give hot tea almost every time you go over to their house."
Decorating for fall is a foreign concept, they discovered. "I was trying to describe how, in America, you decorate with gourds, and they were like 'Why would you put vegetables on your mantle?'" Hannah says.
All the little differences have been good though. "It makes you think about what's normal," Ethan says. "It makes you think, maybe I assume something is normal but it's not really—it's just how we do it. And it's not good or bad."

The Next Step
This year, Ethan will graduate with his MLitt in mediaeval history. He has been accepted to the PhD program at St Andrews, as well as to the PhD program at the University of East Anglia (in England), but is still praying for the necessary funding. The three-year PhD program is Ethan's last step toward becoming a history professor.
"People ask, 'Do you want to teach in a Christian school? Do you want to teach in a public university?' At the moment, I can't really say, I want to do this or want to do that," Ethan says. "I love teaching, and I want to teach history, and I wouldn't want to teach in a place where I had to hide my faith or keep it veiled."
For Ethan, a good historian establishes his personal perspective up front. "You tell your students—or your audience, if you're writing—hey, this is where I'm coming from, because we write everything from a perspective that's colored by our background," he says. "So you just have to acknowledge, this is my background. And if you're trying to pretend that you're perfectly objective, then you're living a lie."
Of course, Ethan's fascination with the people and stories—the stuff of which history is truly made—remains. And it is the people and stories that he wants to pass on to his students someday.
"Just recently as Hannah and I walked back from town, I was telling her about this knight who broke into a castle to get the girl he wanted," Ethan says. "An important baron had the man tried and was going to execute him, but the local bishop postponed the execution so it would not be on a Sunday. When Henry II heard the story, he pardoned the knight's life."
"That's a cool story," Ethan says. "But it can be used to help students see more about Medieval England. What is considered a crime? What sort of punishment is appropriate? How powerful are bishops? What about kings? Was justice arbitrary? This story may suggest it was, but a preponderance of other accounts show that Henry II did much to establish law and order in England."
Ethan firmly believes that "when students see how people and events connect to each other and, through time, to us, most students will enjoy learning history."
Looking to the Future
As Ethan and Hannah look to the future, they have no idea how their own story will unfold. But they can see how God's hand has guided their story thus far.
"Sometimes when it feels the most overwhelming and terrifying," Ethan says, "it really is so good to go back and be like, 'Wait, God worked out so many steps for us to get here, obviously He knows what he's doing.' So even though it feels like the world is falling apart, it's actually good."
---
Learn more about our programs.