Perseverance — An Author's Journey: Jamie Turner
Jamie Turner lifts a shoebox up, high enough for everyone at the writing seminar to see. Slightly battered, this shoebox contains what Jamie considers some of the most significant mementos of her writing career.

Then, to the surprise of her audience, she turns the box upside down. Papers of all sizes—some yellowed with age, some still fresh white—flutter to the ground.

Rejection letters.
With frank but quiet grace, the award-winning Christian novelist and writing teacher at Bob Jones University tells her audience: "This is how I learned."
"Each time I got one of these in the mail, I was sorely disappointed," she admits.
"But I knew there was still something about my writing that wasn't good enough, so after licking my wounds, I would get back up and try again."
Why? Because she believed that writing was a calling God had placed in her heart. Not her only calling—she was also a wife and a mother and a teacher. But she found in her heart an abiding, unshakable desire to write.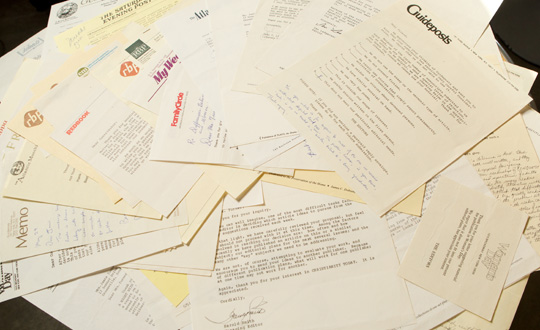 "I Could Never Write a Novel!"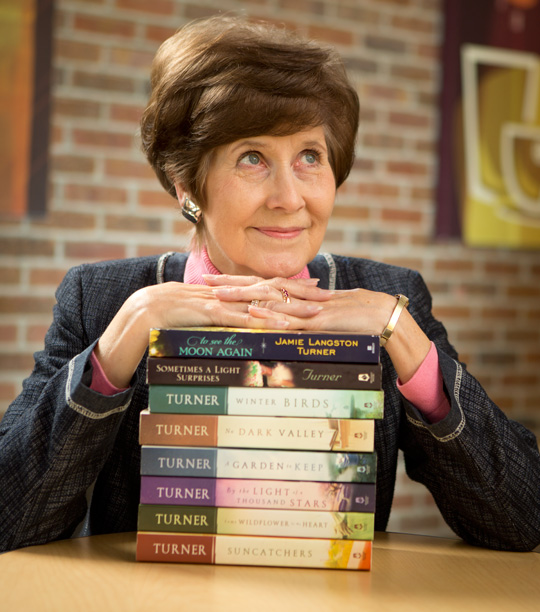 Jamie's persistent efforts paid off. Eventually she had an article accepted here, and a short story accepted there, until she was enjoying a steady trickle of income from published pieces.
Then one day, while she was cooking supper, the phone rang. It was an editor from a Christian magazine that had published a couple of Jamie's short stories.
"I've read your stories," the editor said. "And we're always looking for people to write novels for us. Would you be interested in writing a novel?"
"Goodness, no! I could never write a novel!" was Jamie's reply.
But the editor persisted. "I think you could do it. Why don't you write a couple of chapters and send them to us and we'll see what we can do with it?"
"Wow," Jamie thought. "Maybe this isn't just from this editor. Maybe God is orchestrating all this to give me a nudge in this direction."
"So I thought of a character," she says. "Normally the starting place for all my novels has been a character who interests me and is in a difficult situation. Then I say, what is going to happen next? Who will he meet? Where will he go? How will he eventually work through this problem or be stopped by it?"
And so it was that her first novel, Suncatchers, was born.
Not Your Average Christian Fiction
Since Suncatchers (1995, Thomas Nelson Publishers), Jamie has had seven more novels published:
Some Wildflower in My Heart (1998, Bethany House)
By the Light of a Thousand Stars (1999, Bethany)—Christy Award finalist in the contemporary fiction category
A Garden to Keep (2001, Bethany)—Christy Award winner in the contemporary fiction category
No Dark Valley (2004, Bethany)—Christy Award finalist
Winter Birds (2006, Bethany/Baker)—Christy Award winner, Christianity Today's Award of Merit winner, Publisher Weekly's "Top 100 Books of 2006," Foreword Magazine's Silver Award winner
Sometimes a Light Surprises (2009, Bethany/Baker)
To See the Moon Again (2014, Penguin Random House)
A description of each of her works is available on her website.
Jamie's novels have always been a bit different than the average Christian fiction novel. Phrases like "unforgettable characters," "deep content," "beautifully written," "emotional and realistic storyline," and "rich in profound insights" pop up again and again both in literary reviews and in fans' discussions of her novels.
With her richly developed characters, her lyrical and elegant style, and her explorations of serious topics, Jamie's fiction may be more accurately classified as "literary fiction." In fact, in an interview with Writer's Digest, literary agent Steve Laube cites Jamie as an example of a Christian author "whose literary acumen is as good as anything else found in the general market."

A Message to Share
Through her novels, Jamie says, "I am trying to show the impact that a genuine, open-hearted, broad-minded, committed Christian can have in the world today."
Not in the way most readers might expect, however. Nearly all of her main characters are not Christians. They view the world of Christianity and its puzzling vocabulary with suspicion. They ask hard questions. And they cross paths with Christians. Ordinary Christians who have their own struggles and quirks—but who also demonstrate God's love.
"These Christians can be of all different stripes," Jamie says. "But someone who puts her life in God's hands and says, use me—God's going to use them in the world at large."
"I also try to show God's grace in people's lives," she adds. Her characters experience everything from the guilt of a long-past abortion to the ravages of adultery to the grief of losing a child—but ultimately "God's grace is able to cover them all."
The Beauty of People
But as Jamie warns her writing students at BJU, "If we as Christian writers are just interested in 'getting the gospel message across,' then chances are that our writing is going to be very didactic and mechanical, not very winsome."
"We want so badly to take our passion for God to the world. But we have to have it packaged beautifully," she says.
In her novels, part of that beautiful packaging is the artistry of her language. But another integral part is her development of real characters. That comes not just from observing people, but from keeping her mind and heart open to them—learning from them and being able to put herself in their shoes.
For example, the elderly people at the rehab center where Jamie's mother was recently living.
"There are such colorful characters there, and they're such dear souls," Jamie says. "You tend to think, when you're not in that situation: all these old people, aren't they funny? But oh my goodness, the richness that's there! Their character, and how they're coping with this time of life called old age. I hope I learn one iota of what they have to teach me."
"I was thinking the other day, as I was sitting with my mother in the sun room: This is going to go into a book someday. I don't think God would want me to waste all of this."
The "Ghettoization" of Christian Writing
Another warning that Jamie has frequently shared with her writing students is an article on the "ghettoization" of Christian writing.
"Christian writers of the last couple centuries were with the mainstream publishers and competing with secular writers," she says. "Over the years, they started separating themselves and there arose all these Christian publishing houses. And there are good reasons for that. There are things you can do with a Christian publisher that you can't do with a secular publisher. But the writer of the article made the point, we're ghettoizing ourselves. We're preaching to the choir and we're not reaching the multitudes."
The irony, of course, was that Jamie's novels had only been published by Christian publishers. At that point, God had not yet opened the door to secular publishing for her.
But with the economic downturn of 2008, Christian publishers were hit hard. Jamie's publisher at the time began to declare her books out of print one by one. "Now is the time," she realized. This was God nudging her again—this time toward the unfamiliar waters of secular publishing.
Proposing to Penguin
Jamie took a trip to Barnes & Noble to do some research. She was on a mission to find Christian authors published by secular publishing houses.
She saw Jan Karon's name along the spine of quite a few books—books that were evangelical in tone, but published by Penguin. "So I thought, well, I'll try Penguin!" Jamie says.
She went home and wrote a letter to one of Penguin's executive editors. "At that time, I was just thinking of reprinting my earlier books," she says. "But they said, we don't like to bring out a writer with something old. Write us some sample chapters of something new, and we'll talk."
Jamie already had the beginnings of another story stirring in her heart, so she got to work right away.
And in the fall of 2014, Penguin released her newest work, To See the Moon Again.
Undaunted
Jamie has started writing another novel but admits that she just doesn't write as quickly as she used to. But if there's anything she's learned, it's that a calling cannot be squelched, though it may be put on hold from time to time. She's confident that God will keep giving her opportunities to craft beautiful fiction and share her message.
Since stepping outside of the Christian publishing realm, "it's been encouraging to hear from readers who had never read any of my first seven novels," Jamie says. "I'm hoping to gain more new readers—while keeping the old ones, of course."
For now, she's happy to continue teaching writing at BJU—multiplying her gift through the pens of her students. She loves passing on all she's learned through the years, encouraging her students to collect their own "mementos" as they persevere in their God-given callings as writers.
---
Jamie's works are available on Amazon.
Learn more about our programs.