A Passion for Reaching the Nations: Jason Ormiston
Jason loved the ministry God had called him to—pastoring All Nations Baptist Church, a church he and his family had planted in inner-city Minneapolis. Nothing was more exciting to him than welcoming a visitor to church from Jamaica, sharing the Gospel with a Chinese graduate student, playing basketball with teenagers in the neighborhood, or visiting the nearby Somali mall to strike up conversations with Muslim men.

"It'll happen to anyone who goes into an urban setting," he says. "You'll get that multi-ethnic bite. And the rest of your life you're always going to be thinking in that type of context, and asking yourself, 'How can I reach different people with the same message of the Gospel?'"

Jason had found his niche for lifelong ministry—or so he thought.
"Go ye therefore, and teach all nations, baptizing them in the name of the Father, and of the Son, and of the Holy Ghost: Teaching them to observe all things whatsoever I have commanded you."
After several years in Minneapolis, Jason realized that while his real-life experience had been rich, he could learn even more through the experience of others. He began working on a DMin in urban ministry from Westminster Theological Seminary, studying with people from all around the world who shared his passion for the Gospel.
Soon, due to his church-planting experience and his doctoral work, both Northland International University (where he'd earned his undergraduate degree) and Central Baptist Theological Seminary (where he'd earned his MDiv) began inviting Jason to teach church planting and urban missions classes.
"I found myself enjoying the opportunity to spend concentrated time with men and women preparing for ministry," he says. "And I saw teaching at the university or seminary level as an amazing way to participate in making disciples of all nations."
After one particular weeklong block course, Jason came home and told his wife Heather that he thought teaching might be part of God's plan for him in the future. "But I was thinking about making this type of ministry transition after spending 20 more years church planting," Jason says.
"Have you prayed about this?" Heather asked him.
"Yes," Jason answered, laughing.
"No," she said, "I mean, have you seriously spent time in prayer and fasting about this?"
Over the next two weeks, that's exactly what Jason and Heather did together. "As God would have it, I received three separate phone calls from three different institutions over the next two weeks asking me to consider teaching for them. And one of those institutions was BJU!"
"God was clearly opening doors and answering prayer."
"For as we have many members in one body, and all members have not the same office: So we, being many, are one body in Christ, and every one members one of another."
"I originally came to BJU to help out with men in the Seminary working on their doctorate of ministry," Jason says, "so I was excited to interact with pastors and talk to them about their ministry and help them get going."
But when he was given his first semester's course load, he was surprised that he wasn't going to be teaching the seminary students—yet. Instead, he was given some of the BJU Core Bible courses that all students take regardless of their chosen academic program.
"I found myself in a position that I would not have chosen, in teaching general Bible classes," he admits. "But as I began to look out at all of the students, and thought of all the disciplines they're in, I was struck by the fact that I'm actually discipling future lay leaders in churches."
"Later, I did have opportunities to teach pastors in the ministerial program. But originally, I think I needed that time to see the value of the broader group, the liberal arts aspect of it."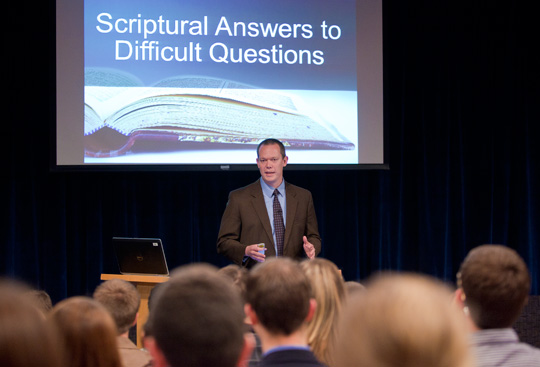 "And God is able to make all grace abound toward you; that ye, always having all sufficiency in all things, may abound to every good work."
"Ultimately, I could see God's providential hand in the whole process," he says. As it turned out, some of Jason's students became an integral part of another ministry God had for him in Greenville.
For two and a half years, Jason and his family had served faithfully in a church in Greenville where the pastor was another BJU professor. But in January of 2010, several families who had a burden to plant a church in the Powdersville area asked Jason to help them in a consulting capacity. That consulting work soon turned into pastoral work. The new church—eventually named Palmetto Baptist Church—began meeting on Sunday afternoons in a storefront.
For two months, Jason ministered both at his church in Greenville and at Palmetto. Then on Easter Sunday, after pastoral counsel and much prayer, Jason decided to serve as the founding pastor of Palmetto Baptist Church.
"At Palmetto, we've been focusing on outreach to apartment complexes nearby where there are some Hindu families, some from Pakistan, some from India. And we're aggressively pursuing a deaf ministry that could turn into a church plant, a deaf church."
"But my heart beats for urban church planting and multi-ethnic ministry—no question," Jason says. And ministering at BJU and at Palmetto has been radically different from ministering in the heart of multi-ethnic Minneapolis.
"Powdersville is 83% white," he says. "So I'm not acting like it fits perfectly with my burden for multi-ethnic urban ministry, because I don't think it does. But I'm following God. And I know that I am exactly where God wants me to be."

"And the things that thou hast heard of me among many witnesses, the same commit thou to faithful men, who shall be able to teach others also."
"I constantly tell the people: 'Come. Grow. Connect. Go.' And the truth is, God is using Palmetto."
In fact, in the four and a half years that Palmetto has been a church, they have already sent out two couples as church planters.
In 2011 two of Palmetto's charter members, Heston and Rebekah Blake, moved to an area of need in North Carolina—beginning with a home Bible study and forming a church soon after.
Then in 2014 John and Kristin Marino, both former students of Jason's and members at Palmetto, followed God's leading to pastor a small-but-growing group of believers in Ohio.
In John's case, it was especially exciting to Jason to see how God opened doors. Through a conversation with a pastor friend in Ohio, Jason found out that there was a group of believers in Orrville, Ohio, who were hoping to start a church—but who were still without a pastor. As his pastor friend described the group, Jason's first thought was, "John would be perfect for that!"
When John connected with the group in Orrville, he discovered that one of the families had two sons who had attended Palmetto as BJU students. Those two sons and their wives are now working with John in Orrville as core lay members of the church plant.
"We love seeing God open doors," Jason says. "It's not stuff we're trying to make happen; it's God that is doing it."
"Now unto him that is able to do exceeding abundantly above all that we ask or think, according to the power that worketh in us, Unto him be glory in the church by Christ Jesus throughout all ages, world without end. Amen."
And as if God wanted to prove beyond a shadow of a doubt that His hand was in it all, the Orrville church plant was chosen—without any suggestion from Jason—as one of three recipients for the 2015 Bible Conference offering.
A goal of $30,000 was set for the "Gospel Advance" offering, to be divided among three ministries according to their needs. Students, faculty and staff all prayed about what God would have them to give and participated in a wide variety of fundraising events.
In the Friday night service, President Steve Pettit, standing in the pulpit, scribbled numbers on a piece of paper and announced the total after that night's offering—$69,769! By the end of the weekend, the final total came to $70,000.
From that total, the church plant in Orrville would end up with $39,000—enough for advertising, signage, hymnals, chairs, a projector, and even a year's worth of rent. God had done beyond what anyone could have asked or imagined.
"God is at work all around us. It is our job to join Him in His work! It has been my happy experience to watch God open doors to multiple churches and to minister to students. Whether preaching on Sunday at church or teaching Old Testament Messages on campus, I couldn't think of a better way to invest my life.

"I can't wait to see what He has in store through PBC and BJU in the years to come!"
---
Learn more about our programs.