Perspective — Seeing the world through little eyes: Kelley Bruss
He's standing only three or four feet from the ground, looking up at tall buildings that "scrape the sky." She's wondering why anyone would name a store Walgreens "when it's not green and doesn't sell walls."

For Kelley Bruss, seeing the world from someone else's point of view is a gift, but it's nothing new. A '97 print journalism grad, Kelley worked in the thick of the newsroom for nearly nine years. She's written stories from the perspective of caring teachers and to shocked citizens on 9/11.

Being a mother has just changed the perspective some.
Falling in Love
Kelley took the print journalism classes and several creative writing classes during her years at BJU. Then in her final semester, she got an internship with The Greenville News. It was her first exposure to the newsroom—and she fell in love with it. "It clicked," she said. "I do believe it's what God gifted me to do, and it's what I love to do."
After graduating from BJU, Kelley moved to Muskogee, Oklahoma, where she worked the education beat for another Gannett branch.
About a year and half later, a position opened up in her home state of Wisconsin at the Gannett paper in Green Bay. Kelley quickly accepted the position, where she would end up reporting for the next seven years. Once again, Kelley found herself falling in love in the newsroom, this time not with journalism, but with fellow writer Steve Bruss. And in 1999 they married.
Welcoming Jude
Kelley continued to work in the newsroom while she was expecting their first child, and she remembers the strange but wonderful experience of pregnancy. "I knew he was in there. And I knew he was okay [when he was moving]," she recalls. "It's a weird feeling, but good."
Kelley remembers being overwhelmed at the prospect of being a mother. Jude was born while she and Steve were still living in Wisconsin. When they brought him home from the hospital, Kelley says they gave baby Jude a tour of the house. "This is your room, and this is our room. Here's the bathroom—you won't use that for a while." And she laughs about how silly they were.
But as Kelley stood in her home with her new little baby cradled in her arms, looking at his tiny face, the thought hit her, "They just let me take this little thing home, and I don't know what I'm doing." She realized how Jude was completely dependent on her. "He will not make it without us," Kelley remembers thinking. "There's a joy in that, but the weight of it really hit us too."

Change of place, change of pace
In 2005, while Kelley was on maternity leave with baby Jude, Steve accepted a job at The Greenville News. And when Jude was just 11 weeks old, the Bruss family moved to South Carolina.
Kelley found it difficult to leave behind the home where a lot of "firsts" happened. But so many details—interview, job offer, house selling—fell into place so quickly and perfectly that the Brusses felt peace that moving to Greenville was of God.
At that time, they decided it would be best for Kelley to stay home with Jude. And even though she embraced the privilege of being a stay-at-home mom, she hadn't anticipated how hard it would be for her to let go of the newsroom.
"I missed being in the thick of it," she says. "But that isn't to say I don't love being a mom."
During these past 10 years in Greenville, Kelley has done freelance writing on and off for The Greenville News. She's also published a biography for young readers titled Ira Sankey: Singing the Gospel. And she does freelance editing for different clients.
Kelley is thankful for the flexibility that freelancing gives her to balance writing and being a mom. But it's not quite the same as being a full-time reporter working in the newsroom. She loves interviewing other people and telling their stories, and she misses the camaraderie of the newsroom. "I still miss it, more when something is happening," Kelley says. "I miss it on election night or when there's some big news event."
Still, Kelley isn't sure whether she'll go back to the newsroom. And for now she's content to be doing what she's doing. Because she knows she's given up something she loves, for something else that she loves so much more.
Watching them grow
Across five Aprils, Kelley mothered Jude, watching him grow. And then during the month of his fifth birthday, Jude met his new little sister, Afton. Five more Aprils have passed, during which time Kelley has watched the two of them steadily grow.
And being a mother has given her a whole new way of looking at the world. Some journalists spend months living with a family or a group of people in order to get to know them better so they can write a better story. Kelley gets to do that on an even larger scale—she's able to be with her children every day, watching with wonder as the world unfolds for them. "I love those glimpses of what the world is like to them as they're trying to figure it out."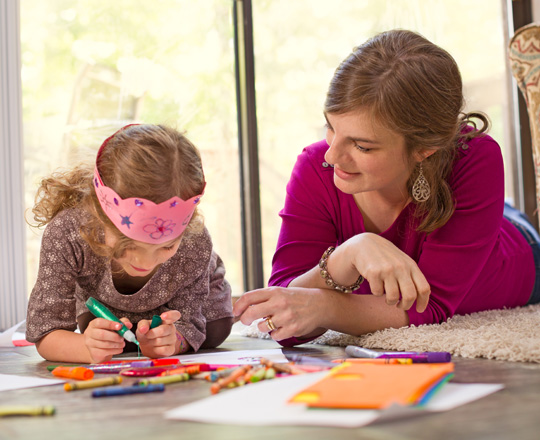 Cherishing the moments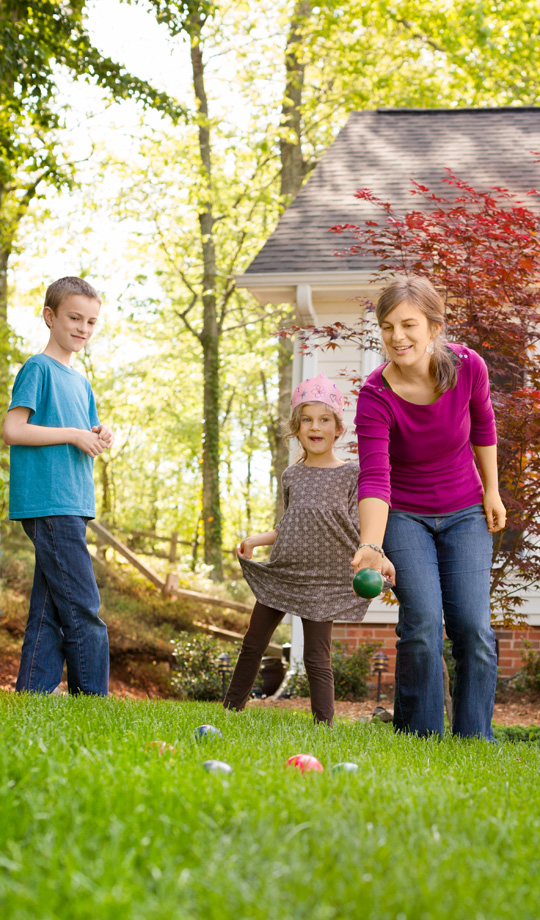 For Kelley, the greatest part of being a mom is found in the everyday moments—playing games, reading books and having conversations.
Since both Steve and Kelley are writers, it's no surprise that they are also avid readers. And they've shared their love for books with their children. "Sharing stories together is huge," Kelley says. She remembers reading to them when they were babies chewing on board books.
And now Jude reads constantly, and both children listen to audio books on their own. Kelley loves when Jude reads to Afton. "He doesn't have the patience for it very often," Kelley admits. "But she loves it when he does."
The Brusses have fun with the books they read and often quote from their favorite books. Right now Afton's favorite series is about Mercy Watson, "a porcine wonder whose favorite thing in the world is hot toast with a great deal of butter on it." So it's not unusual for Jude or Afton to ask for toast for breakfast, and then shout, "with a great deal of butter on it, please!"
The Bruss family also loves spending time outside—riding bikes, hiking and playing games like Bocce ball together.
They enjoy playing board games as a family, but prefer more advanced games to the standard children's repertoire of Candy Land and Chutes & Ladders. "We don't have much patience for those." Recently Jude beat Kelley soundly at the game Dominion. "I didn't go easy on him," Kelley says. "He just had a better strategy than me."
Both Steve and Kelley have a knack for making delicious—and sometimes unique—meals. Their love for cooking and their relatively refined taste buds have rubbed off on their children. Jude and Afton love helping in the kitchen. And both enjoy meals like turkey meatloaf with sundried tomatoes and feta filling. They'll ask for seconds of mashed cauliflower in between sips of European violet soda. Though like any other kids, they still love mac and cheese.
But whether reading, cooking, hiking or coloring, Steve and Kelley make it a point to enjoy their kids—sharing life with them and choosing to cherish each of the moments.
Learning Along the Way
Having Jude and Afton has taught Kelley many things over the years. And she says it's especially revealed her own selfishness. When they want to do certain things, Kelley admits thinking, "What about me? What about my needs?" But she's learning. She chooses to serve them—not just at convenient times—because their needs are real. And that's what love does.
Kelley marvels at how different Afton and Jude are from each other—and from herself and Steve. She loves learning what God put into their personalities, and she and Steve seek to nurture and love their individual personalities. "It brings a richness to our family and a dimension that we didn't have before."
She hopes that she'll never just coast through being a mom, but that she'll rely on God for everything. She also hopes that being a mother has made her a wiser, more thoughtful person—more willing to be compassionate and patient.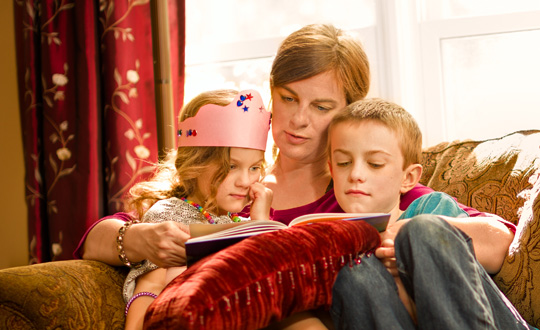 "They've definitely changed my outlook on life." And seeing the world through their eyes is a precious gift. "I don't take it lightly," Kelley says. "I'm thankful for the chance to be a mom. It's the best!"