Internship Sparks New Goal — Fighting Illiteracy: Kristen Ince
Set a goal, develop a plan and then go for it. That has been Kristen's philosophy for most of her life. When she arrived at BJU as a freshman, her goal was to get into law school. And her plan was to lay a strong business foundation before that through an accounting degree.

"Then I met the accounting faculty," she says. "I saw their passion for accounting. And I decided it was something I should consider for my future, because of how much they loved it."

So Kristen set a new goal. "I started hearing about these 'Big Four' accounting firms," she says. "I knew that was the peak, the pinnacle, and I thought, Why not shoot for the highest?"

She knew that prospective employers would be looking at both her grades and her extracurricular experiences. She began building her resume by getting involved in as many things at BJU as she could, from the residence halls and her society to the University Business Association and the South Carolina Student Legislature.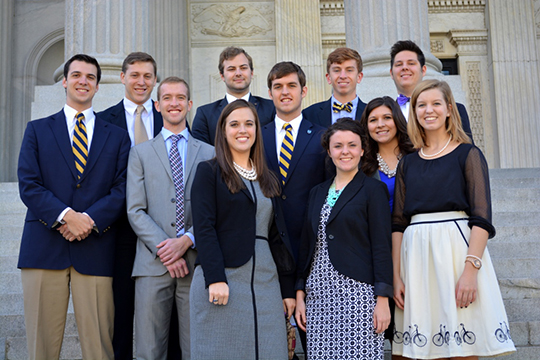 Kristen with other members of the BJU Student Legislature delegation
The Ideal Internship
All too soon, her junior year arrived—her chance to get an internship. She made it through the flurry of interviews and recruiting events, and then she had to sit and wait. "Ultimately, I came out with 4 offers, which was God's grace," she says. "He didn't have to allow me to have the options I did."
She ended up choosing KPMG—one of the 'Big Four'—knowing that it would probably be the most stressful but would also give her the most opportunities.
"I had my internship the following semester, January through March. Loved it! At times it was difficult, because I worked up to 60 hours a week," she says. "Throughout that I learned a ton. I'm very thankful I had the opportunity to do it."
An Unexpected Passion
But Kristen gained something unexpected, in addition to accounting experience—she gained a passion for literacy. "Companies have the funds and the manpower to make a difference in communities all over the world," she says. "KPMG refers to this fact as our 'corporate responsibility.' I feel like literacy has become the banner flag of KPMG's community service."
During Kristen's very first week of training, all the interns were challenged to organize a literacy event. So Kristen and her friend Rebecca, another BJU student interning at KPMG, took a group from their office to visit two after-school programs.
"We took books to between 30 and 50 children at each place," Kristen says. "We read them the story, and then we gave them each a book. We were told that some of these children probably didn't have the opportunity to have books at home, so it was neat to be able to give them a book."
Afterward, they sent descriptions of their literacy event to KPMG. Of all the interns across the country, a group from the spring semester and a group from the summer were selected to represent their offices at the national event in New Orleans. And two of those interns happened to be Kristen and Rebecca, the only two interns chosen from South Carolina.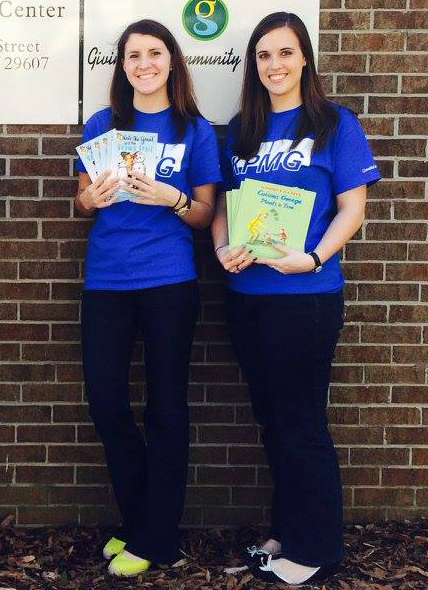 Serving Schools in New Orleans
In August—the day after Kristen got back from counseling at a summer camp—she and Rebecca and more than 40 other interns and sponsors traveled to New Orleans, where they visited three charter schools.
At the first school, Kristen says, "we organized their computers, because they had laptops but they were all messed up. We painted classrooms, we put up bulletin boards, we moved furniture, we dusted, we cleaned bathrooms, we cut grass, we scanned library books."
At the next school, "I sat in a dark corner in the library alphabetizing books," she says with a laugh.
The last school they visited was her favorite. "We got to actually spend time with children," she says. "The theme of the day was 'going green,' recycling, helping our environment. They divided us up into groups, and we read books to the children and did crafts."
"I wasn't there to counsel them, like I had been doing at camp all summer, but some of them were hurting, you could see," she says. "Some of them described a little bit of their family situation. Their parents were fighting, or they were always moving. It was neat to share a little bit about why we're here and how we care."
"There was one girl in particular, I didn't have an opportunity to tell her about God, but just to give her a little bit of love. At the beginning, she didn't talk to anyone. But by the end of the time, she clung to me and she was like, 'I want YOU to sit by me, I want YOU to read me the book.'"
"I don't know if that makes a huge impact on their life, but I hope it did."
Passing on the Vision
Kristen knows firsthand what it's like to struggle with reading—and what it's like to get help and go on to succeed. Growing up with dyslexia, she received special tutoring in reading in second grade, but continued to struggle until she received tutoring again in fifth grade.
But before she interned with KPMG, she hadn't grasped the extent of illiteracy in the United States. Now that she has, she can't ever walk away from the problem.
"KPMG has really put the burden in every office around the nation that we have to build the generation behind us," she says. "And to do that, we need to start at the lowest level of children and fight their illiteracy—so that they can go to high school and finish high school. And when they finish high school, realize that they can go to college. And when they go to college, realize that they can do something, like joining a company like KPMG."
"We have to get them the vision, just like we had the vision. Someone took the time to help us realize that KPMG is not simply a dream, it's a goal. That's something that these children need to realize. That it all starts with phonics class and learning to read. You have to start somewhere."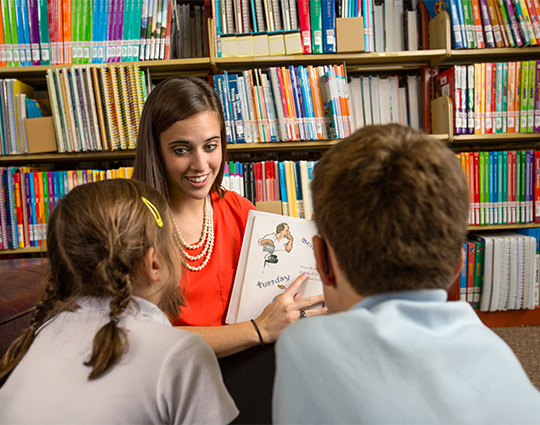 Looking to the Future
Right now, Kristen is enjoying her senior year at BJU—staying busy with upper-level classes like Accounting Theory and Management Policies, and of course, with extracurricular leadership responsibilities.
But she's also looking forward to getting out into the accounting world again. At the end of her internship, she was offered a full-time position, beginning the fall after she graduates. She is already setting new goals for her future—both for her career and for the cause she's discovered.
"Illiteracy presents an ever-present problem in America," she says, "and I anticipate partnering with KPMG, Greenville, to fight this battle facing the youth of America."
---
Learn more about our programs.