Animal Keeper, Trainer and Art Instructor: Leanne Sarkisian
Leanne arrives at work at eight o'clock sharp—and is greeted by hungry animals ready for breakfast.
As a zookeeper at the Creation Museum's petting zoo, she is responsible for 20 or so animals. "I start mixing our animals' diets," she says. "Then I give them their food and check their general health," she says. She starts with the goats and sheep, works through the zorse and zonkey and camels, then the steer, donkey and alpacas, and then the wallabies and finally the coatis.
After a staff meeting, Leanne returns and coordinates the cleaning of all the animals' enclosures. "Having animals on exhibit, we have to make sure their enclosures are clean every day," she explains.
Then the guests start pouring in. Another busy day at the petting zoo has begun.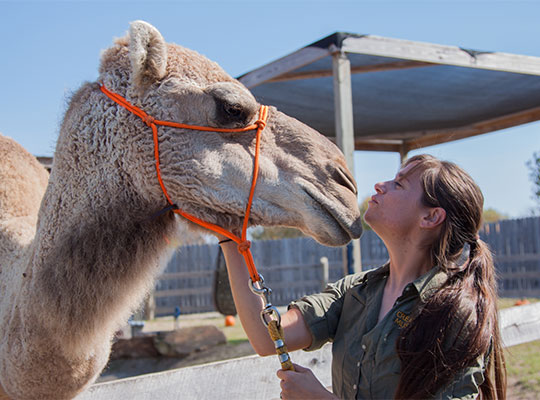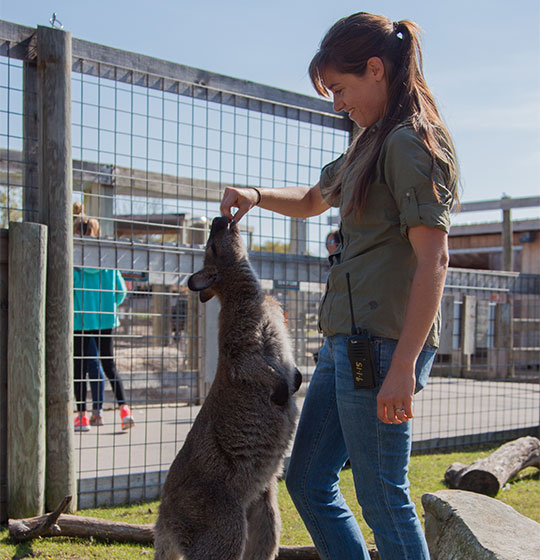 Her Dream Job
During the day Leanne interacts with guests and conducts informational talks about the animals. "It is something I'm very passionate about—making sure people are enjoying the animals, but also making sure that they're coming away with some knowledge about them too," she says.
There's more behind-the-scenes work while the petting zoo is open, as Leanne helps train the animals. "We do positive reinforcement training with lots of treats," she says.
"For example, I taught our donkey Ella to paint, which was pretty easy, because donkeys love to grab things in their mouth. If we have a pitchfork in the enclosure, she'll grab it and start raking the ground with it," she says. "So I taught her to hold a paintbrush, and then we progressed to touching a canvas with a paint brush, and then to moving her head and making pretty lines, and then finally to drop the paint brush."
But it's all fulfilling work, and Leanne heads home satisfied. Another day working with animals—her dream job.
Life on the Farm
Leanne grew up on a farm in south central Pennsylvania. Not only was her dad a farmer, but her grandfather and her uncles were as well. Working with animals was in her genes.
When she was in ninth or tenth grade, her grandfather retired from farming and sold his herd of Black Angus cattle to Leanne and her sister. "That's kind of where all that began," Leanne says. "It definitely developed responsibility—getting up in the middle of the night to check on the cows during calving season and things like that."
When she came to BJU in 2007, she began in the pre-veterinary program. Halfway through her freshman year, however, she realized that she didn't want to be a vet after all. "You work with animals in a different way," she explains. "You do things that make animals tend not to like you!"
So she switched to the organismal biology track of the biology program, which allowed her to focus on organisms in a field context (as opposed to the cell biology track which focused on the cellular and molecular aspects). After graduation, she planned to continue working with animals in some way.
During Leanne's senior year, Answers in Genesis came to recruit at BJU. Leanne and her fiancé Bill (who was studying criminal justice) went to talk to them—and found that they had both a public safety position and a zookeeping position open at the Creation Museum.
"We were trying to decide where God wanted us, whether it was in South Carolina or Pennsylvania or Kentucky," Leanne says. "God made it very clear the Creation Museum was where we were supposed to be."
"When I found out BJU had started the zoology track, I was slightly jealous. Just a little bit. But it's also encouraging that we have Christian young people who are interested in going into zoology, because it is a very, very secular field. There are very, very few Christians doing this kind of thing and there really need to be more Christian scientists out there studying animals and ecosystems and stuff. It's quite exciting to see them growing that way."

Lots of Hats
Four years later, Leanne is still working at the Creation Museum's petting zoo and loving it. Besides the work with the animals, she enjoys the constant challenge to learn new things.
"When you're a keeper, you have to wear a lot of hats," she says. "You have to be able to fix things, you have to be the nurse, you have to be able to do training, you have to be able to talk to the public. That's my favorite thing—that it's a dynamic field, not a static one."
And her years at BJU were the perfect preparation for it. "I think being able to develop critical thinking is the biggest thing I took away from Bob Jones University, and that drive to find out," she says. "As well as a lot of conceptualization of learning, taking concepts and linking them together in the bigger pictures."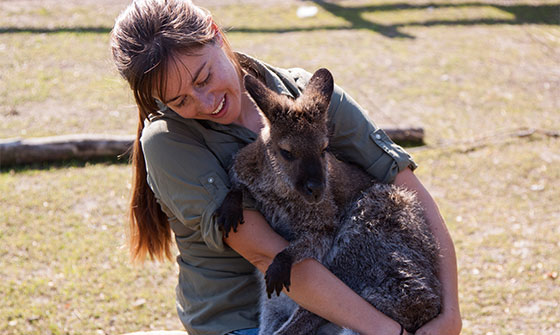 Continuing Education
Leanne is also working on a master's degree with the Cincinnati Zoo. The classes are mostly online, but several of the classes meet periodically at the Cincinnati Zoo. "The class I'm currently taking is on animal behavior," she says, "so a lot of it is behind the scenes stuff, talking to keepers, and that sort of thing."
Again, she says, her time in the science program at BJU gave her the foundation she needed for this opportunity. "It definitely makes me thankful for the opportunity I had to go to a Christian university and have things taught from a biblical perspective rather than from an evolutionary perspective," she says. "I've been able to have some good conversations, explaining to people what I believe and why I believe it."
"My experience at BJU as a whole just really helped me develop into the person I am today, and has helped me help others and teach others."
Learn more about our programs.