Treasures from Bangladesh: Lynette Carroll
The rain—the thick rain of Bangladesh's monsoon season—was pounding on the tin roof as Rina and Lynette hugged. "I'm not sure which was louder, the rain or our crying," says Lynette. "Our shirts were wet with each other's tears." Lynette had so much left to do, but she had decided that this last night with her Bengali family was more important.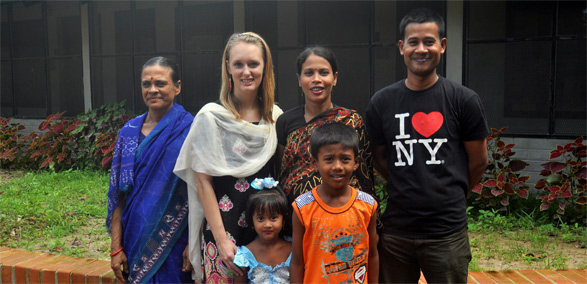 Over the past year and a half—despite cultural differences, language barrier and age gap—Lynette and Rina had become each other's closest friend. They had become more like sisters, really. And Rina's husband was like Lynette's brother, their children Lynette's nephew and nieces.
Now Lynette was about to return to the United States, not knowing if God would ever bring her back to Bangladesh, not knowing if she would ever see her Bengali family again.

Finding Heart House
Lynette Carroll ('10) had always been interested in missions, but as an apparel, textiles and design major at BJU, she didn't exactly match the profile of a typical missionary. Seeking advice about how to become involved in missions sometimes discouraged her, because no one seemed to know exactly how she could fit in.
Then Lynette heard of Heart House from a missionary visiting her church. Founded in the 1970s after the Bangladesh War for Independence, Heart House was a place where widows and people with disabilities could make a living through handicrafts. With her interest piqued, Lynette investigated whether she could complete her ATD internship there.
In the summer of 2009, Lynette was able to spend a month working at Heart House. "It was an incredible place to minister," says Lynette. The fact that a place like Heart House existed, a ministry where she could use the talents God had given her, excited her. However, Lynette assumed that her month there was all she would ever see of Bangladesh.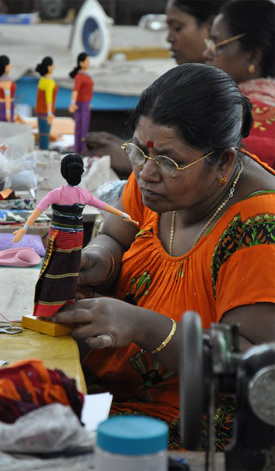 A Surprising Email
Back at BJU in the fall for her senior year, Lynette soon received a surprising email from the missionaries at Heart House: would she be willing to return to Bangladesh for two years as a short-term missionary?
"The Lord had already been prompting me to take Dr. Bob III's challenge to heart—you know, the one where he encourages students to give 2–3 years post-graduation devoted to a ministry," says Lynette. "I have to be honest; when I got the email about Bangladesh, I was scared and excited all at the same time. I knew this was what I had unknowingly been praying about, but Bangladesh is not quite what I had in mind."
During the weeks that Lynette prayed for wisdom, her prayer group was studying the lives of different women in the Bible. "The story of Hagar impacted me to tears," Lynette remembers. "The Lord told Hagar what to do and she did it, and He wasn't even her God. How could I withhold myself from a God I actually believe in?"
"I just remember it hitting me and thinking, I have to go."
Hobbies and Hidden Talents
After graduating from BJU in May and completing several months of deputation to raise support, Lynette arrived back at Heart House in November 2010. Lynette used her apparel, textiles and design training in all sorts of ways—painting wooden magnets and doll briefcases, making doll books, inventorying embroidery thread stock, creating a thread sample book, drawing designs to be embroidered, writing orders, taking care of the bill book at the end of the month and selling items through a Facebook group, among other duties.
What was just as exciting, however, was how God gave her opportunities to use even her hobbies or hidden talents to minister to others.
Although designing and sewing clothes had always been Lynette's passion, that was not a part of her job at Heart House. When a Christian school in a nearby city asked Lynette to sew costumes for their annual play, she eagerly agreed, providing last-minute alteration and repair services as well.
Lynette had minored in photography at BJU, but she didn't have a high-quality camera of her own. Right before she left for Bangladesh, she was able to buy a DSLR camera. "I'm just so thankful that the Lord provided it for me, because it was one of the biggest ways I was able to minister," she says.
At the very first Heart House picnic she attended, she brought her camera along just for fun. As she snapped pictures of the food and the surroundings, a couple of women said, "Oh, take our picture too!" Then, Lynette says, "the next thing I know, everyone's having me take their picture!"
At BJU, Lynette had almost decided to major in interior design before settling on apparel, textiles & design. In Bangladesh, she had the unexpected opportunity to use this interest in interior design through redecorating the guest house, where visiting missionaries and the occasional dignitary would stay. "I wanted it to look more Bengali," Lynette says, so she used bright colors with local textiles and artwork.
Soon people began to invite Lynette to their weddings and birthday parties…requesting that she bring along her camera, of course. Because pictures are a luxury to most people in Bangladesh, Lynette began printing out the pictures she took of people. "At first I would just give the pictures to them," she says. "The second or third time, I started laminating the pictures, because I realized that was something that would last longer than my two years."
Technology is another interest of Lynette's. "I'm by no means some IT tech, but I do have interest in technology and videos and stuff like that," she says.
One of the missionaries mentioned to Lynette in passing that she had a great idea for a video she'd like to take with her on furlough, but didn't have the time or skills to put together.
"So I took it as kind of a challenge," Lynette says. One free Saturday, "I took a lot of my pictures, chose what I felt was the best representation of Bengali culture, and condensed it to twelve minutes." She didn't include any narration, but instead chose two Bengali songs as the soundtrack.
When Lynette surprised the missionary with her video the next week, the missionary was thrilled! Soon, several other missionaries asked about using the video on their trips to the States.
"When you think about being used of God, you're not thinking of the little menial things that you just selfishly enjoy," Lynette says.
"But it was neat to see the Lord change my mindset…. Just as He can use me and my crazy fashion design major and photography minor, He also can use my random interests. That just blows my mind!"
Throughout her time in Bangladesh, Lynette saw these projects as God's special gifts to her—chances to do something she loved for the benefit of the body of Christ.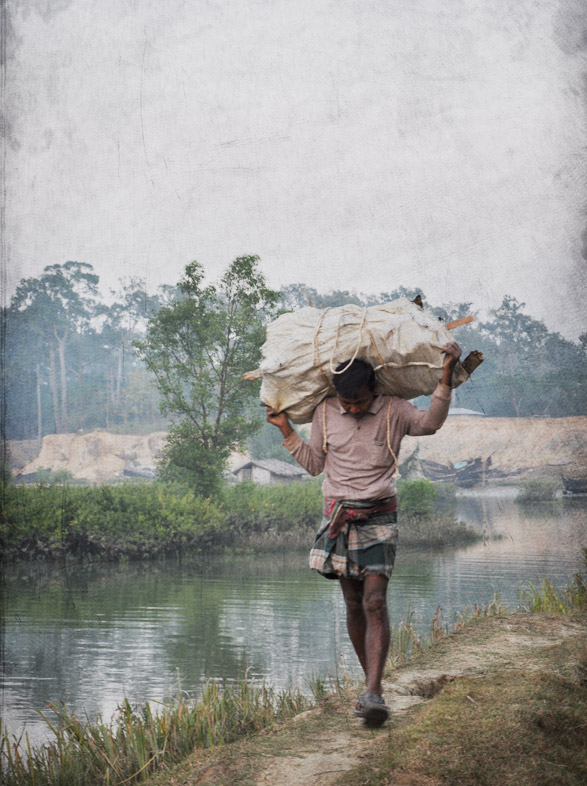 Third-World Challenges
Lynette loved the ministry God had given her, and she loved Bangladesh—the food, the culture, the scenery. However, life there could not be romanticized; sooner or later, the reality of living in a third-world country would come crashing through. "Your level of tension and anxiety is so much higher for just essential, day-to-day living," she says. "When you pile more things on top, you're just like, 'I can't take any more!'"
One incident tested Lynette's patience to the fullest. "My door frame had been eaten by termites, my door frame to the bathroom which was connected to my room," she says. "So they had to replace it."
She came back from work on a Thursday to find that a new door frame had been put in place, although not without damage to the surrounding concrete wall. To keep the tension in the newly plastered cement, the workman put three metal bars across the doorway. Because the Bengali weekend is Friday and Saturday, the workman told her he would return the next week to take the bars away.
That Sunday, Lynette contracted a stomach virus. To get into her bathroom, she had to step over the bottom bar while ducking under the middle bar at the same time. "I've never hated using the restroom so much in my entire life," she says. "I almost hit myself and tripped into the bathroom." She waited a whole week for the workman to return, all the while struggling to manage her frustration. "I just need to throw up," she thought, "and it shouldn't be this difficult."
Chocolate Cake…With Ants
Thankfully, other incidents were amusing rather than frustrating. Lynette remembers her last birthday in Bangladesh in particular. She hired a chef to cook a delicious Bengali meal, invited some friends over to share it with her, and baked a birthday cake.
"Long story short, I left the cake out; the ants got into it."
Disappointed, Lynette racked her brain for a solution. "I didn't have anything else to make in that amount of time, and I had to have a birthday cake," she says. "Anyway, it was a chocolate cake and ants are dark. So I killed a lot of them. And waited, let more crawl out, killed them. Then at some point I was like, I've got to take care of this. So I put [the cake] in the freezer to kill the rest of the ants. And then I covered it in chocolate icing. And then we ate it. I just tried not to think about it," she says, giggling.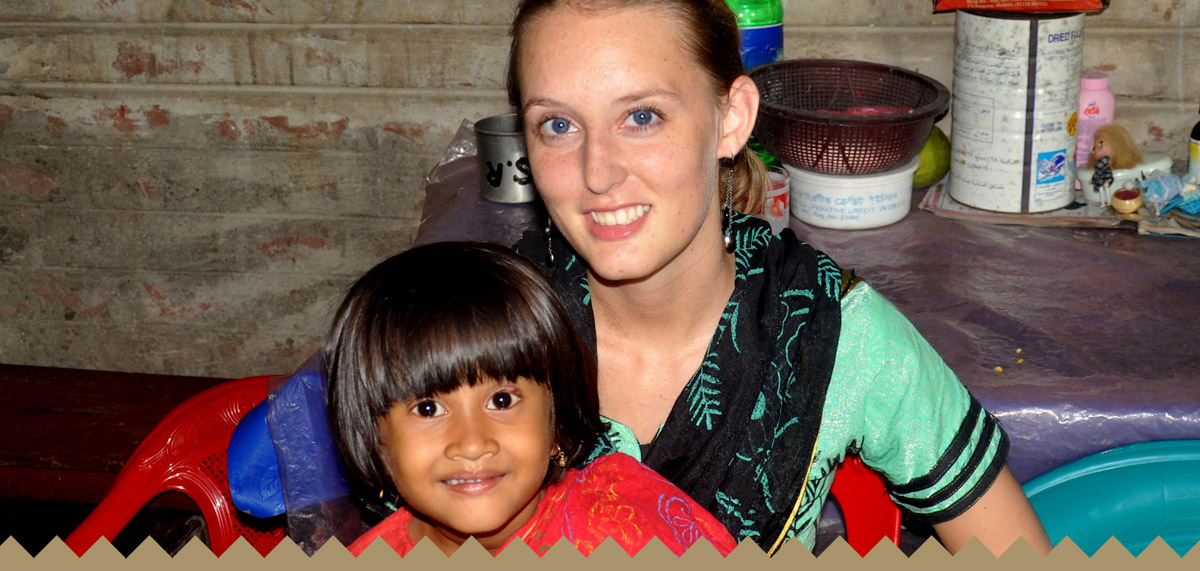 Despite the many projects that kept her busy and the wonderful relationships she enjoyed with her fellow missionaries and the workers at Heart House, Lynette struggled with loneliness. She often longed for one close friend, someone she could share her heart with.
Although Lynette's Bangla skills were steadily improving—thanks to the lessons she had every week with a language tutor, plus all the practice she got at work—she found that trying to think and speak and listen in a foreign language all day long could be exhausting. So when she asked God for a close friend, she says, "Part of me was thinking that it would be someone to minister to my soul in English."
However, God had a better plan. He chose to answer her prayer through what was to become her Bengali "family."
Lynette met little Swurobi first, only three years old at the time and very shy. She would stare at Lynette just long enough to get her to say "hello" and then run away. One day, Lynette told Swurobi's mother Rina, "Your daughter is my friend," not fully realizing the cultural significance of calling someone "friend." However, Swurobi overheard and that simple statement broke through her shyness. From then on, Swurobi chattered freely to Lynette. Lynette also got to know Rina better as they worked together on a Heart House project.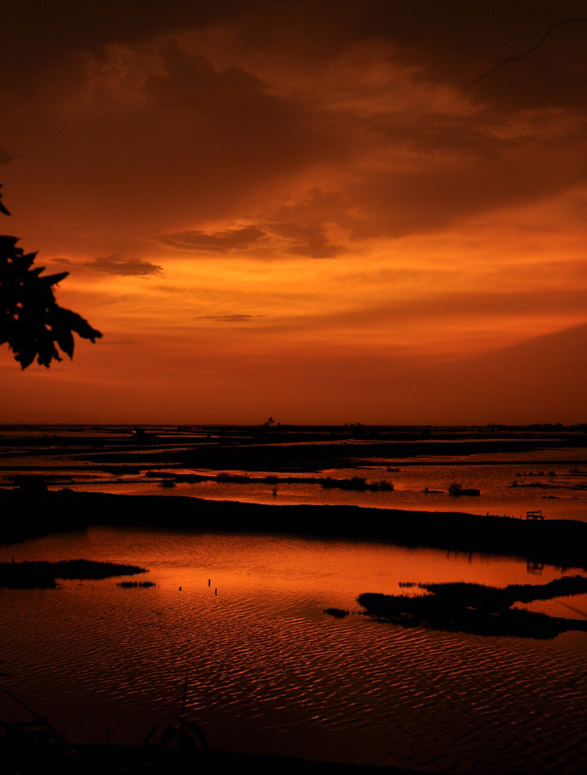 Bonding Through Sorrow
One morning Lynette received a phone call from Rina's husband. Rina's grandmother had just passed away. Could Lynette come to the hospital? Although it was a day off for Lynette, she quickly put her plans aside. At the hospital, Lynette sat with Rina and held her hand. During the funeral, Lynette held little Swurobi to allow Rina to grieve freely. That experience forged the bond between Rina and Lynette. They became inseparable—having tea in the canteen together every day after work and visiting each other's homes for birthday parties and special meals.
When Lynette became very sick for several months and could barely keep any food or drink down, Rina and her family cared for Lynette in every way possible.
"When I needed a companion for a medical test in [a nearby town], she was ready to spend the evening going down and back with me. When I needed someone to teach me how to make dhal and rice so that I could try to eat something, they taught me during our lunch break," Lynette says. "When I was getting discouraged about being sick so long, they were there to hug me and pray for me. …These friends pointed me to the unconditional, incomprehensible love of Christ."
For Lynette's last Easter in Bangladesh, Rina invited Lynette to travel with her family to her husband's home village. They were cramped together in a bus for 12 hours, jostling over rough roads that made the journey three times longer than it should have been. During their stay in the village, Rina, Swurobi and Lynette all shared a bed in typical Bengali fashion. "If we weren't already bonded for life, then definitely the trip in April did it!" says Lynette.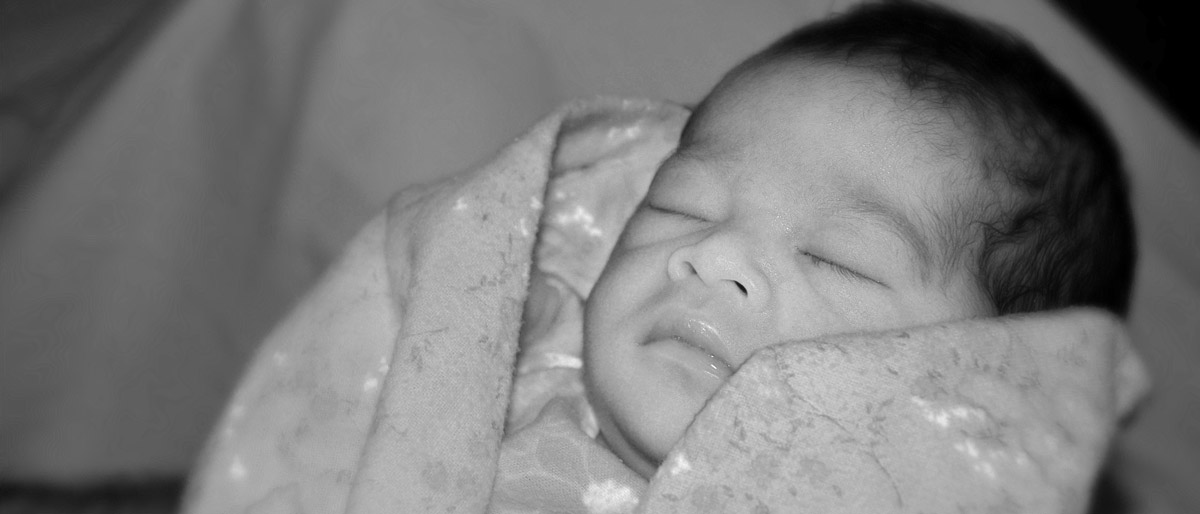 A New Baby
In August 2012, Rina gave birth to her third child, a baby girl. She and her husband honored Lynette by asking her to name their new daughter. Nervous about the responsibility, Lynette ended up choosing the new baby's middle name while her parents chose the first name. "Two weeks after her birth we (the family) had a small naming ceremony," says Lynette. After singing hymns and reading Scripture together, they gave the new baby her name—Lina Naomi.
Departure
As the time of Lynette's departure drew near, both Lynette and Rina avoided the subject. "It was like that elephant in the room that no one talks about," says Lynette. "The week before my leaving, every time we'd go to the canteen, it was just painful. …She'd be sitting there, and she'd start tearing up."
Leaving her Bengali family was one of the hardest things Lynette had ever done in her life. After saying goodbye to them in the airport and boarding the plane, Lynette again could not hold back the tears. "It was horrible!" she remembers. "It'd been years since I cried that hard."
Visiting churches back in the United States, she couldn't look at her presentation's pictures of Rina and her family without her chest tightening and tears springing to her eyes. She had promised Rina she would call her at the end of October, but when the time came, Lynette was too emotional to do it.
Finally, after two months back in the United States, she felt ready. On Christmas morning their time, she talked to them for the first time since she had left. "They were so excited to hear from me! We spent about 45 minutes talking," she says. "And now, I think we talk about 2 or 3 times a week."
During one phone conversation, Lynette remembers, Rina could tell something was wrong. "She said, 'Are you okay?' And I said, 'No, my grandma just died.' And so we got to talk about how our grandmothers are meeting up in heaven."
Lynette is thankful that the miles between them haven't created distance in their relationship. More than anything—even more than the cultural lessons she learned and the ministry she had—the relationships she formed are what Lynette treasures from her two years in Bangladesh.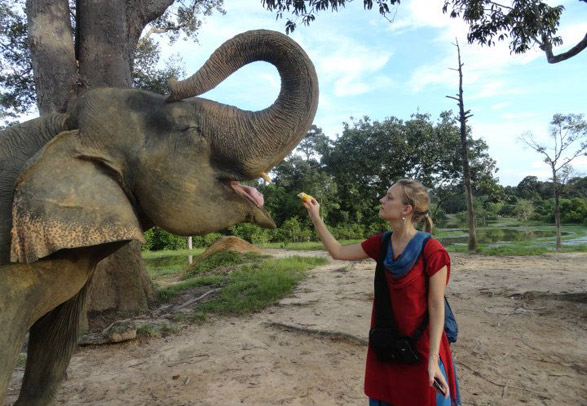 This Body of Believers
To the churches and individuals in the United States that contributed to her time in Bangladesh, Lynette tried to communicate one main thing: "I'm a direct extension of you. And this is what you enabled me to do. I want to introduce you to the people whose lives were possibly changed. You had a direct impact in their lives."
The way Lynette sees it, God sent her to do the work that others in the U.S. were not able to do. Yet their financial support and faithful prayers were part of the work. "As your sister in Christ," she says, "I am an extension of this body of believers." And in the end, it was this entire body of believers that accomplished God's work.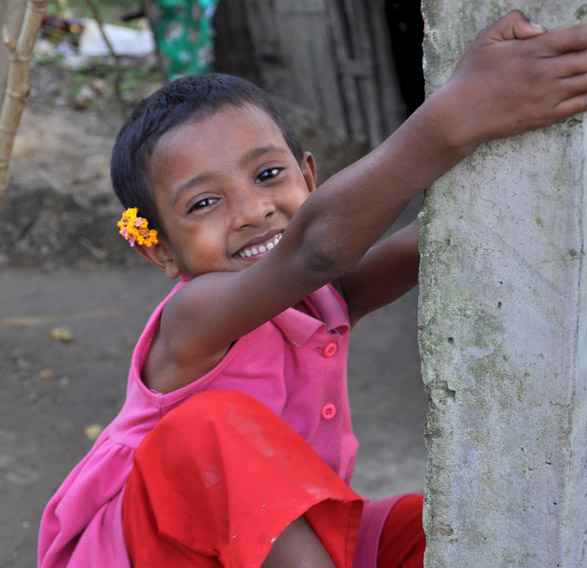 ---
Learn more about our programs.