Our Good and Sovereign Shepherd in the Story of Matt and Kelli Templeton
The day started out like any other. As dawn glimmered across the sky, 1st Lt. Matt Templeton (2006 graduate) and his platoon headed out on the fifth and final day of their latest route clearance mission in Afghanistan.
Before they left, standing in the hand-numbing cold, they prayed. Matt usually led this pre-mission prayer, but today he thought he should ask if anyone else wanted to pray. The men all looked at each other. One sergeant spoke up, "Hey sir, you've been praying every day so far and it's been going pretty good, so I think let's stick with what we've got."
By 1 p.m., the platoon had just finished checking for a type of roadside bomb known as improvised explosive devices (IEDs) around the last hostile village on their route. Thankfully, they had not encountered any insurgents. A peaceful day. But before he breathed a sigh of relief, Matt reached for his radio to instruct his men to return to the truck.
That's when the gunfire erupted. Matt and his men dropped to the ground on their stomachs. Letting off a few rounds of suppressive fire, they were able to run across the flat, barren terrain to the nearest cover—a small mud-brick wall.
Behind the wall, Matt had to strategize quickly. Would it be better to retreat to the truck or stay and fight it out? He had a feeling that the insurgents could be trying to force them back to the truck for a reason; perhaps they had planted a bomb in the path of the truck.
They would stay and fight it out, he decided. Grabbing his radio to inform his men, he realized that it had gone out. He turned and began to run toward the next soldier with a working radio.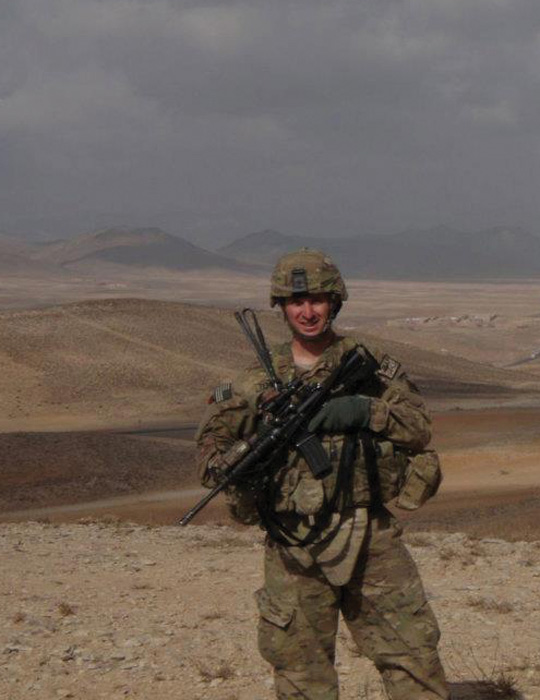 Matt Templeton in Afghanistan
There was a thunderous roar behind him, and he went flying. Matt opened his eyes. He could see blood on his protective glasses.
The rocket had blasted hundreds of hot metal shards into his body, yet he could feel nothing. Neither his arms nor his legs seemed to be working as he tried to move. He tried to call for a medic, but only a raspy whisper came out.
As his vision turned cloudy red and he felt his consciousness fading, Matt began to pray. "Lord, forgive me for any way that I've sinned against you lately."
A wave of sadness came over him as he thought of his wife, Kelli (2008 graduate), and their baby daughter, realizing that he would not see them again, that he would not be able to tell his wife again that he loved her. "Lord, please take care of them when I'm gone."
Surrendering to unconsciousness, Matt fully expected to wake up in the arms of Jesus.
But God had other plans.
A Different Frontline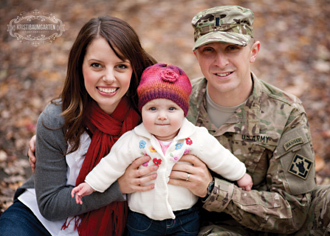 Saturday, Dec. 10, 2011, was a busy day for Kelli. She and 7-month-old Ella were preparing to spend a month with Kelli's parents in Indiana. Kelli's mother had flown in to help with packing and to make the long drive from New York to Indiana with them.
Even all the packing and cleaning could not take Kelli's mind off Matt. She knew that he had just finished the last day of his mission. Every minute, she was listening for the phone to ring.
When Matt and she first met, they were immediately attracted to each other—especially after they discovered their mutual interest in missions. As Kelli studied nursing and Matt majored in Bible, they looked forward to serving on the frontlines of the Gospel, maybe even among an unreached people group.
However, God began to lead Matt and Kelli toward a different frontline.
Sensing God's call to the military, Matt's biggest concern was for Kelli and their future children. Knowing everything that military life entailed, Matt wondered if he could be true to his wedding day vows to always lead and cherish Kelli. After thinking long and hard about it, he asked her that same question.
It was a struggle for her. Matt had become her whole world, and the thought of losing him was paralyzing. However, she knew that this was what God wanted him—both of them—to do. After a day or two of thinking and praying, she went back to him and said, "Yes."
Being apart from Matt while he was in basic training, officer candidate school and Army Ranger school was hard. Giving birth to Ella while Matt was gone was even harder. Yet every time Kelli was reunited with Matt, she found that their love for each other was deeper, their fellowship even more edifying and encouraging.
On Nov. 3, 2011, Matt had been deployed for a one-year tour in Afghanistan. It would be their longest separation yet. Every day was a fight to keep her mind focused on the truths she knew about God and not give in to fear of the unknown. Every day she faced the possibility of losing her best friend, and every day she prayed over and over that God would just allow Matt to come home—in whatever condition, just to come home.
The Phone Call
Now, as she prepared for her trip, she tried to reassure herself. She knew that communication might not be possible right after the mission. Or maybe there had been a delay in getting back. "I'll wait until Sunday," she told herself. "If he hasn't called by then, I'll let myself worry."
At 11:30 that night, while she was still driving, the phone did ring. But it was Matt's commander. At first, Kelli didn't cry. She was too focused on finishing the trip, taking care of Ella, figuring out how to help Matt. She couldn't cry. But when her mom hugged her, she broke down. "Not out of sadness," she later explained, "but just out of uncertainty and fear and of feeling so helpless; that outside of his dying, this was the second worst-case scenario."
As her mom drove the rest of the way to Indiana, Kelli sat and struggled with her thoughts. Yet in everything, she felt an overwhelming gratitude that God had spared Matt's life. "Here is the first point, for me," Kelli says, "when my intellectual knowledge of God became experiential in a very real way ... even amidst all the questions and uncertainties, I felt God's peace, the indescribable peace."
Matt was taken first to the hospital at Bagram Air Base in Afghanistan, where he underwent 15 to 18 hours of preliminary surgery to remove shrapnel and perform other basic tasks. He was then flown to Landstuhl Regional Medical Center in Germany.
Talking to a still-groggy Matt on the phone, Kelli asked if she should fly to Germany to be with him before he came back to the U.S. on Friday. "It's Thursday," Matt thought, "I can survive one day longer." When he discovered later that it was only Tuesday, the rest of the week without Kelli seemed interminably long.
Friends and strangers who had heard about Matt's situation, wanting to help in any way they could, had donated generously. With that money, Kelli was able to fly to Germany to be with Matt.
He had a tube in each lung to keep them from collapsing, a broken right arm, extensive nerve damage that kept him from walking or using his right hand, fragmentation wounds down his back, arterial damage in his right arm and neck, and moderate traumatic brain injury. By the time he left Landstuhl on Saturday, Dec. 17, he had already undergone five surgeries.
God in the Details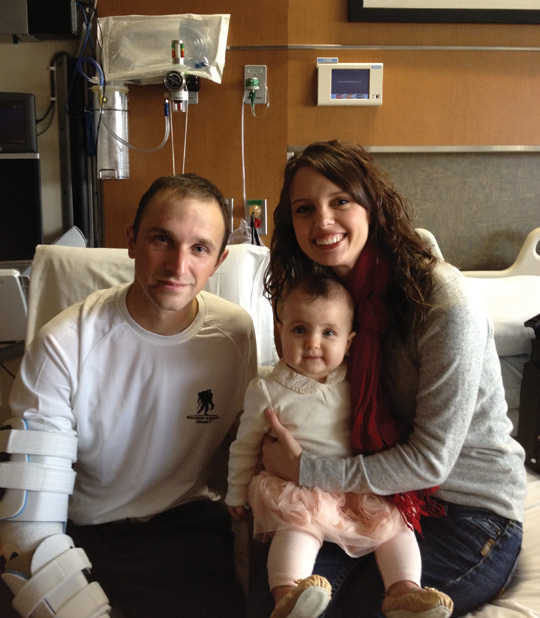 Matt, Kelli and Ella Templeton in the hospital
Matt was admitted to the Walter Reed National Military Medical Center in Bethesda, Md. This would be his and Kelli's home for the next seven months, one month as inpatient and six months as outpatient. Daily routine began at 4 or 5 every morning, when the nurses came in to check on Matt and take his blood. Every morning, Kelli was there beside him. Although the military provided an apartment near the hospital, Kelli chose to sleep in a chair beside Matt's hospital bed.
"For me," Kelli says, "God's grace was His enabling me to sleep in the chair by Matt's bed for one more hour. God's strength enabled me to be true to the vows I had made to my husband, that in sickness or in health I would always love him and remain by his side."
During the first week, Matt was in surgery every day. Then it was every other day for the next couple weeks. Finally the surgeries began to taper off, allowing Matt a chance to really begin recovery. With around 200 wounds and approximately 250 stitches, what he needed most was downtime in order to heal.
For Matt, seven months of downtime meant many hours of thinking and praying. He knew that God was sovereign. He could see God's control in the smallest details of his story.
Details like his radio going out. If it hadn't gone out, he wouldn't have turned to run toward his men and he would have received a full frontal blast from the rocket, decreasing his chance of survival by 75 percent.
Details like his abnormal artery-vein connection. A piece of shrapnel had entered his neck and nicked his carotid artery. Instead of bleeding out, the artery formed a connection with a nearby vein, keeping the bleeding in.
Details like the high-profile visitors who stopped by Matt's hospital room, making routine Christmas season visits. First the Secretary of the Army, then the Deputy Secretary of Defense, and then Vice President Joe Biden himself.
Matt's dad seized these opportunities. As each leader walked out the door, he stopped them for a moment to share a letter Matt had written to his parents the night before he was deployed, a letter that expressed his ideals and his vision, his motivation for what he was about to do. Matt's dad exhorted each leader to make principled decisions. Then he shared his own faith in Christ, the reason for the hope within despite Matt's injuries, encouraging them to believe also.
Matt knew God was working. Yet he still wondered, "Why can't God accomplish His sovereign will without allowing such great hurt and heartache?"
Green Pastures
Looking at the wounded warriors around him, Matt saw many amputees—from those missing one hand to those missing all four limbs. He saw soldiers with severe facial injuries undergoing facial reconstruction, soldiers with severe traumatic brain injury (TBI), soldiers with severe burns. Sometimes a soldier had all of these.
He also saw soldiers with one or two broken bones or mild TBI or surface wounds. And then there was Matt, somewhere in the middle of the two extremes. He was reminded of the saying "The grass is always greener on the other side of the fence."
Again, that age-old question arose: "How can a God Who is sovereign even over terrible things be good?"
In a familiar Psalm, God showed Matt His answer.
Matt realized that Psalm 23 isn't true only after a trial is over. "It is in the present. God is always making me to lie down in green pastures. He is always leading us beside the still waters. He is always doing what is best for us. So yes, God is sovereign all the time; and yes, God is good all the time."
Then Matt wondered, "How? How is it that our pastures are green when we are all alone in the middle of the worst times in our lives, when we're in the valley of the shadow of death?"
"It is because He is enough. Even in the most horrible condition conceivable, we can say 'yes, God is still my good and sovereign Shepherd, even if He is the only thing we have left, because He is enough.' "
"God is still my good and sovereign Shepherd, even if He is the only thing we have left"
Gospel Witness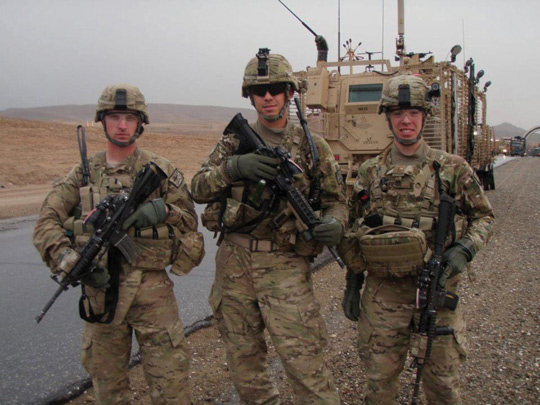 Matt Templeton (left) with fellow soldiers in Afganistan
Matt's ultimate goal is to be back with his men again.
During the first couple weeks that he was in Walter Reed, his men would call in big groups and talk to him on speakerphone.
Then various men would call every few weeks—until the platoon moved to another location with less communication capability.
Knowing the limited communication chances in Afghanistan, Matt says, "For them to keep in touch with us here as much as they have, in my estimation, is a miracle."
One sergeant in particular has continued calling Matt every few weeks. Matt describes him as "just a typical hard-core army guy. Short, kind of stocky guy, razor-shaved head. He cusses like a sailor, literally like every fourth word."
Yet every time he talks to Matt on the phone, he says, "All right, Lieutenant, I love you. I think about you all the time. Don't ever forget that. I can't wait to see you when I get home."
"I've talked to him about God in his life several times before," Matt says. When this sergeant returns to the U.S., Matt expects even more opportunities. "I know there's going to be a whole different level that's opened."
"These people are truly our friends, and we deeply love them. I hope and pray that we can have shown the love of Christ to them ... and then by doing that, open the door of salvation."
Road to Recovery
Matt and Kelli are still walking down the long road of recovery. Matt is able to walk again—even run—yet he is not up to his pre-injury fitness level. He is continuing physical and occupational therapy, focusing especially on his right hand. A nerve graft in Matt's right arm and a tendon rearrangement for the thumb and index finger of his right hand have been important steps in the right direction.
However, due to healing time, it will be a year before they know whether he has regained full use of his hand and whether he will be able to return to active duty.
"Whatever God chooses to place us in to glorify Himself, that's where we want to be."
As Kelli says, "Our goal now is not for him to get out of the army. We accept what has happened as just part of God's will. We don't have to run from it. Even if they want to deploy him again, that is okay. We know that God is big enough to handle whatever comes. Whatever God chooses to place us in to glorify Himself, that's where we want to be."
While in the hospital, Matt did wonder, "Do I want to do this again? Do I want to put my wife and child through the pain of another deployment, all the worry and dread, all the uncertainties of this lifestyle?" But remembering the call and the peace that God gave him and Kelli years ago eventually held the greater weight.
"Without experiencing the depth of hurt that that separation brings, I don't think I could have ever experienced the depths of God's grace as well. ... Sometimes God has to allow a very bitter cup so that His children can taste the sweetness of His grace."
Originally published in the Winter/Spring 2013 BJU Magazine.