Robotics Engineer, Firefighter, Filmmaker: Matthew Arnold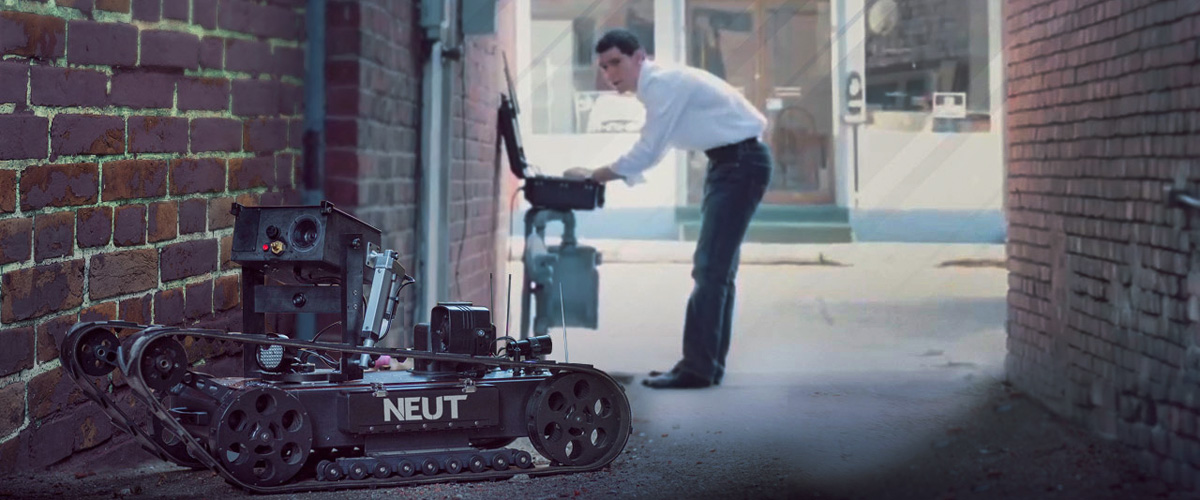 Robots are changing life as we know it. They're found in factories and in operating rooms, in the military and in space, and even in our kitchens. They move red-hot, 100-kg metal parts, help surgeons perform minimally invasive heart surgeries, detect and dispose of explosives, collect samples on Mars—and begin brewing our coffee at 7 a.m. sharp.
Each robot exists because an engineer saw a task that needed to be done more quickly, more safely—or couldn't be done at all yet—and decided to create something to fill the gap.
"Filling the gap" is exactly what Matthew Arnold, a senior engineering student at BJU, envisions himself doing full time someday. "Engineers love solving problems," he explains. "That's what we're all about. Just the prospect of a fresh problem every time a project comes around is exciting to me."
And the closer he gets to his dream career, the more he realizes how both his life experiences and his university education blend into the kind of engineer he is becoming—the kind of engineer that makes a difference.
A Real Interest
Growing up, Matthew always loved building things. He began with Legos, then progressed to Lego robotic sets, and then to actual robots. "I've built 18 real robots, stuff that I would put on a resume. But if you count the little stuff, probably 50 or 60," he says.
His parents noticed his passion and gave him the tools he needed to pursue it. "A lot of the exposure to robotics," Matthew says, "was really due to my parents and their investing in what they saw as a real interest in me in robotics."
When it came time for Matthew to attend university, he hadn't lost his passion for robotics. He searched for a school that had an engineering program with a strong robotics focus. Purdue University, only an hour away from his hometown, was soon at the top of his list. However, he says, "I just didn't have a whole lot of peace about going to a secular university. I have friends that have done it, and it's worked out for them. But I didn't think that's what God had for me."
Choosing a University
As he looked at Christian colleges, he says, "I was kind of leaning toward Bob Jones University, but I wasn't sure. I had never been on campus, didn't have any friends here, no one from my church."
But he went ahead and sent in his application. A week later, he remembers, "We got an issue of the BJU Magazine in the mail, and on the front cover was a picture of that year's robotics team. That was really cool, just one of those times in life that God's direction is so clear."
Later that summer, he visited BJU for a summer orientation weekend and fell in love with the campus. "It's a beautiful place," he says. "I got to meet a couple teachers I would end up having my freshman year. I also met my residence hall supervisor, who told me he would get me into his residence hall so I would at least know someone. That's how I ended up here, and I wouldn't want to be anywhere else."
Preparation Is Key
So how is Matthew preparing for a future in robotics? First of all, he's making sure to take a variety of classes. "Robotics pulls from a lot of different areas. I'm approaching it from the engineering side of things, but I'm also taking a lot of computer science classes," he says. "That way I can come out even more prepared, especially for grad school. I can have a background in several different areas."
He's gaining more hands-on experience through a summer internship at Koops, Inc., a factory automation company. His internship position is officially with the mechanical engineering department. "I'm working with software called SolidWorks to design parts and systems in the computer," he says. "Then those get checked by a full-time engineer, and then they go off to the machine assembly department. So the system is actually built by those guys."
However, he adds, "Because it's a smaller medium-sized firm, there's a lot of opportunity for me to, if I'm waiting for approval on something and at a stopping point, to walk to the assembly shop and jump on a project with one of the controls engineers and get some background in that area too."

Life Experiences
Matthew's preparation for a robotics career doesn't stop with computer science classes and engineering internships. His family has always emphasized gaining a wide range of experiences—from motocross to scuba diving to filmmaking to firefighting. Though seemingly unrelated to engineering, these activities have proved valuable.
Take filmmaking, for example. Matthew's family started a small film company called Open Fire Media while Matthew was in high school. While most of their work is for corporate clients, they also make films for fire and police departments, including those in their hometown.
Matthew's brother is in charge of Open Fire Media's creative side, while Matthew's role is more technical—maintaining and operating various camera systems, vehicle mounting systems and other equipment.
Apart from working with camera equipment, Matthew found that filmmaking had other applications to his future in engineering. "The way my brother views the world is completely different than the way I view the world," Matthew says. "Having to figure out how to work well with each other was a real growing experience. And that's a great skill to have as an engineer."
"In the real world, engineers don't just design stuff. We work with a marketing team, and they have to figure out how to sell what we're making," Matthew explains. "So the experience in filmmaking and working with highly creative people has given me some background in how to work well with those kinds of people."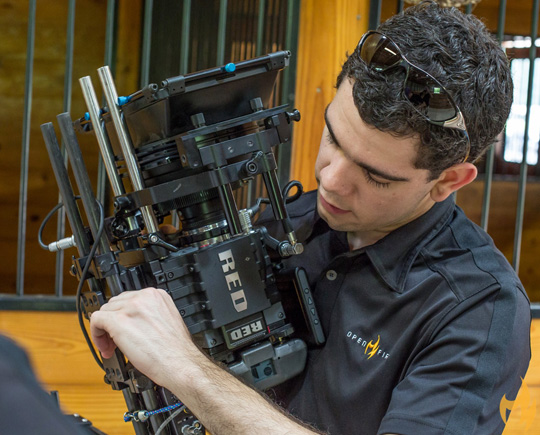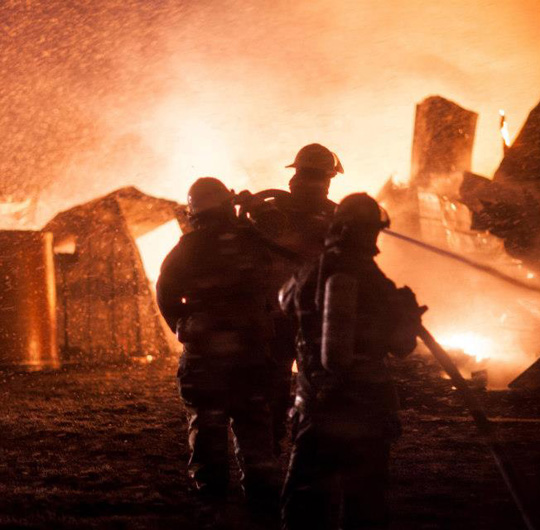 Facilitating Ideas
Filmmaking led to firefighting. As Matthew and his brother created films for their local fire department, they got to know the firefighters. When Matthew turned 18, the department invited him to join.
There were some engineering principles involved in firefighting, Matthew discovered. He even found that collaboration created new ideas from the men directly fighting fires. "One of the guys actually had an idea for a new type of fire tool, and I was able to help him design the tool, and then he went and marketed it and sold it to a tool manufacturer. In that sense, I was able to apply my engineering knowledge."
But he soon found a bigger parallel between firefighting and engineering—thinking quickly and acting accurately under pressure. "Filmmaking is stressful, but firefighting is even more stressful, and there's low margin for error," he says. "It's very much the same way in engineering, although not as stressful. Yes, we have simulation software, and we double-check everything, but especially if you're dealing with something people are going to be interacting with directly, like structural engineers building bridges, you can't miscalculate or people's lives are on the line."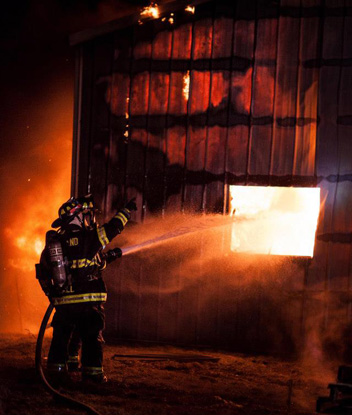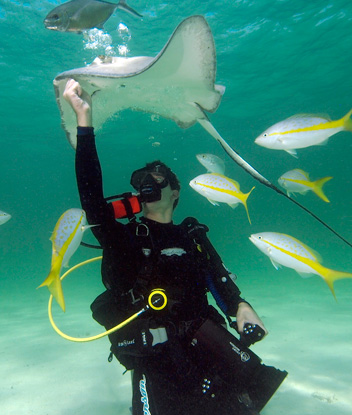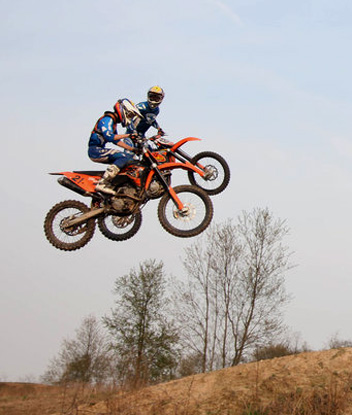 Gleaning from Every Experience
To Matthew, any experience—no matter how "random"—can be channeled to develop skills and broaden perspective. "The way a Christian engineer and a non-Christian engineer would do engineering is identical," Matthew says. "We're working off the same facts and the same science." But Matthew believes that, as a Christian engineer, he is called to go above and beyond. Bringing a variety of skills and a breadth of perspective to the table is one way he can do that.
Hard work, plain and simple, is another way. "As an employee my perspective should be, 'I'm going to give my employer even more than he's paying me to do. I'm going to be the guy who's at work early and working all the way up to the time I leave. My work quality is going to be 100% all the time,'" Matthew says. "And my boss should look at me, and go, 'I know Matthew is a Christian, and he is the hardest working engineer at this firm, and his designs are always well-thought out, well-documented.'"
What's Matthew's motivation? A drive for excellence, an enthusiasm for his profession—those all play a part. Ultimately, however, he's motivated by the knowledge that engineering is a way to fulfill God's purpose—and honor His name. "It's a way we can continue subduing the earth," he says, "maximizing the resources that God has given us in the most responsible, most Christ-honoring way possible."
Learn more about our programs.