From Corporate America to the front lines of the Middle East: Morris Franklin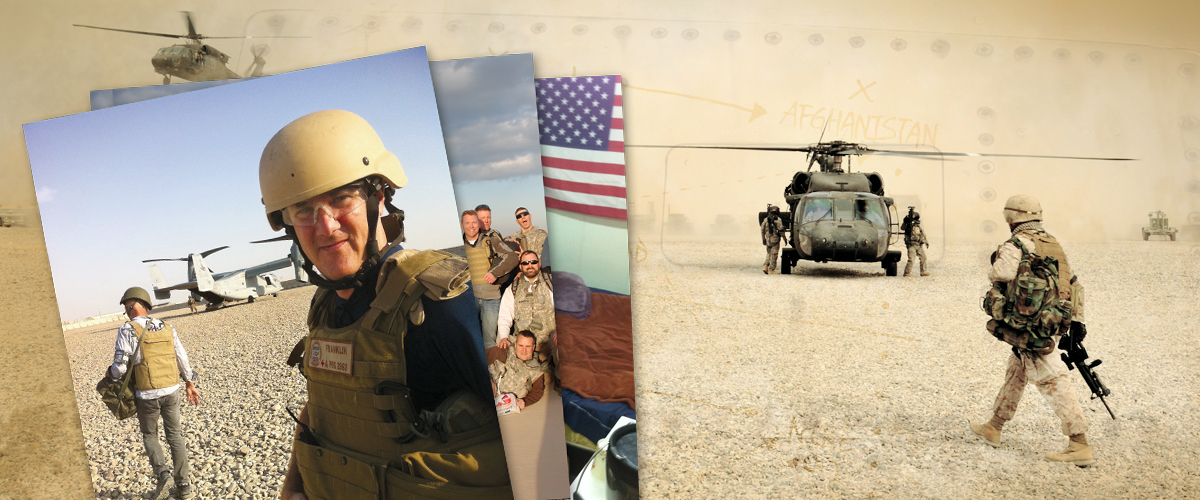 The flight from Kuwait to Baghdad took just over an hour. But for then 39-year-old Morris Franklin ('89), it was the most surreal hour of his life.
The last two years had been a conveyer belt moving him ever closer to war. Now the moment had finally come. "Training was over," he says. "It was time to go."
His fellow soldiers in the 478th Civil Affairs Battalion were strangely silent during the flight. Their faces, dimly lit by the C-17's orange nighttime lights, revealed their fear. "I felt like I was on the highway to hell," Morris says.
But as he paused to reflect, the words of Psalm 16—his favorite psalm—flooded his mind.
Even though he was entering war-torn Iraq, Morris knew he was exactly where God wanted him to be. It was the start of a new and fulfilling life journey that had been years in the making. He felt at peace.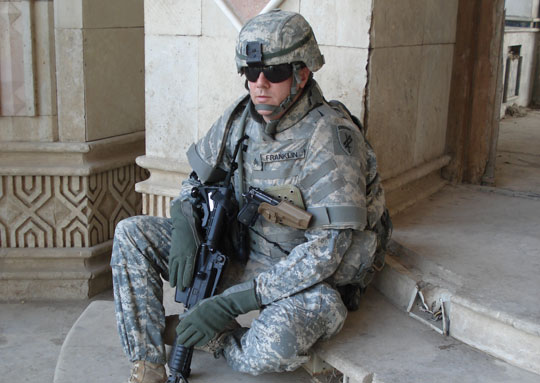 "Preserve me, O God: for in thee do I put my trust.… The LORD is the portion of mine inheritance and of my cup: thou maintainest my lot. The lines are fallen unto me in pleasant places; yea, I have a goodly heritage.… I have set the LORD always before me: because he is at my right hand, I shall not be moved. Therefore my heart is glad, and my glory rejoiceth: my flesh also shall rest in hope.… Thou wilt shew me the path of life: in thy presence is fulness of joy; at thy right hand there are pleasures for evermore." —Psalm 16
A Need for Change
Morris' path to Iraq was unconventional. Joining the Army Reserves out of high school, Morris served in peacetime during his years at Bob Jones University. During his freshman year he even considered a career in the military by seeking an appointment to West Point; but the Lord kept Morris' path just where it was.
Morris focused his career on business and majored in finance. And after two internships with senior stockbrokers, he landed a job with American Express Financial Advisors after graduation.
Yet only a year into his work, he became disillusioned with the finance industry. "I was having great success," he says, "but I didn't love it." Unable to see himself continuing in finance long-term, he set out in search of a more fulfilling career.
Just over a year later, he found a position with Stone Manufacturing Company, a South Carolina apparel company. "The Chairman & CEO was looking for a young assistant to run numbers for him and travel with him," Morris says. "So I went to interview, and he and I really hit it off."
His new position put him on the marketing front lines of one of Stone Manufacturing's burgeoning subsidiaries, an international soccer company called UMBRO. Morris poured himself into his work. "We were flying all around the world doing all sorts of crazy stuff," he says. "We were going to go public, sales were going through the roof, we were making presentations and pitches to all sorts of people and cutting deals with teams and leagues. We even bought a soccer league!"
The company reached its apex in 1994 when the UMBRO-clad Brazilian soccer team won the FIFA World Cup. That same year Morris became the strategic planning manager for the newly consolidated UMBRO International corporate group.
Though in many ways his career was fulfilling, it came at a cost. Sometimes working more than 80 hours a week as well as working on an MBA at New York University, he had little time for others or—it seemed—even God. "UMBRO was the best of times and the worst of times," he says. "It stole my soul in a way because I was working so hard. I was so focused on my career and future that I didn't pay enough attention to my spiritual life."
Defection to Nike
In 1996, UMBRO's growth stalled, and layoffs seemed inevitable. Morris decided it was time to move on in his career. He quickly found a job as the regional sales operations manager for none other than Nike—one of UMBRO's biggest competitors—starting out in a regional sales office in Chicago and then moving to its world headquarters in Beaverton, Ore.
Working at Nike was a sports lover's dream come true. The world headquarters is on a 200-acre campus that includes a gym, soccer pitches, tennis courts, and a running track around the campus. Professional athletes visited often, and lunch breaks sometimes included playing soccer with ex-all-Americans. But the work at Nike was only a shadow of what it had been at UMBRO. "I was basically a glorified business analyst at Nike," he says. He ran reports, reports—and more reports.
From Coca-Cola to Desperation
So when Coca-Cola launched a corporate recruitment campaign in The Oregonian, Portland's major daily newspaper, Morris applied. "If ever there was a place to move on from Nike, it's got to be a company like Coca-Cola," he says. Also, it would ideally bring him back East, closer to his family.
By now, Morris was intent on focusing his career on marketing, a field in which he felt God had gifted him. After management training in Atlanta, Morris became group manager, operational marketing for Coca-Cola in Houston, San Antonio and Kansas City. He later moved to Atlanta as their strategic alliances manager, handling sports and entertainment business and marketing partners in Georgia.
But eventually, he realized that the work at Coca-Cola wasn't any more fulfilling than his work at Nike had been.
The intense pressure to produce volume, profit and brand share kept him going for a while. "If I didn't perform," he says, "there were five people behind me ready to take my job."
But by 2000, he knew he had to get out of the corporate world. "I just felt like, in my life and experience, the corporate world crowded out the kind of dedication I had available to serve Christ in any given day," he says. "I know the two aren't mutually exclusive—you can be 100 percent dedicated to Christ and serving Him and also to a job and the corporate world. But for me, doing both was difficult."
"If I was going to be working that hard for something," he adds, "I wanted to do something to produce profits for Christ rather than for a company."
As he began job hunting yet again, he knew what he really needed this time—a job with ministry and service to others in mind that would still utilize the abilities God had blessed him with. But after four years of searching—nothing.
As 2004 rolled around, Morris' desire to leave the corporate world turned to desperation. "I don't know what I'm going to do," he thought, "but I've got to do something different this year."
He found his "something different" while watching the news. It was the height of sectarian violence in Iraq, and the news report explained that the U.S. Army was not filling its quotas for new recruits for the first time since the war began.
And the thought struck him: "What about the military?" It wasn't such a far-fetched idea; after all, he had been in the Army Reserves during college. True, he was 36 years old now, well beyond the average recruitment age. But as he prayed about it, he decided to start hitting the gym. He'd give it time. If the desire to re-enlist were still there after a year, he'd do it. If not, at least he'd be in shape.
Deployment
By 2005, his desire to re-enlist was stronger than ever. "Something inside me forced me to re-enlist," he says. "It was the easiest decision in the world."
Upon re-enlisting, Morris found that he had a purpose—a greater goal to work toward. While training and waiting for deployment, he experienced a renewed outlook on life, becoming more involved in his church, the community and especially the lives of his fellow soldiers.
After moving to Atlanta with Coca-Cola, Morris transferred to the 360th Civil Affairs Battalion (Airborne) at Fort Jackson, S.C. He completed Airborne School in November 2006, received orders to deploy to Iraq in December 2006 and went on active duty in January 2007.
While mobilizing for deployment at Fort Bragg, N.C., his unit commander came to him with devastating news: "I just traded you for four people from another unit," he said. "You'll fly with us and link up with your new unit in Kuwait. I think you'll like what you're going to do—good luck!"
Morris was crushed. He had forged strong relationships with the men in his new unit, was leaving the company of two other soldiers from his home unit in South Carolina and now would deploy with a unit he didn't know.
But then he reminded himself of how God had been leading him. "An underlying principle in my life is that the Lord always has a plan," Morris says. "And every time I think I know what I want to do or what's best, the Lord has a better idea. I just took this as from the Lord."
In March 2007, Morris departed for Kuwait, where he transferred to his new unit. They completed their last preparation training in the desert just miles from the border with Iraq. It was yet another sobering step toward war, and it was at that time that Morris learned what his position duties in Iraq would be: serving as the senior economic advisor for the U.S. Department of State's Provincial Reconstruction Team (PRT) in Baghdad, working to attract foreign investors into Iraq to help rebuild the country's shattered economy.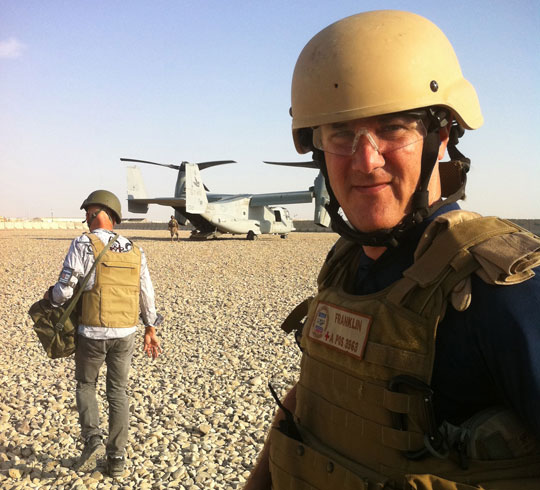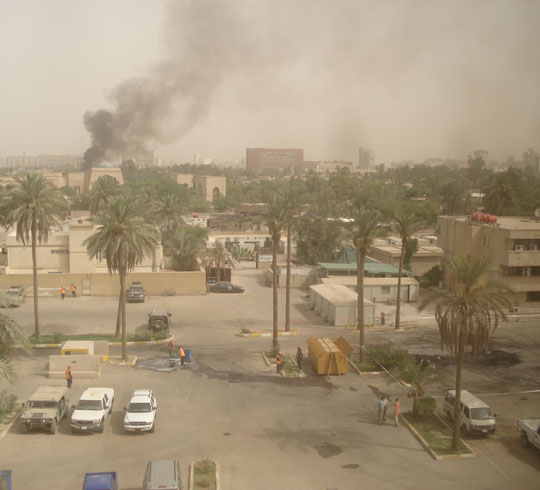 War Zone
In Iraq, Morris found himself in a dangerous and uncomfortable new world. The daytime temperature in Baghdad would sometimes soar to 120 degrees, and dust storms were a regular part of his new life. Although he was in the Green Zone—the heart of the international reconstruction effort and the most heavily guarded area in Iraq—he wasn't exactly safe because the Green Zone was also the target of regular indirect fire attacks.
Day and night were often punctuated by blaring sirens that warned of incoming enemy mortars and rockets. The first time he heard the warning sirens, Morris ran to a large concrete bomb shelter nearby. His heart raced while he waited tensely for an explosion to follow. But it never came. Soon the warnings became routine. Sometimes an explosion hit nearby, sometimes far away, sometimes not at all. Occasionally, rather than running for cover, Morris would stay in his living container, cover himself with his blanket and sink his head deeper into his pillow. Once a bullet pierced the container roof, going through his roommate's bed while his roommate was sitting on the edge of it.
Outside his window at work was the helipad for the Combat Support Hospital in Baghdad. Day after day as Morris worked, he would listen to MEDEVAC helicopters come and go, and he would watch as hospital Gator vehicles rushed to the helipad, carried wounded soldiers inside and then back out to be airlifted out of the country. Outside the hospital, there were Humvees, Bradleys and Strykers coming directly from combat, some still stained with the blood of wounded soldiers and civilians.
Ambushed!
Even though he had an office job, Morris more than once came face to face with danger in addition to dodging indirect fire. On one occasion, he was traveling in a convoy in the Adhamiyah district of Baghdad when the convoy was ambushed. Someone yelled out to report a rocket-propelled grenade aimed at their vehicle, and the driver of their Humvee sped up. Shrapnel from the RPG entered Morris' Humvee, whizzing by his head and hitting the gunner's knee.
After the initial chaos, the convoy regrouped and turned the attack on the insurgents. Morris spotted several of them changing clothes and then running down an alleyway. He leaned forward and relayed the information to the convoy team chief, who then ordered the vehicle to head off the attackers down the narrow alleyway.
His observation paid off; as helicopters circled overhead, the convoy surrounded and captured five of the insurgents. No one in his convoy was killed, and the only soldier injured was the one from his vehicle.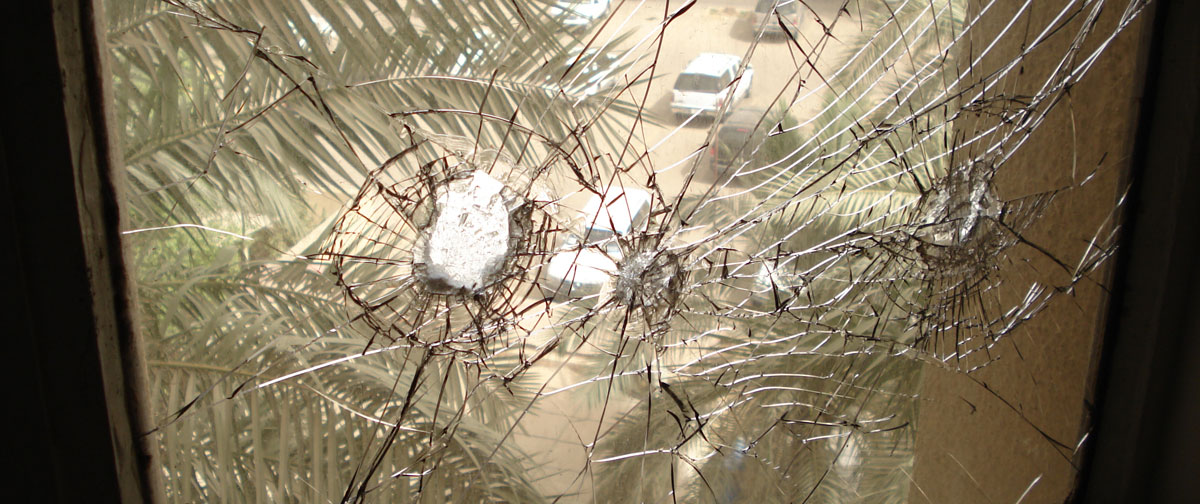 Rebuilding a Nation
Despite the challenges and dangers, Morris found unparalleled fulfillment in his work. He was responsible for undertaking various economic development projects across Baghdad province as well as working with Civil Affairs units and ten different Brigade Combat Teams throughout the province.
"I really had the sense that I was serving others," he says, "and I think it was finally filling that void that I was feeling in the corporate world." His efforts were targeted at influencing Iraq's long-term economic success and improving life for the Iraqi people.
But before he realized it, his tour of duty came to an end. In March 2008 he returned to the U.S. and to Coca-Cola.
Even before his first day back at Coca-Cola, Morris realized that things at the company were the same as always—but he had changed. "I met my new boss at a region dinner, and he was talking to me about the importance of volume, profit and share," Morris says, "and I'm thinking 'I've gotta go save the world, man. I can't be running volume numbers for you anymore.'"
For the next year, Morris went through the motions of his job while wondering what he needed to do next. Then one day his former supervisor from the PRT in Baghdad called him. He told Morris that his old job was now available as a civilian position with the U.S. Department of State and urged him to apply.
Despite being desperate to escape the corporate world, Morris wrestled with what to do. "I just wanted to make sure that after 19 years in the corporate world that I was doing the right thing to leave for good," he says. "Because I'm talking about walking away from a pension plan, stock options, good compensation. At this point my career was sort of on autopilot until retirement."
The more he thought about it, the more convinced he became of what he needed to do. "I believed I had seen my future in Iraq, and no one changes the world by taking care," he says. "It was what I wanted to be doing! Despite the risks, I knew I could continue service as a civilian—and I felt like I was serving my country and the people of Iraq."
A few weeks later Morris heard that Coca-Cola would once again be going through a reorganization. After praying about his situation, he told his boss that he should be the one if anyone was going to be let go. "I didn't want to occupy a spot that someone else would be happy to have," he says. "Because I'm working with people who have mortgages and kids in school and everyone's pulling their hair out. I didn't want to stand in the way if I was going to leave a month later."
On April 13, 2009, Morris received a letter from the U.S. Department of State. It was a job offer to come back to Iraq. Just hours later his boss at Coca-Cola called and told him that he was being let go from Coca-Cola. "That was a defining moment for me," Morris says. "That was God telling me with an underline: 'Yes, this is what I want you to do. And this is how I've taken care of you: not only did I provide a next step just when you needed it—but I also got you a severance package to go with it!'"
Off he went to Baghdad again. "I never looked back at the corporate world," he says, "and I will never go back because of this emphatic way that God communicates to us when we are open to His will."
Noor al-Najma—Starlight in the Desert
God had more in store for Morris, however, than an exciting new job. Just over a month after arriving, he met Marcella Johnson, a Christian woman working for the U.S. Army Corps of Engineers (USACE), managing reconstruction projects to rebuild infrastructure for the Iraqi people. The Iraqis called her the "Noor al-Najma," literally translated as "light of the star," because of her bright smile, personality and propensity to hug people.
Morris and Marcella hit it off right away and started dating. Understandably, dating in Iraq during a war was mildly complicated. So most "dates" consisted of a meal together in the mess hall, watching a movie in the office with co-workers, or going to a dinner hosted by a non-governmental organization or U.S. government contractor. Nevertheless, it was fun.
God's perfect plan
Sadly, 2 months later, Marcella returned to the U.S. Both of them wondered if this would be the end of their relationship. Then out of the blue, Marcella was reassigned to Iraq with USACE.
Of all the places Marcella could have been reassigned, she was assigned to Morris' PRT and office building—eventually working at a desk just 5 feet across the room from him! Morris couldn't help but laugh. "It was just more proof of how the Lord works things out," he says. "It's as if God was saying, 'I've got all of this for you if you'll just listen to Me and follow what I have for you.'"
Anticipating the withdrawal of the American military from Iraq the next year, Morris and Marcella both applied in August 2010 for Foreign Service Officer positions in Afghanistan with the U.S. Agency for International Development (USAID) as a way to continue serving their country and others while staying together.
"Her application took 4 months," Morris says. "Mine took 17. Marcella left Iraq in February 2011 and was sent to Helmand, the worst province in Afghanistan, at the same time that 13,000 Marines were sent there as part of the Afghanistan surge.
In the meantime, in June 2011 Morris left Iraq and returned to the U.S. to basically vacation for 7 months while waiting for his hire date with USAID. During that time, their relationship continued to blossom, and in August 2011 Morris popped the question to Marcella.
From Afghanistan, "Marcella would ask me on the phone: 'Where are you?'" he says, chuckling. "And I'm like, 'Baby, I'm coming, just hang on!'" Morris started with USAID in January 2012; and after completing training in Washington, D.C., in March, he married Marcella five days before his deployment, concurrent with Marcella's transit through D.C. on a return from time off. "It is incredible," Morris says. "At every step of the way, we trusted God—as He was saying, 'I am working this out, if you will just relax and let Me. If you're looking for it, you'll see it.'"
Marcella accompanied Morris as far as Kabul, where he then moved on to his new assignment at the British-led PRT in Helmand in the provincial capital of Lashkar Gah. Once again, Morris found himself on the front lines of war, this time fighting the Taliban through the important work of stabilization and economic development. Marcella continued her work with the Marine Expeditionary Force Command at Camp Leatherneck, focusing on joint Marine and USAID infrastructure development projects in the contested northern part of the province.
Marriage in Afghanistan proved even more complicated than dating in Iraq. Because they were stationed at different bases, seeing one another now involved flying by helicopter to each other's bases on business. Flights on Marine MV-22 Osprey and CH-53 Sea Stallion aircraft became common for them, and even a British HC3 Merlin got in the act. Morris miraculously got the last seat on the last flight of the day to Camp Leatherneck for their first Thanksgiving dinner together as husband and wife.
In May 2013, concurrent with the Marines and British forces drawing down in Helmand, their deployments with USAID ended and they returned to the U.S.
A closed chapter and a new vision
After returning from Afghanistan, Morris and Marcella closed the final chapter of their military and government service, 15 combined years of service in tough conditions in two war zones. With that ending, however, came the beginning of a new and exciting chapter in Morris' life. While still in Afghanistan, he applied for and received a position with a Christian humanitarian organization. "I'm thrilled to be working for a Christian organization that focuses on building a better world for children," Morris says.
It seems that his entire life, including his professional and military careers, has prepared him for this one ministry: reaching out to the sick, suffering and neglected in some of the toughest places in the world for the sake of the kingdom of God. "My life is not my own," he says. "It was bought back by God at a high price from my destiny with death. That brings both an obligation and an opportunity for me to serve God and others."
"As has been proven time after time over the course of my life," he adds, "God knows what I need and what I should be doing much better than I do. I wasted much of my life serving myself. I will never get those years back; but God's love, grace, mercy and forgiveness are always enough to restore and redeem me from my sin."
---
Learn more about our programs.