He Directs My Steps — Called to Ministry in War-torn Uganda: Shadrach Nyeko
Shadrach Nyeko's path was first redirected when he was just five years old. At the time, he lived with his family in northern Uganda, where a rebel army was fighting government forces, terrorizing the people and kidnapping children. Shadrach's family began making plans to escape to southern Uganda.
"The rebels would put up roadblocks and shoot at passenger buses," Shadrach says. "Whole buses would be burned with over 60 people in them. Often people would take trucks and try to avoid the main highways. Nothing was safe."
The night before his family fled, a huge cross fire erupted between the government soldiers and the rebels. With little more than the clothes on their backs, Shadrach's family joined countless other refugees on the long journey south. They bumped and jolted over narrow dirt roads, stopping every so often at a village to board a new passenger truck.
"It's only by the grace of God that we made it," Shadrach says.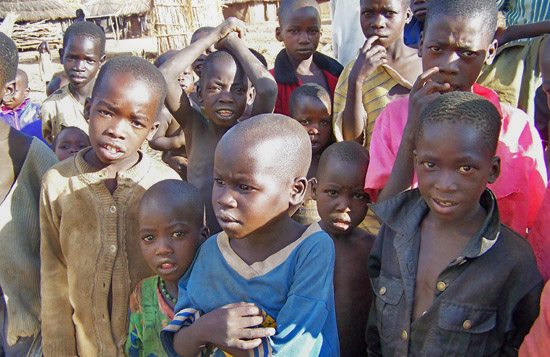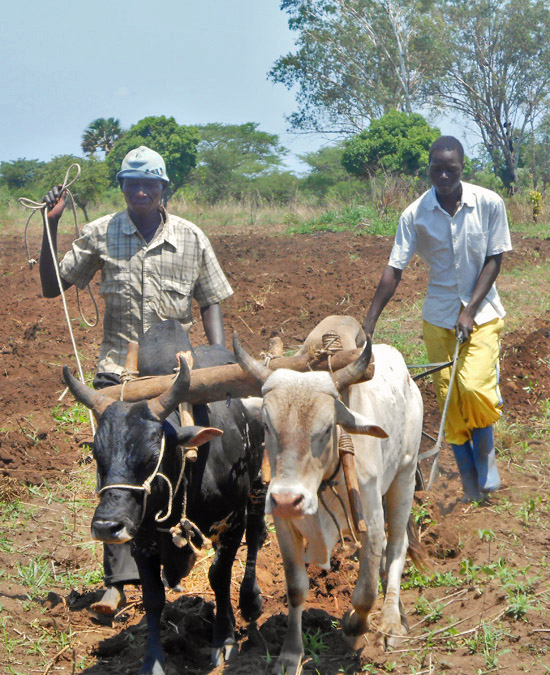 A New Life
Life was different in southern Uganda. In the north, Shadrach and his family had lived in a house on land owned by their clan. In the south, they moved into a compound of apartments, where everyone cooked on coal stoves outside their front doors and shared a communal bathroom facility. Far away from their home tribe, Shadrach and his family had to learn to speak a new language too.
But they also found new friends—in particular, an American missionary family. Shadrach's parents were already born-again believers, but through discipleship by these missionaries, they began to thrive spiritually.
Shadrach watched his parents learn and grow. But he had not yet accepted Christ for himself. When he was 11, a visiting team of missionaries held a medical clinic in his town.
"One of the nights," Shadrach remembers, "they did a fellowship in my compound. They just shared the Gospel." But for the first time, Shadrach realized he couldn't just follow what his parents believed. "I realized it was not communal. I had to individually repent of my sins and put my faith in Jesus Christ."
Back Home Again
In 2006, Shadrach's family heard wonderful news: the rebel army that had been terrorizing northern Uganda was pulling out. It was safe to go home now.
"My whole family decided to move back to the north and start a ministry there," Shadrach says. And in 2007, that's exactly what they did—along with the missionary family they had grown so close to. Together they started a church and a Christian primary school.
Then three years later, Shadrach's family moved back to their home village and established another church and another Christian primary school.
A Closed Door … and a Calling
Shadrach enjoyed helping his family in their ministry. But he knew what he wanted to do with his life. He wanted to become an electrical engineer.
Neither Shadrach nor his family could possibly afford to pay for university on their own. "There's a government scholarship, but it's very limited and very few people get it," he explains. "Having worked very hard in high school, I was almost sure I was going to get it."
But when the results from the national exams came back, Shadrach realized that he had missed the scholarship. He could not study electrical engineering after all.
So Shadrach went back home to work with his father. "I was just going around to different villages, doing outreaches, doing door-to-door and sharing the Gospel with people," he says. But as he did that, he saw the Gospel change people's lives.
"It started to produce this intense desire in me to think through things and ask, 'What do I really want to do with my life?'" he says. "God used that time to show me how He can redirect my life for His own purposes, and that's when I started feeling that God was calling me to pursue ministry."
An Open Door
But what about university? Shadrach still didn't know the answer. Once again, God used unusual means to show Shadrach His plan.
Despite moving back to their hometown, Shadrach's family had kept in close contact with their American missionary friends. Although not graduates of BJU, this missionary family was homeschooling their adopted Ugandan children with Bob Jones University Press curriculum.
"That was the first time I was introduced to BJU," Shadrach says. "I saw some of the DVDs they were watching. I saw how biblical stuff was integrated into their academic material."
He began to ask questions about BJU, and his missionary friends searched for answers. "That's when they told me about the Timothy program that helps train foreign students who are planning to go back and serve in their home countries," Shadrach says. He applied for the Timothy scholarship. And to his surprise, he was accepted!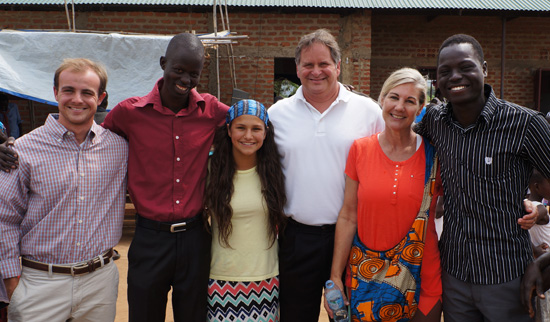 Making Adjustments
Apart from a trip to neighboring Kenya, Shadrach had never been outside Uganda before.
Shadrach boarded the plane and waved goodbye to his family. "Not knowing when I was going to see my family again—that was kind of scary," he admits.
He spent a month in Mississippi with family acquaintances, adjusting to a new culture, to the "what-is-this? I-can't-breathe!" Southern humidity, and to some very different foods.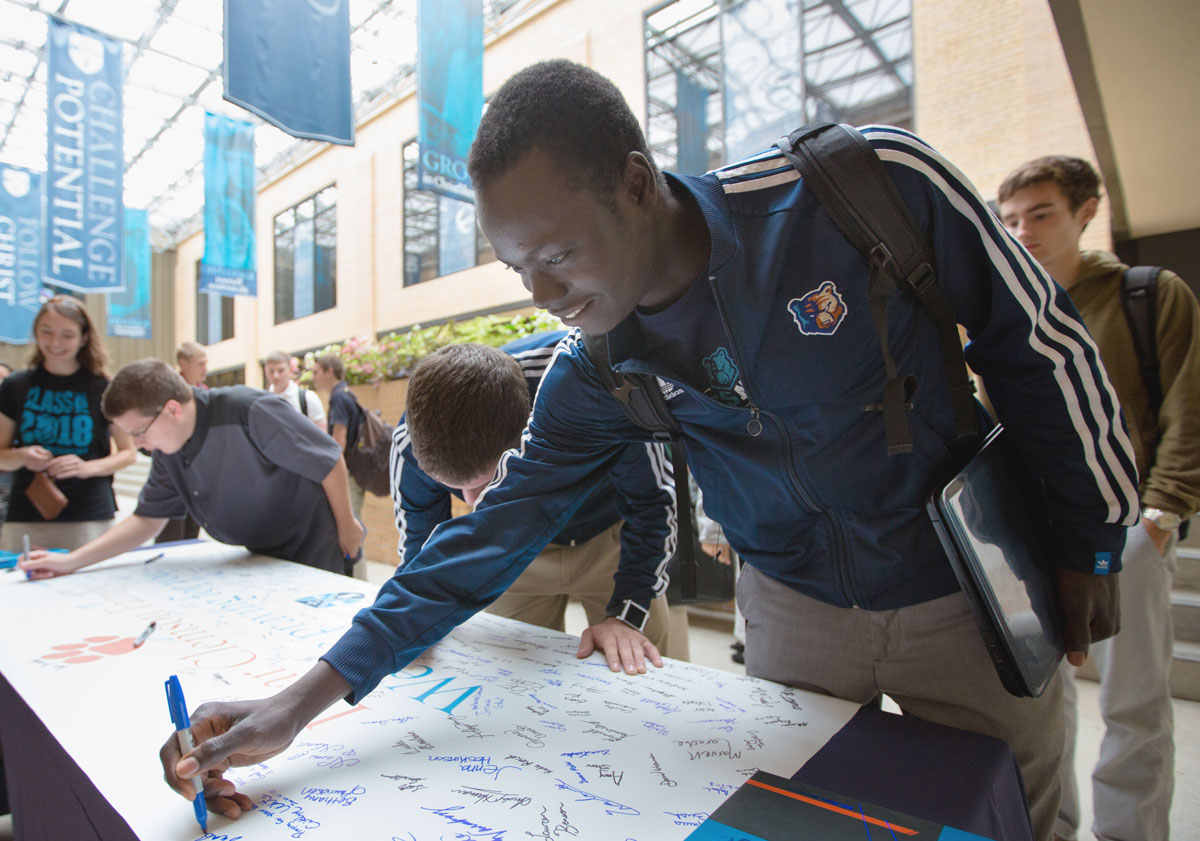 Providential Sidewalk Encounter
Stepping onto the BJU campus for the first time, not knowing anyone there, was a bit daunting for him too. But God kept guiding Shadrach's footsteps.
The first week of school, Shadrach stopped a student on the sidewalk to ask for directions. She gave him directions—then struck up a conversation. That week she introduced Shadrach to a group of students that she ministered with in a small church in Georgia. The next Sunday, Shadrach joined the group…and has been serving there ever since.
Through one God-ordained encounter, Shadrach gained some of his closest friends, a pastor to learn under, and a place to use his gifts.
On the Field
Although Shadrach loved to play soccer in Uganda, he never thought of playing it at BJU. When soccer season came around, he decided to play for his society.
Soon people started coming up to him and telling him he should try out for the Bruins. When the captain of the Bruins soccer team talked to him, Shadrach finally agreed to try out—and he made the team!
Playing for the Bruins has been much more than the game of soccer for Shadrach. "God has used my experience on the team to grow me in different areas," he says.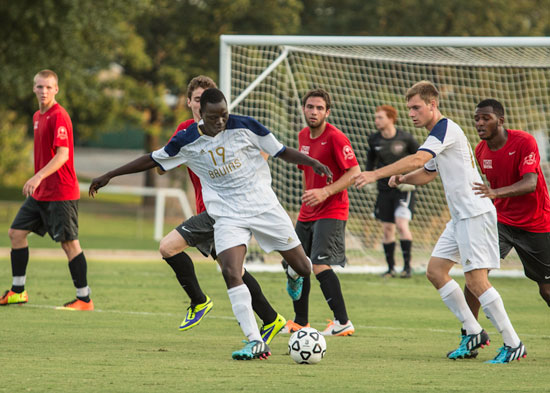 For example, the team's theme for the season is from Philippians chapter 3: pressing on in hard times and keeping the ultimate goal of knowing and becoming like Christ.
"When you play sports, your aim is the key thing," he explains. "If you have in your mind 'I'm playing to win,' you're not caring how you behave, how you react to certain situations."
"As you play soccer, you have the opportunity to represent Christ in how you react to opponents and how you react to game officials. You might have people tackle you in a bad way, or the ref might make a bad call. Are you going to show humility, or are you going to be proud and arrogant?"
In the Classroom
Shadrach has also been learning a lot through the courses he's taking at BJU.
Through Methods of Mentoring, a class focused on discipling others, he's been most convicted about complacency in his own spiritual life. "This class has helped me to recognize, in much greater depth, my own sinfulness," Shadrach says.
"Someone used the analogy of coming into a room with the light dimmed, and you think, 'Oh, this room looks nice.' But then you switch on the light, and you start to find dust on the table and things like that. And you realize, 'Oh yeah, this room actually is really dirty.'"
And through Biblical Themes, the doctrines class for ministry students, he's had many doctrinal issues clarified in his mind.
Although he'll be returning to a very different culture, he knows the lessons he's learned at BJU will still be valuable. "There may be things to change here and there, as regards to the culture being different. The way people respond to things and the way people view things is different," he says. "But the sin nature is still the same throughout humanity. And the Scripture and the doctrines are the same."
A Hope…
Shadrach hopes to share the peace of Jesus Christ with as many of his fellow Ugandans as he can. "In the northern part of Uganda after the war, people were very traumatized," he says. "Even people who were put into displacement camps—the life there was very, very bad. Many people became immoral, many became drunkards."
"There were a lot of humanitarian organizations that were going in," Shadrach remembers, "trying to provide food and clothing and things like that." But he could see that what the people really needed, even more than material provisions, was something that could change their lives from the inside out.
Through ministering alongside his father, Shadrach witnessed the power of the Gospel to do just that. "It's only Jesus Christ that can bring them peace. And not having this mindset: that peace is when there is no war in the country, but knowing that peace comes from Christ."
…and a Future
Shadrach is already making plans for his future ministry in Uganda—plans to evangelize, plant churches, disciple new believers and train leaders. How exactly his plans play out, Shadrach knows, is up to God. He has seen that over and over already.
Trials and tragedy, opened and closed doors, undeserved blessings and changed lives—all come from God. No matter what, Shadrach chooses to embrace each redirection as a chance to see God work and to give Him glory.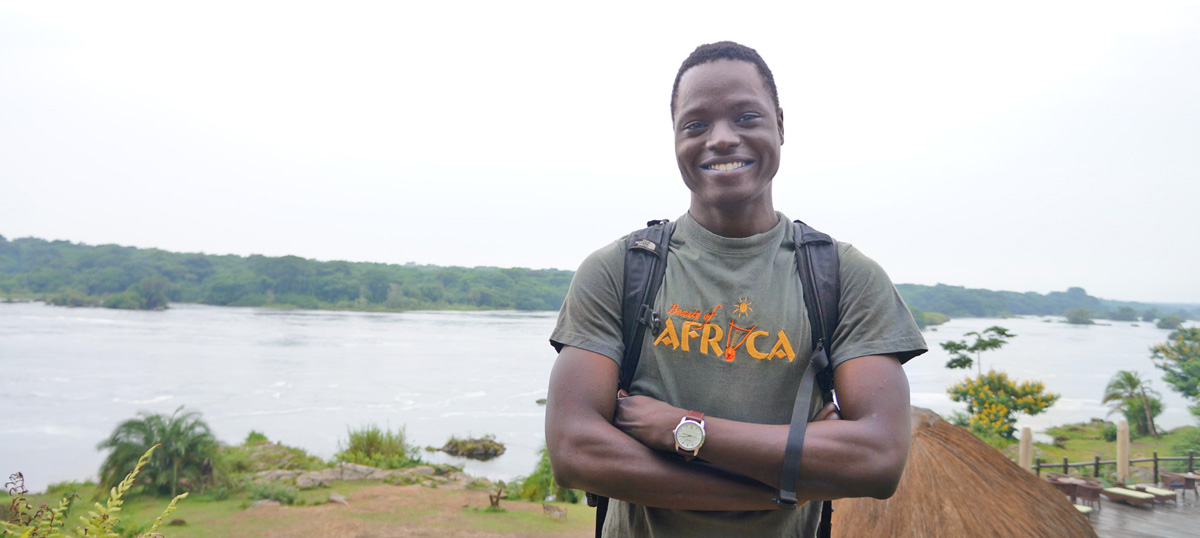 Learn more about our programs.