Is Premed / Predent for me?
What could be more rewarding than devoting your life to performing life-saving surgeries, administering medicines to help the world's sick and dying, or researching to improve the human condition? Premed/Predent is one of the fields that allow you to make this aspiration a reality.
Premed/Predent will challenge you to develop your logical, perceptive and technical skills through a variety of hands-on labs and lecture classes all taught by professional science faculty. Our science faculty recognize that premed/predent is an extremely challenging field, and they will do their best to get to know you individually and help you succeed.
Why Premed / Predent at BJU?
One of the benefits of studying biology at BJU is that you'll get a top-notch science education from a thoroughly Christian perspective. In addition to strengthening your faith in the reliability of the Bible, this perspective will also help prepare you to understand modern secular interpretations of science and apply a biblical worldview to them.
Learn the difference between a true premed program and premed advising.
All of our classes are taught by highly qualified faculty. In fact, practically all of our faculty have terminal degrees in science. On top of that, they all hold to a Young Earth view of Creation.
Another reason to attend is that BJU is a Christian, liberal arts school. Classes in speech, science, history, philosophy and English (among other things) will round out your education and give you many useful skills that will make you a better thinker, problem-solver, communicator and doctor.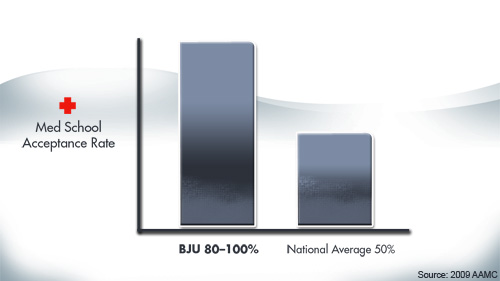 What classes will I take?
First Year
+
Second Year
+
Third Year
+
Fourth Year
+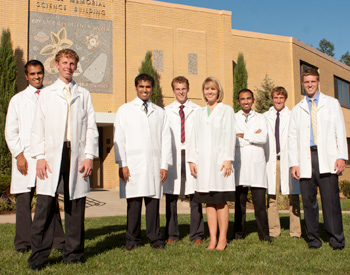 Future Careers
Physician
Surgeon
Optometrist
Pharmacist
Dentist
Oral Surgeon
Career Services can help you prepare for job hunting and networking with employers.
View Gainful Employment data for this major
Justin Jasti — '13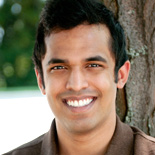 The Premed program at BJU provides courses that enable me to practice thinking logically. The skills obtained while taking some of these courses have geared my mind toward problem solving rather than memorization, a valuable skill while preparing for the MCAT. The Premed program overall: challenging but interesting, time consuming but very rewarding.
Nic Brennecke — '12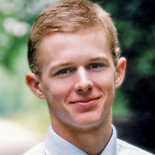 Pursuing a premed degree at BJU has been a tremendous experience. I feel that the premed degree has prepared me well for a secular graduate educational environment by faithfully integrating a distinct Christian perspective into the core science classes. The excellent education the premed program offers is provided by dedicated science faculty who are careful to continually demonstrate the compatibility of a Christian worldview with the study of modern science.
Premedical Association (PMA)
This student-led organization is designed to enrich your educational experience by bringing in outside speakers from various medical and dental specialties, holding a yearly Bioethics Symposium, arranging panel discussions of issues related to medicine and medical professionals, bringing in admissions personnel from various medical schools, and arranging field trips to medical schools and other sites of interest.
Cadaver Lab
To better prepare you for the stringent academic expectations of medical/dental and graduate schools, BJU offers several upper-level cadaver-based courses. Very few public or private universities offer this type of course on an undergraduate level.
What's my next step?