BJU's faculty members are committed to providing the highest quality education from a biblical viewpoint. They draw from years of study and experience in their fields to craft courses that develop their students' critical thinking, creativity, decision-making, professionalism and more.
At BJU, faculty members do more than just teach—they minister. It might be by sitting down with a student to discuss study techniques for the next test, or scheduling a meal in the dining common with their whole class, or praying with a soon-to-be-graduate over future plans.
However they choose to minister, one thing's clear—our faculty members care about their students. And that's what makes the difference.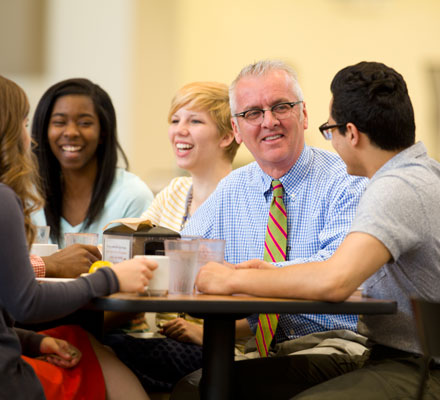 Our 12:1 student to faculty ratio means that you can get the personal attention you need to succeed.
So so thankful for teachers at BJU who pray for us and point us to Scripture @BJUedu

— anna brock (@annabrock5) April 27, 2016
Thankful for teachers at @BJUedu that talk to you about the future & give godly wisdom/advice. Encouragement keeps us going! #thankful

— Rachel Hilton •• (@rachelhilton14) January 27, 2015
I'm thankful for teachers who genuinely care about their students and take time out of their busy lives to invest in them. @BJUedu

— Rebecca Jones (@becca_jones_) November 9, 2014
I highly doubt the faculty at @BJUedu will ever know how much I appreciate their ministry of teaching me. Love my professors

— Dillon Doran (@DillonDoran1) November 5, 2014
Faculty Stories
Faculty are listed in their primary department/division though they may teach in others.
College of Arts and Science
School of Business
School of Education
School of Religion
School of Fine Arts and Communication
Seminary and Graduate School of Religion