Concert, Opera & Drama Series
2013-14 Season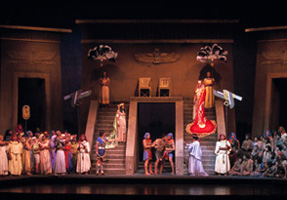 Aida
March 18, 20, 22
Twelfth Night
May 7–8
The 2013–14 Concert, Opera & Drama Series will once again offer exciting performances: the entertaining Canadian Brass, the Georgia Boy Choir, Cyrano de Bergerac, Verdi's Aida and Shakespeare's Twelfth Night.
Regarding physical disability accommodations, please call before ordering tickets.
Tickets
Section
Opera
Concert & Drama
Entire Season
Adults*
Front
$39
$30
$85
Rear
$32
$25
Students**
All
$15
$15
$40
* Alumni Association members save 10%.
** Children 6 years of age and up are welcome to attend performances.
View past dramas and operas in the Concert, Opera & Drama Series archive. View student plays.