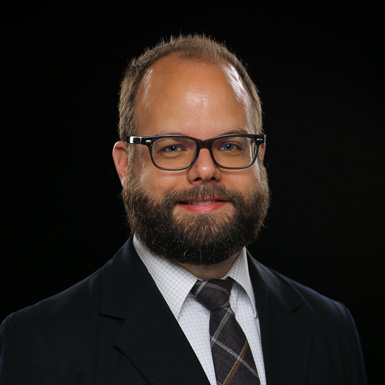 Education
MA, Graphic Design, Bob Jones University
BS, Graphic Design, Bob Jones University
Courses
About Jon
Jon Andrews earned B.S. in Graphic Design and M.A. degree in Graphic Design with 3D Studio Integration. He continues to work in both the studio and design fields outside of his teaching responsibilities, freelance illustrating, designing and creating 3D artwork for local and regional exhibitions. Jon teaches courses in sculpture, illustration, lettering, and book arts while working with seniors preparing for their BFA capstone exhibition. Jon enjoys helping students see connections of underlying design in all visual arts thus strengthening their sensitivities and abilities.
Jon designs for several ministries and public arts organizations. Jon has also participated in Living Gallery sculpture and painting production. Jon's passion for illustration extends to his work for BJU Press textbooks and is evidenced in the storytelling through most of his 3D artwork. Jon also enjoys good music and theatre and collaborates with others in the design and creation of both.
Jon desires to help his students begin writing their story, to help open their eyes to the wonder and possibilities in the world around them, and to help find their voice while enjoying the creative process as image-bearers of Christ. He hopes to aid students in finding ways to work for the eternal in design, art, and life by his own influence as they develop into intelligent, concerned, and kind ambassadors of the Creator, beautifying one corner of the world at a time.