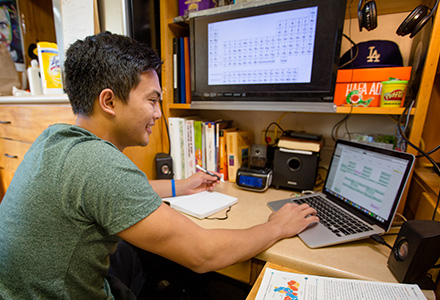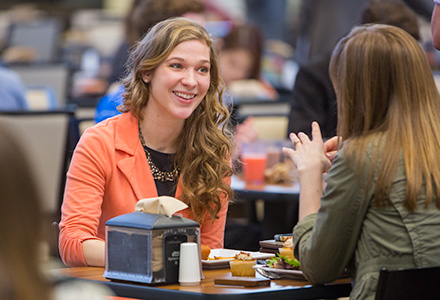 Here at BJU, living and learning with other believers results in a one-of-a-kind community. We've set up our residence halls and dining options to help you make the most of this unique community experience. Our goal is to provide a safe, supportive environment where you can build relationships, grow in Christ, excel academically and develop leadership skills.
Residence Halls
There are 4 residence halls for women and 4 for men. All residence halls are equipped with a prayer room, study lounge and vending room. Each floor has 2 community bathrooms, and residence rooms typically have 3 students.
Your room will have drawer space, closets and overhead bins for more storage. You'll also find desks for your computer and shelves for textbooks.
You'll also have access to free laundry facilities as well as music rooms for practicing piano, voice or instruments.
Click to enlarge. Some rooms vary from this layout.
Residence Hall Staff
You'll find a supervisor and mentors in each residence hall, as well as students who serve as resident assistants. They're here to answer your questions, offer spiritual support and guidance—and sometimes, just to be a friend!
Residence Hall Safety
We take your safety and well-being very seriously and take a number of proactive steps to ensure that BJU is a safe and caring place. BJU's Public Safety operates a 24/7 patrol and dispatch center in case of emergencies. Residence halls close at 11 p.m., and card access is required for entrance.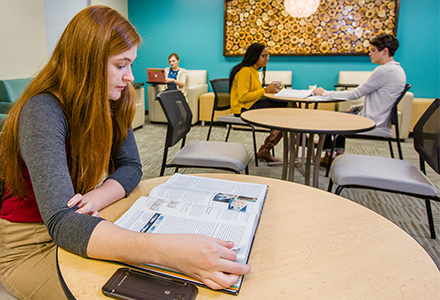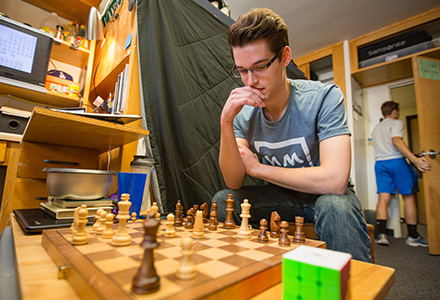 BJU is committed to providing reasonable accommodations to qualified students who have a documented need for such accommodations. In order to qualify for housing accommodations, you'll need to fill out the Housing Accommodations Request and provide any requested documentation from applicable medical health professionals.
Dining Common
Whether you're looking for breakfast, lunch, dinner or something to fill the times in between, look no further than the Dixon-McKenzie Dining Common, BJU's main dining facility. Open from 7 a.m. to 7 p.m., the dining common is a great place to spend time with friends, study between classes, and kick back and relax over a delicious meal.
Enjoy a wide variety of meats, vegetables, fruits and desserts across a variety of food categories, including American, pizza & pasta, and international. Gluten-free options are also available, and special arrangements can be made for those with medical needs and other allergies.
The Den
The Den is a great place to stop and refuel, hang out with friends or work on projects with classmates. With loft-style decor—including a fireplace—and plenty of seating, The Den provides the cozy feel of a coffee shop, right on campus. In addition, you can pick up your favorite lunch and dinner meals, whether it's a Chick-fil-A sandwich or a rice bowl or smoothie from Freshens.
There's also Cuppa Jones which serves a variety of brewed coffee, lattes, cappuccinos, teas and other hot and cold drinks for coffee and non-coffee drinkers alike. Cuppa Jones features Peet's Coffee.
The POD (Provisions On Demand) area offers snacks if you need something quick.
The Growl
The Growl, located in the Davis Field House, serves all of your game-time favorites, including nachos, hot dogs and fruit smoothies. And depending on the season, you can enjoy a Bruins basketball game or society game while you eat.
Cuppa Jones Express
What better way to prepare for your upcoming class than to grab a fresh cup of coffee? Cuppa Jones, located right outside the Mack Library, offers a variety of brewed coffee, teas and snacks.