Societies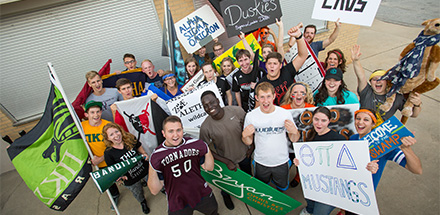 Being a part of our societies will help you meet new friends and get involved in activities including sports, outreach and ministry.
Outreach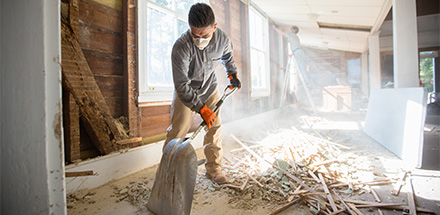 You'll have opportunities to get involved in a local church or ministry, various community events and even share the Gospel overseas.
Fine Arts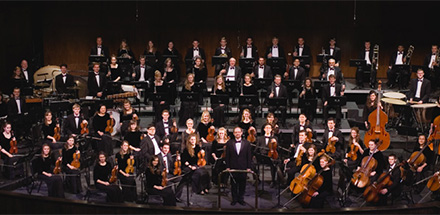 Fine arts is a big part of life at BJU. From art to music and drama, there are opportunities for you to get involved (whether you're studying fine arts or not)—or for you just to enjoy.
Traditions & Activities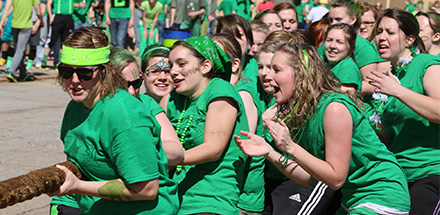 From skating nights, class parties and picnics, 5Ks, Christmas Lighting, and Bruin Daze, you may have trouble fitting in all the things you want to do.
Sports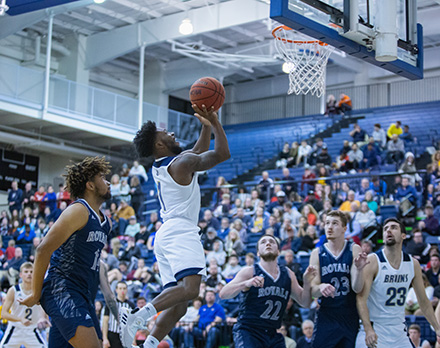 Intercollegiate Sports
Soccer
Basketball
Baseball
Cross Country
Golf
Volleyball (women)
Track & Field
Intramural Sports
Our intramural program provides fun ways for nearly all students to play sports and stay active. They revolve around societies and can include disc golf, flag football, soccer, basketball and more.
Student Organizations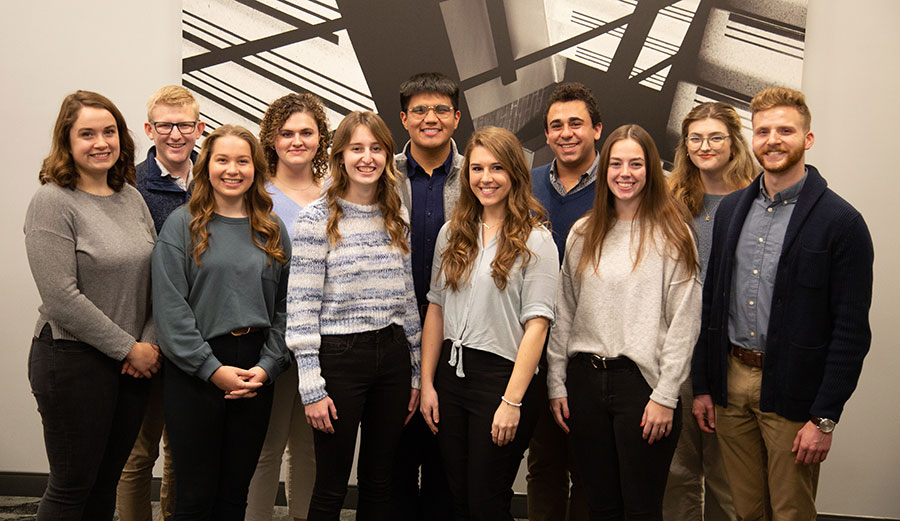 In addition to societies, there are dozens of student organizations that you can join.
Ministry
Ministry Chapel
Ministry Chapel is held one day each week during the regular chapel time for students in the School of Religion and those interested in ministry. These students meet together to receive instruction and inspiration from the director of Ministry Training and other experienced men of God.
Ministry Teams
Each semester, two ministry teams (apologetics, drama, math, or music) tour throughout the United States to recruit for BJU. Team members travel for one semester instead of taking classes.
Missions Advance
Missions Advance is a student-led group whose purpose is to stimulate missionary zeal and vision on campus. Missions Advance's student leaders host collective prayer meetings twice a week to pray for specific needs of missionaries. They also provide each residence hall group information about a missionary family's specific praises and needs.
Mission Teams
BJU's mission teams provide opportunities for many students to minister in other regions of the world. Teams go to various countries spanning the globe using trade skills, music and preaching/teaching to reach the lost with the Gospel and to challenge the team members to consider their lifelong level of involvement of ministry.
Education/Culture
International Student Organization
The ISO is a great place for students from around the world to connect with one another and learn about various global cultures through engaging events, fun games, and home dinners with delicious food. All students are welcome to join the ISO to grow in their global understanding and develop leadership and communication skills while spending time with great friends.
Journalism & Mass Communication Forum
Several times each semester the Journalism and Mass Communication Forum meets to provide students with a broader understanding of the media. Typically, meetings feature guest speakers who are working professionals representing organizations such as newspapers, magazines, radio or television stations, public relations departments and agencies, media consulting or media ministries. Students generally have the opportunity to interact with these professionals in formal Q&A sessions and in post-meeting informal conversation.
University Educators Association
The University Educators Association provides programs and activities that complement BJU's teacher preparation program. It also provides opportunities for all education students to secure leadership training and professional contacts. Student representatives are selected from each education department.
University Language Association
The University Language Association is an organization composed of students taking courses in world languages. It is the purpose of the association to stimulate an increased interest in world languages and culture. In an informal atmosphere of entertainment, discussion, games and reports, the student gains valuable information and insight in furthering their individual knowledge and language skills.
Business/Law
Criminal Justice Association
The Criminal Justice Association exposes interested students of all majors to the American criminal justice system. Active career professionals present their perspectives and discuss items of current interest, emerging trends and other topics. Contact with the forum speakers also provides greater insight into the possibilities for ministry offered by the various jobs in law enforcement, the courts and corrections.
Pre-Law Forum
The Pre-Law Forum meets several times a year to provide students the opportunity to hear presentations by, and interact with, lawyers, law students, pre-law advisors, and similar professionals. Students majoring in all fields are welcome to attend meetings.
University Business Association
The University Business Association provides a forum for business students' exposure to successful Christian business professionals who have used their business opportunities to have a ministry and a testimony for Jesus Christ. Now open to all career-minded students seeking to enhance their future ministry, the UBA helps prepare its members for service to Jesus Christ in whatever field God has called them. All students, regardless of major, are invited to join the UBA. UBA also includes a student marketing association affiliated with the American Marketing Association (AMA).
Leadership
Community Service Council
The Community Service Council organizes service projects in the community such as cleaning up area parks and the Greenville Zoo, collecting funds for the Heart Fund and other charitable organizations, as well as sponsoring an on-campus blood drive. The CSC has received local, state and national recognition for its volunteer efforts in the City of Greenville.
Minorities Empowered to Educate & Serve
Minorities Empowered to Educate and Serve (METES) strives to empower minority students to achieve academic success, participate in community service projects, and thrive as leaders of tomorrow. We desire to cultivate an informed student body to promote understanding and respect between cultures and races in order to foster a unified bond between all students.
Inter-Society Council
The Inter-Society Council is composed of the president and vice-president of each student society. The purpose of the Council is to supervise societies, relay and implement university policies, coordinate inter-society functions, promote university morale and exalt the Lord Jesus Christ in everything the societies do. The council meets bimonthly for ideas, seminars, discussions, fellowship and refreshment. The purpose of societies is to develop productive, cooperative and godly relationships. See Volume I of the Bob Jones University Policy Manual for a copy of the Inter-Society Council Constitution.
Literary Societies
Every incoming student will join a society, a student group designed to encourage productive, cooperative and godly relationships through activities such as weekly meetings, sports, outings, prayer meetings and extensions. Societies are student-run, and officers are elected each semester within each society.
Student Athlete Advisory Committee
The Student Athlete Advisory Committee is composed of two student athlete representatives from each intercollegiate team and is composed of eighteen members. The SAAC exists to promote college athletics in a way that glorifies God and provides a platform for ministry opportunities both within the student body and to the surrounding community. SAAC encourages sportsmanship, academic excellence, and Christ-like character in accordance with the BJU mission statement.
Student Leadership Council
One men's and one women's president lead 10 other directors and representatives: the Inter-Society Council men's and women's directors, a community service director, a council treasurer, the men's and women's senior class representatives, the men's and women's chaplains, and the men's and women's event coordinators.
STEM
Collegiate Biology Association (CBA)
The Collegiate Biology Association provides students with opportunities for developing leadership skills while making students aware of current trends and issues within the different biological fields, facilitating increased student-to-student and student-to-researcher interactions, and urging students to have a closer relationship with Christ. The CBA hosts several guest speakers and has other events that encourage students to develop their love of biology and expose them to various aspects of biology. The CBA is open to all majors and welcomes anyone interested in learning more about biology.
Exercise & Sport Science Association
The purpose of the Exercise & Sport Science Association is to provide professional development for students in the exercise science and sport management programs. The association provides information regarding related career opportunities, helping students develop professional skills for the future and fostering networking opportunities between student, faculty and alumni in the Division of Exercise and Sport Science. The association meets regularly throughout the academic year where instruction will be provided to members by field-related professionals and experts. This pursuit shall be conducted within the confines and principles of the Christian liberal arts environment fostered by Bob Jones University. All exercise science and sports management majors are encouraged to hold membership in the Exercise and Sport Science Association each year.
Health Science Association (HSA)
The Health Science Association provides students with the opportunity to develop leadership skills and have a larger vision of the many facets of Health Sciences. The HSA aims to bring awareness to the current trends and issues within the different fields of Health Sciences, all while allowing for interactions between students and experienced professionals. Interwoven amongst all of this is the distinct desire to push students to a closer and deeper relationship with Christ.
Pre-Medical Association (PMA)
The Pre-Medical Association benefits students who plan to attend medical school after completing their undergraduate education. At the meetings, current medical students, admission officials, practicing physicians or dentists, and administrators present valuable information and advice about the medical profession and preparation for it.
Programming Intercollegiate Team
The intercollegiate programming team represents BJU at various competitions throughout the Southeast United States. One competition is the regional ACM International Collegiate Programming Contest, and the others are structured in a similar manner. In a contest lasting five hours, teams of three students are given eight complex, real-world problems and one computer on which to solve them. The team that solves the most problems in the shortest cumulative time is the winner. The contests help the team members demonstrate teamwork and ingenuity while working under pressure. As believers, they endeavor to reflect the image of God by being creative as He is.
Robotics Intercollegiate Team
BJU engineering students form a robot team each year to design and build a robot for a national collegiate robotics competition. This team is often open to students from other majors as well.
University Nursing Association
The University Nursing Association provides camaraderie among nursing students of various academic classifications. The UNA organizes activities and provides both academic and spiritual encouragement for nursing students.
Media
Media
The Collegian
Bob Jones University's student newspaper, The Collegian, was founded in 1987 as a journalism lab, offering students hands-on experience in producing a weekly publication. Newspaper staff write and edit articles, design the layout and take photographs for the paper. Stories in The Collegian focus on campus personalities and student life, helping to unify the large and diverse student body. The paper is distributed free on campus and is also available online.
The Vintage
The Vintage, "a season's produce" by definition, is BJU's yearbook. The staff, whose responsibility it is to produce this annual publication, is composed of students from varied academic divisions and classifications within the University. Uniquely photographed and beautifully bound, the annual mirrors not only classes and activities but also the mission of BJU.
WBJU-FM IQ Radio/TV
WBJU-FM IQ Radio is BJU's student-staffed radio station that broadcasts seven days a week to provide the student body with a variety of sacred, classical and easy-listening music, as well as informative news and sports talk programming. The staff is also responsible for producing, scheduling, announcing and marketing the station's content.
WBJU-TV is the student-staffed television station that provides national, local and campus news plus sports highlights, weather and campus announcements throughout the day. RTV and broadcast journalism students can be anchors, reporters, producers and technical crew members on a variety of television programming. Students can watch WBJU-TV at various locations around campus.
Art
American Advertising Federation Student Chapter (AAF)
AAF BJU is the Bob Jones University college chapter of the American Advertising Federation (AAF), and is affiliated with the Academic Division of the AAF and District 3 of the AAF. AAF BJU exists to provide and promote a better understanding of the functions of advertising and of its values to students; to stimulate and encourage advertising professionalism through advertising education; to aid students in applying the skills, creativity and energy of advertising to help solve social problems and to further the cause of Christ; to develop the individual abilities of its members; and to promote fellowship and exchange of ideas. AAF BJU is primarily comprised of students in the Marketing, Graphic Design and JMC programs, but is open to all BJU students enrolled in at least one marketing, graphic design or JMC course each semester.
Art & Design Forum
In the Art & Design Forum students can gain a broader understanding of the art industry. Professional artists, gallery curators, retail art dealers and graphic designers present practical information about their work experiences. The format includes panel discussions, question and answer sessions, video or slide presentations and lectures. Subjects vary and may include art philosophies, artwork pricing, art techniques, minority artists, job opportunities, artist demonstrations and critiques.
Music
American Choral Directors Association Student Chapter (ACDA)
The BJU American Choral Directors Association Student Chapter serves as an arm of the BJU choral program and the ACDA in promoting camaraderie, student professional development and leadership skills among students. Membership is open to any student interested in choral singing, conducting, music education or church music.
Symphonic Wind Band
The Symphonic Wind Band has approximately 50 players who are devoted to performance of the finest concert literature, both secular and sacred, for winds and percussion. The band performs at least four concerts each year, in addition to recording and touring regularly.
Membership is open through audition to all students.
Orchestra
BJU's orchestral program is a developmental program comprising three orchestras. Auditions are open to all students in the University regardless of program of study. Each member has the opportunity to use music for the service of God and to reach individual technical and artistic potential within a program that pursues the highest level of musical excellence.
String Orchestra
The String Orchestra is an entry-level ensemble focused on developing musicianship and performance technique/etiquette of the members through performance of standard string orchestra repertoire. The group performs at least three times each year.
Symphony Orchestra
The Symphony Orchestra is the core orchestral ensemble focused on preparing students to achieve the highest level of performance of the standard orchestral repertoire and in a variety of orchestral genres. This ensemble performs two to three concerts each year.
Chamber Orchestra
The Chamber Orchestra is a specialized ensemble with flexible instrumentation for advanced chamber works, opera, oratorio and occasional music. Members are drawn from the advanced students in the Symphony Orchestra as well as members of the university faculty.
Instrumental Ensembles
Several permanent chamber ensembles provide performance opportunities for qualified instrumental students. These include a cello choir, chamber harp ensemble, woodwind choir, flute choir, trombone choir, horn choir, tuba-euphonium choir, trumpet choir, handbell choir, percussion ensemble and several smaller chamber groups.
Choral/Vocal
The choral program is composed of seven choirs: University Singers, Conductor's Chorus, Collegiate Choir, Concert Choir, Lyric Choir, Chorale and Chamber Singers.
All students are welcome to audition and are placed according to their classification and abilities. Singers are re-auditioned periodically to determine proper placement. Performance venues include concerts of standard choral literature and church music and the annual opera and oratorio performances.
Music Teachers National Association Student Chapter (MTNA)
The BJU MTNA collegiate chapter works to be the foundation of educational, musical, social and professional experience for music teachers throughout their course of formal study and to help open doors through professional opportunities and career options in the field of music.
National Association for Music Education Collegiate Chapter (NAfME)
NAfME is the primary professional association for the advancement of music teaching and learning in our nation's schools. BJU's award-winning collegiate chapter provides members with professional development and service learning opportunities through community music events, guest lectures, and an annual trip to the South Carolina Music Educators Association professional development conference. Membership is open to any student with an interest in music teaching, choral conducting, or instrumental conducting.
Communication/Theatre
Classic Players
The Classic Players, an outstanding college Shakespearean repertoire group, is open to students who show the requisite ability in public tryouts.
A major production is presented each year, including Shakespearean plays such as Hamlet, Macbeth, A Midsummer Night's Dream and Othello.
Student Legislature
Each fall, BJU's Student Legislature team travels to South Carolina's state capital, Columbia, to join with students from 10 to 15 other major colleges and universities in the state. Together they form a house and senate, presided over by officers elected from among their members. Students use their extemporaneous speaking abilities, persuasive powers and knowledge of current events to pass legislation they themselves have written.
"We use the actual South Carolina Chambers, which gives it a real air of authenticity," says Mrs. Linda Abrams, the team's faculty advisor. "It really mirrors as close to anything I've seen the true legislature experience."
The process is so authentic that at times the real S.C. Legislature adopts student-proposed laws. South Carolinians can thank a BJU team for August's tax-free shopping weekend!
Although winning is not as important to them as maintaining a good testimony, the BJU team has been named "Best Mid-sized Delegation"—the highest award in its category—about 7 of the 16 years it's competed. Many team members have also received individual awards over the years, including the Carlisle Award, given to the student who best represents student legislature ideals.