Drama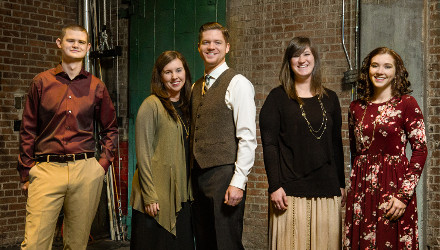 Technology
BJU sends ministry teams across the United States to do exactly what the name says: minister by partnering with churches and schools to serve the pastors, congregations and students. The team leaders and members demonstrate through music, drama or technology the saving faith of the Cross and the authentic joy and fulfillment from knowing God.
From February through April 2018, our drama team will be ministering in churches and schools in Delaware, New Jersey, Pennsylvania and Maryland. Our technology team will be holding workshops in schools and homeschool co-ops in Alabama, Florida and Georgia.
The teams do not require a booking charge and only request overnight lodging, meals and a freewill offering to help cover the teams' salaries. To get more information about a team or to schedule a meeting, email or call (864) 242-5100, ext. 4245.
Drama Team Schedule
Delaware
Harrington, DE
Independent Bible Fellowship Church
Sunday a.m., March 18, 2018
Newark, DE
Lighthouse Baptist Church
Sunday p.m., March 11, 2018
Wilmington, DE
Concord Baptist Church
Sunday p.m., March 18, 2018
Maryland
Baldwin, MD
Upper Cross Roads Baptist Church
Wednesday, March 21, 2018
Baltimore, MD
New Southwest Baptist Church
Sunday a.m., March 11, 2018
Ellerslie, MD
Calvary Bible Church
Sunday p.m., April 15, 2018
Frederick, MD
Peoples Baptist Church
Sunday p.m., March 4, 2018
Glen Burnie, MD
Calvary Baptist Church
Wednesday, March 7, 2018
Glen Burnie, MD
Temple Baptist Church
Sunday a.m., March 4, 2018
Millersville, MD
Anchor Baptist Church
Wednesday, March 14, 2018
New Jersey
Egg Harbor City, NJ
Emmanuel Church
Sunday p.m., March 25, 2018
Pennsylvania
Aliquippa, PA
Community Bible Church
Sunday a.m., April 22, 2018
Athens, PA
Calvary Baptist Church
Sunday p.m., April 29, 2018
Berwick, PA
Bethel Bible Church
Wednesday, April 4, 2018
Blairsville, PA
Independent Baptist Church
Wednesday, April 18, 2018
Clymer, PA
Calvary Baptist Church
Sunday a.m., April 15, 2018
Collegeville, PA
Valley Forge Baptist Temple
Wednesday, February 28, 2018
Downington, PA
East Brandywine Baptist Church
Friday p.m., March 30, 2018
Hanover, PA
Hope Baptist Church
Sunday p.m., April 1, 2018
Hummelstown, PA
Mountain View Bible Church
Sunday a.m., April 1, 2018
Huntingdon, PA
Calvary Independent Baptist Church
Sunday p.m., April 8, 2018
Limerick, PA
Limerick Chapel
Sunday p.m., February 25, 2018
McVeytown, PA
Strodes Mills Baptist Church
Sunday a.m., April 8, 2018
Mount Pleasant, PA
Mount Carmel Community Church
Wednesday, April 25, 2018
Natrona Heights, PA
Harvest Baptist Church
Sunday p.m., April 22, 2018
Pottstown, PA
Calvary Baptist Church
Sunday a.m., February 25, 2018
Telford, PA
Valley View Bible Church
Sunday a.m., March 25, 2018
Wellsboro, PA
Marsh Creek Fellowship Baptist Church
Sunday a.m., April 29, 2018