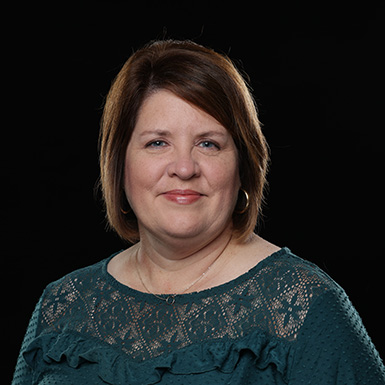 Education
MA, Rhetoric and Public Address, Bob Jones University
BA, Rhetoric and Public Address, Bob Jones University
Courses
About Jeanine
Jeanine Aumiller has taught in the Division of Communication at BJU for more than 15 years. She earned an M.A. in Rhetoric and Public Address from BJU in 1998. Though her teaching field is primarily public communication, she also teaches interviewing, small group communication, persuasion theory, and argumentation. Currently, she directs Fundamentals of Speech, a course required of all BJU students. In this role, she makes all curriculum decisions as well as trains and supervises the instructors. While in graduate school, Jeanine began assisting the intercollegiate debate team and later became the head coach in 2007. In 2009, she was elected president of the National Education Debate Association and served in this position until 2011. She is currently the director of the intramural debate program at BJU.
During her undergraduate years, Jeanine distinctly remembers her Communication instructors emphasizing that as image bearers, we were created uniquely to communicate. As a result, she believes part of our purpose is to develop our communication abilities to best reflect Christ. She strives to effectively instill in her students a correct motivation for developing their communication skills and to provide the means by which they can develop those skills.
Outside of her teaching responsibilities, Jeanine is active in her local church where she serves as nursery director, interior design coordinator, Sunday school teacher, and choir member. In her free time, she loves to read, travel, and develop her skills in interior design.