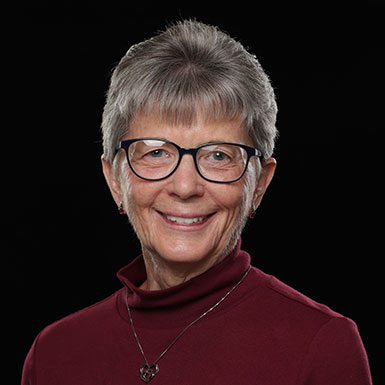 Education
EdD, Curriculum and Instruction, Bob Jones University
MA, Mathematics, Eastern Illinois University
BA, Mathematics, Eastern Illinois University
BS, Physical Education, Eastern Illinois University
Courses
About
Dr. Pilger joined the BJUPress staff in 1982 as the primary author of the Secondary Mathematics Curriculum. After writing full time for two years she began teaching at Bob Jones Academy where she furthered her experience teaching at the secondary level. She began teaching at the university level in 1988 and has now taught 30 years in the BJU Math Department. Dr. Pilger is the Math Education Program Coordinator because of having experience in secondary mathematics curriculum development, having taught on the secondary level and having earned her doctorate in Curriculum and Instruction. She has a special interest in training pre-service math teachers.
Her teaching philosophy is based on God's Word. She claims Ephesians 4:12 as her teaching verse: "For the perfecting of the saints for the work of the ministry, for the edifying of the body of Christ:" She believes her job is to perfect her students for "the work of the ministry." She is very concerned with developing discerning, thinking Christians and has developed the course Introduction to Mathematical Reasoning for the dual purpose of developing mature mathematical thinkers able to construct and defend solid arguments and developing thinking Christians who base everyday decisions on a series of biblical principles.
Dr. Pilger is an active member of Faith Baptist Church in Taylors, SC. She conducts a weekly children's Bible Club where she gains experience with a diverse group of children from a variety of cultural backgrounds. She likes to spend time with her family and enjoys crocheting and exercising in her free time.