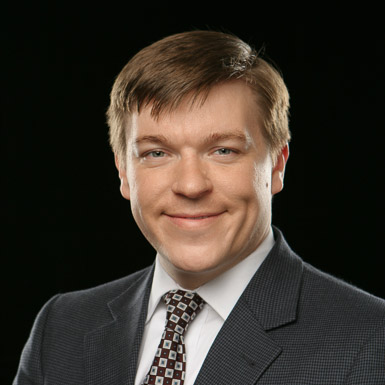 Education
PhD, Electrical Engineering, University of Minnesota - Twin Cities
MS, Electrical Engineering, University of Minnesota - Twin Cities
BS, Electrical Engineering, Bob Jones University
Courses
About
After completing a B.S. in Electrical Engineering with minors in Greek and Mathematics at BJU in 2003, Dr. McGary attended the University of Minnesota. He performed experimental research in fabricating and characterizing magnetic nanowires for acoustic sensing drawing on the fields of magnetics, deformable body mechanics, materials science, and electrochemistry. In 2005 he participated in the Naval Research Enterprise Internship Program at the Naval Surface Warfare Center-Carderock Division developing electroplating recipes for magnetostrictive alloy films. After completing his M.S. and Ph.D. in Electrical Engineering with a focus in Nanoparticle Science and Engineering, he returned to BJU in order to train the next generation of Christian engineers for the expansion of the Kingdom of God. He currently teaches Basic Circuit Analysis I & II, Electromagnetics I & II, Electric Machinery, Electronic Devices & Circuits, Digital Electronics, and Design Problems. He has authored 5 articles published in scientific journals and proceedings. He has also performed design work for a Mechanical Electrical & Plumbing (MEP) engineering firm in Greenville. He is a registered Engineer-in-Training with the South Carolina State Board of Registration for Professional Engineers and Surveyors. As a Senior Member of the IEEE, he serves as Treasurer of the IEEE Piedmont Section. He also holds an Extra Class Amateur Radio License.
Dr. McGary believes that since all students are made in the image of God, each one deserves the help needed to succeed in learning the challenging ideas in engineering. Learning, not grades, is the focus. In lab courses, he believes that students must not be satisfied with confirming and demonstrating theories, but must go further and harness the technologies solve problems people face. At BJU, Dr. McGary has made a number of important contributions to the engineering program. He assisted redesigning the engineering program to meet ABET accreditation requirements. He also has led the redevelopment of the solo senior design class and created two new courses: Introduction to Engineering and Materials Engineering. He has also taught summer courses outside of BJU at Al Akhawayn University in Ifrane, Morocco in the summers of 2016 and 2019.
In addition to the technical side of his life, Dr. McGary lives out his faith through his involvement at Mount Calvary Baptist Church where he has taught Sunday school, Children's Church, and Bible club, while also participating in music ministry. Whether cooking or hiking, he also enjoys spending time with his wife, five children, and guests. He also played Costard the clown in BJU's production of Shakespeare's Love's Labours Lost, and 1st Officer William Murdoch in BJU's production of Titanic: the Musical.