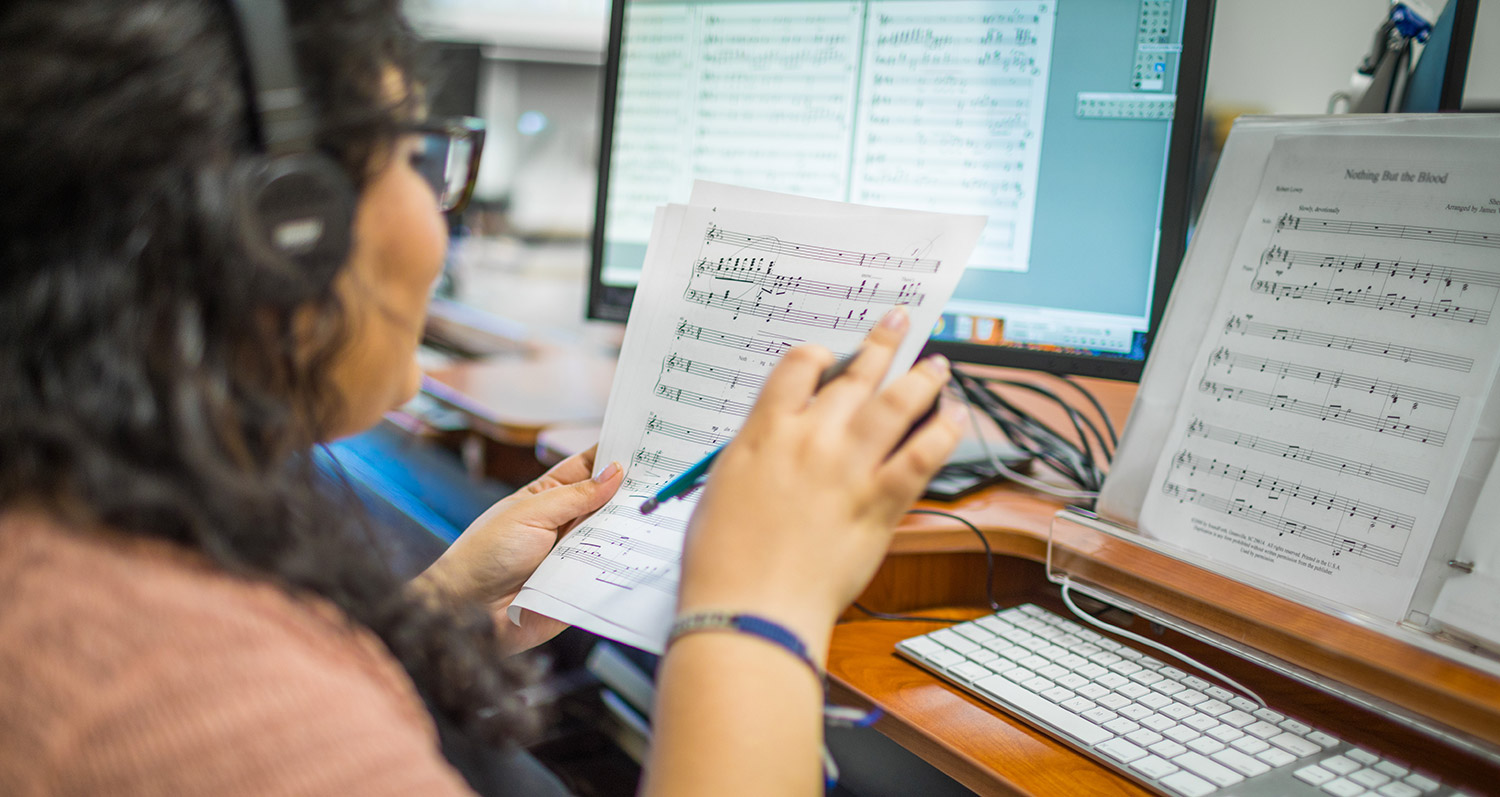 Composition
Bachelor of Music
Including study in orchestration, theory, analysis, technology, and instrument or vocal proficiencies
As a composer, you have the drive to create music that will explore new horizons—for you and your listeners. Whether you craft film scores, choral arrangements, or the melodies for new hymns, the art of composition reflects God's creative character and sense of order to musicians and audiences alike.
BJU's composition program encourages an expansive, biblically infused view of musical creativity through composition. This program creates an environment where burgeoning composers can hone their craft and apply it in real-life ministry.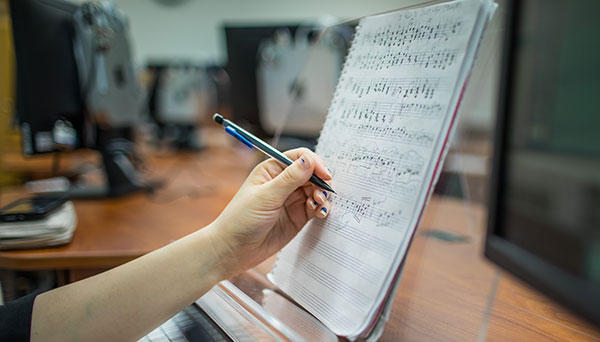 Program
BJU's composition program prepares you for a career in studio production and writing, arranging, or publishing music. In addition to intensive music theory courses and playing in ensemble groups, you'll take courses on conducting, choral composition, and orchestration to learn how composition works on paper and in practice.
Along with your individual composition study with faculty, you'll also choose a standard orchestral instrument, keyboard or voice for both your primary and secondary proficiencies.
Courses in industry technology prepare you for the ever-expanding world of digital notation, recording and editing. Music history and entrepreneurship courses give you a full picture of music's past—and your future in the field.
Our program gives you practical, hands-on career experience. As a composition major, you'll complete an entrepreneurship seminar, an internship in your industry, and a senior composition recital.
Audition
If you want to study in a music program, you'll need to audition so your music background and current skill level can be evaluated. The audition will help the music faculty assess your potential as a music student and will give them a good idea of how to equip you to reach that potential.
BJU Core
At BJU you'll learn more than composition and musical skills. Liberal arts courses such as speech and English will equip you for clear communication in your work and in your relationships. History and philosophy courses will help you see big-picture truths through the lens of a biblical worldview.
BJU's Bible courses provide you a solid foundation in the truth of God's Word. You'll know what you believe about God—and why you believe it. You'll grow in grace and knowledge of Jesus as you apply what you know of God to your art and ministry.
Electives
Many of your elective credits will come from the music groups that you choose to be a part of. You'll be able to choose some additional music electives as well.
Jobs
Here are a few different career paths that you could pursue:
Publishing
Arranging
Commercial music
Studio production
Graduate work in composition, music theory and other related fields
Career Support
BJU offers students a variety of ways to network with employers and organizations. A multitude of job opportunities are posted each year on Career Central, our online job board. In addition, more than 60 businesses and 150 Christian schools, mission boards, and other Christian organizations come on campus to recruit students through on-campus interviews and job/ministry fairs.
Career Services also helps students by holding seminars on resume preparation and interview techniques.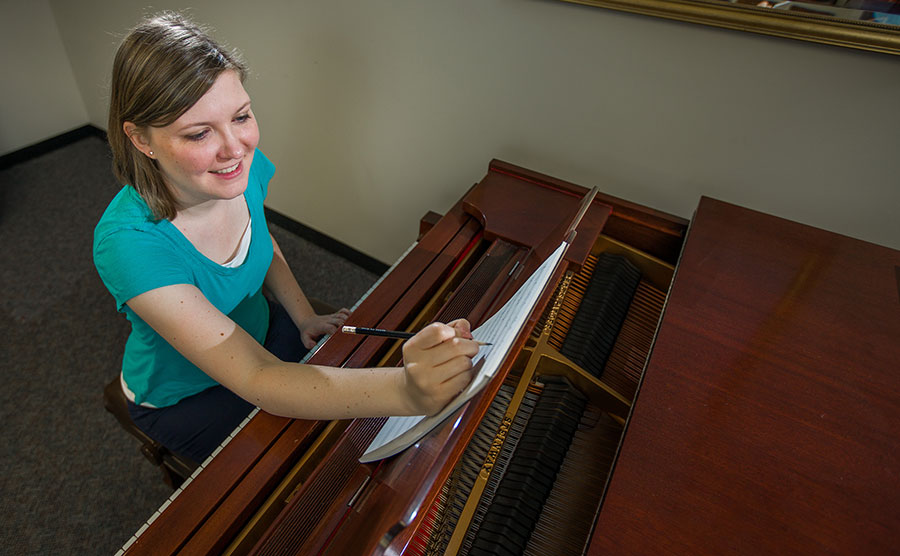 Recitals
Your senior recital is a key component in your program. The culmination of your study, this recital prepares you for a future of collaborating with other artists and provides a platform for presenting your work. You'll gain the experience of working not only with a faculty advisor but also with musicians, singers, and technicians, discovering how to bring your music to life in a live venue.
Internship
Your internship is also an important part of your experience. You'll be able to take the things that you are learning and use them in a real-world environment.
Practice studios
Practice studios, each equipped with an upright piano or a grand piano, are available for your use across campus. These studios are in addition to faculty members' studios, which come equipped with grand pianos.
The Gustafson Fine Arts Center Music Library
Available for your use are more than:
15,000 bound scores
5,500 chamber and choral music pieces
7,200 biographies and books on music
7,100 LP recordings
8,220 musical CDs
850 musical DVDs
Ensembles/music groups
There are more than 20 groups you can get involved in, ranging from a number of larger choirs to smaller instrument ensembles, such as the trumpet choir or the handbell choir. These groups will give you experience as one part of a whole, so you'll be better prepared to lead others in similar situations.
Piano/MIDI lab
The piano lab contains several Yamaha Clavinovas, which give you more flexibility than acoustic pianos. Each Clavinova comes equipped with MIDI ports so you can easily compose, record and share files with the help of computer software.
Outreach ministries
There are numerous outreach opportunities each week. Many of them will stretch you by using your music skills, either as an instrumentalist or in leading the music. You'll learn how to minister alongside others, so you'll feel better prepared for the ministry you'll take part in after graduation.
Faculty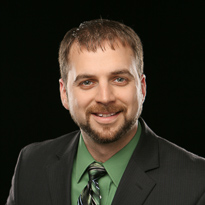 BJU's music faculty members have attended top universities and professional workshops, and many have won awards and honors.
Through individualized instruction, they'll train you to excel in your career, and more importantly, they'll challenge you to make biblically based decisions and to reflect Christlikeness in all you do.
Sample Course Outline
1st Year
Large Ensemble Elective (1 credits)
Applied Instrument/Voice (1 credits)
Applied Instrument/Voice (1 credits)
Large Ensemble Elective (1 credits)
2nd Year
Applied Instrument/Voice (1 credits)
Chamber Ensemble Elective (1 credits)
Large Ensemble Elective (1 credits)
English or Writing Elective (3 credits)
Large Ensemble Elective (1 credits)
Applied Instrument/Voice (1 credits)
3rd Year
Applied Secondary (1 credits)
Chamber Ensemble Elective (1 credits)
Large Ensemble Elective (1 credits)
Applied Instrument/Voice (1 credits)
Large Ensemble Elective (1 credits)
Applied Instrument/Voice (1 credits)
Applied Secondary (1 credits)
4th Year
Large Ensemble Elective (1 credits)
Music Elective (2 credits)
Music Elective (2 credits)
Program
BJU Core
Elective
Program Objectives
Each student will:
Formulate an understanding of music theory, history and performance in the greater context of composition and creativity.
Evaluate literature, methods and technology used in successful collaboration and production.
Present a public performance of original works that demonstrate mature musicianship and vibrant community interaction.
What's my next step?