Fashion Design
Bachelor of Science
Excellent fashion education built on biblical values
God is the source of all beauty, the Giver of good gifts to mankind—even the gift of beautiful clothing. At BJU you'll learn how having a right view of God informs your values and daily decisions, and gives you the motivation to create beautiful and useful apparel.
You'll learn how to create clothing, from concept development to illustration to garment construction. In addition, you'll build a working understanding of business and retail, and learn about marketing clothing. And throughout the program, you'll learn how God's character, including His creativity, holiness and goodness, can energize you in your field as you create attractive and modest clothing for His glory.
Program
The true strength of BJU's fashion design program is its breadth. You will receive excellent preparation in a variety of subjects, including garment design, garment construction, home business and fashion/retail merchandising. This breadth provides you with valuable perspective on the diversity of the field. The program also allows you plenty of opportunity to specialize your study on the areas that interest you the most.
You'll start the program by laying a solid foundation in art. You'll learn how to design clothing using a variety of tools and techniques, including a basic sloper, dart manipulation, garment styling, and applying principles of fit to half-scale design and construction.
In addition, you'll learn how to prepare your designs for presentation. You'll study sketching three-dimensional forms using light and shade; create fashion plates that include apparel details, fashion silhouettes and fabric rendering; and develop your illustration skills in both monochromatic and color media. You'll even study various retail merchandising concepts and methods, such as inventory control techniques, calculating markups and terms of sale.
The program culminates in an internship that's designed to give you hands-on experience in a professional setting. And for your capstone project, you'll showcase your work.
BJU Core
As a professional in the fashion design field, you'll need skills to connect with people from a variety of backgrounds and to communicate effectively with them. Liberal arts courses, such as economics, philosophy and speech, will challenge you to see life from a broader perspective. Subjects in the sciences and math will also help you develop essential life skills such as critical thinking and problem-solving.
The Bible courses will connect your pursuit of God to all of life—even being skilled as a designer or manufacturer of apparel. These courses will better equip you to pursue God and will remind you to allow your knowledge of Him to inform your ethics and practices in the field. And more importantly, you'll learn how you can point others to the beauty and holiness of God and the hope found only in the person and work of Jesus Christ.
Electives
The fashion design program gives you the flexibility to supplement your program with a few electives. Additional art or design courses will help you sharpen your skills in your craft, regardless of setting. Courses in business and technology also complement the program well, especially if you're planning to work at a small business or as an entrepreneur.
Barbi Gardner, '11
As someone who constantly worried about my post-college future—whether I would find a job in a struggling job market, if I would be able to use my degree at all—choosing to switch majors my sophomore year from journalism to fashion design did not make much sense to anyone who knew me. It turned out to be the best decision of my career, not only as a college student, but as a business professional. Fashion design opened the door to countless opportunities in the fashion-retail industry.

Thanks to personal mentoring from the fashion design faculty, I was forced to think creatively in a variety of situations, not just fashion design. It was not until I graduated and began my career as a big-box retail manager that I realized how much BJU's liberal arts approach influenced the decisions I made at work and the way I viewed challenging situations. If not for that "crazy" decision to change to a design major, and the classes and teachers who guided me along the way, I would not have the career opportunities I have today.
Internships
Here are just a few examples of internship positions our students have held:
Go Fish Clothing, Greenville, S.C.
Talbots, Southern Pines, N.C.
Polo Ralph Lauren, Hagerstown, Md.
The Dress Doctor, Chicago, Ill.
Franck Sorbier, Paris, France
Unique Bridal Boutique, Auburn, Mich.
Leilani's Bridal, Oneonta, N.Y.
Jobs
The fashion design program at BJU opens the door to many career possibilities, including:
Apparel quality analyst
Clothing designer
Decorating consultant
Entrepreneur in design, construction, specialty sewing or machine embroidery
Fashion advisor/consultant/designer/journalist
Garment sample maker
Image/color consultant
Patternmaker
Retail management, marketing, merchandising
Tailor/seamstress
Textiles technician
Theatre costume designer
Wedding attire designer and seamstress
Window treatment consultant/designer
Graduate Experience
Here are just a few examples of positions our graduates have held:
Assistant editor, Threads sewing publication
Seamstress, Bridal formal wear
Manager, Ann Taylor
Manager, Belk's department store
Manager, David's Bridal alteration department
Short-term missionary, Heart House in Bangladesh (handicraft employment for widows and handicapped)
Career Support
BJU offers students a variety of ways to network with employers and organizations. A multitude of job opportunities are posted each year on Career Central, our online job board. In addition, more than 60 businesses and 150 Christian schools/mission boards/Christian organizations come on campus to recruit students through on-campus interviews and job/ministry fairs.
Career Services also helps students by holding seminars on resume preparation and interview techniques.
Excellent equipment and facilities
As a professional in the fashion design field, you'll need to know how to use the essential tools of the trade. That's why our facilities are open evenings and Saturdays and are well equipped for your design coursework and construction needs. You'll have access to the facilities and various equipment, including the following:
Computerized Viking sewing machines
Computerized Viking embroidery machine
Easy threading Baby Lock sergers
Half- and full-scale dress forms for fitting and garment display
Counter space for cutting fabric and design work
Garment fitting room
Storage space for projects
BJU Costume Room
BJU's costume department supplies costumes for the Concert, Opera & Drama Series events. You can apply to work in the costume room; typically 4–6 students work for the department each year. In this position you'll learn how to work with deadlines, be flexible and overcome challenges in sewing.
Faculty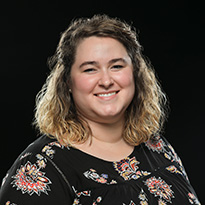 Our fashion design faculty have more than 40 years of combined experience in teaching and have extensive experience in their areas of expertise: design and clothing and the textile industry. They'll challenge you in your career and in your walk with God, and offer their advice and counsel as you plan for your future.
Sample Course Outline
Program Objectives
Each student will:
Articulate a biblical worldview through the control, craft, and design of clothing materials
Incorporate the principles and elements of design to creatively problem solve garment design dilemmas.
Design and construct a variety of garments using industry standard methods and techniques.
Explore an overview of the fashion industry with an emphasis on ethics and sustainability.
Compare the impact that historical clothing and the science of textiles have on the fashion industry today.
Create a professional portfolio of fashion collections that explore various methods of inspiration, design process, and illustration.
What's my next step?